UGANDA: OKUMU RONALD REGAN IN TROUBLE OVER DEPUTY SPEAKER JACOB OULANYAH POLULARITY- ASWA PEOPLE NEED CHANGE RAY OTTI.
Deputy Speaker senaked in Omoro County to consult his voters to ward of political defectors, his fame went like bush fire across Acholi Sub Region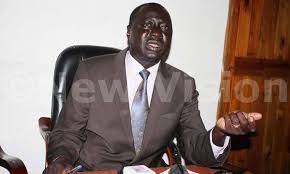 When you mention the name of Hon. Ronald Regan Okumu in Cwero, Omel-apem, and Te-Got Atoo people are very bitter, they claimed that there is more development in Omoro District compared to Aswa County. And yet Hon. Okumu has been a strong member of opposition that could have lobby international Civil Societies Organization to develop his areas.
GULU-UGANDA: Ray Otti one of the aspirates among the 8 parliamentarians candidates vying for Aswa County Member of Parliament caused a rib broken laughing yesterday in Te-Got Atoo by the fact that he was went to meet few of his contact, to find out if the political level playing ground would favor him.
Otti says when he asks the community of Te-Got Atoo whether they can vote for him, they community responded that you came at the right time, we have fed up with our current MP Hon Okumu Ronald Regan, since for 25 years he has been our area Legislative representative but there have been no development.
"We would have fought you, because we are only seeing development in Omoro District where the Deputy Speaker Oulanyah come from, we want a new leadership." Otti narrates the bitterness in the community.
So far, 8 candidate aspirants have pick interests to seek for political office contesting for Aswa County for direct Member of Parliament. The following people they are in the field:
Hon. Ronald Regan Okumu the current member of Parliament for Aswa, Otti Ray, Christopher Kinyera, Oroya Obol Conrad, Odong Ojibu, Kinyera Olori, Okello Patrick Onguti and Christopher Acire.
Other contestants vying for Women Member of Parliament are as follow. Hon. Amono Abili the current Councilor for Bwaongatira Sub County, Lucy Lapoti Journalist. And Atimango Nancy currently Public Relation Officer for National Water and Sewage Cooperation.
The attempt to contact Hon. Okumu Regan was futile since his known numbers could not be reached for verification before press time.
Otherwise Oyeng Yeng News will update their esteem readers who is who in Aswa County political heavy weight.