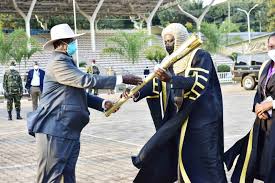 UGANDA: PRESIDENT MUSEVENI MAKES PARADIGM SHIFT OF POWER FROM CENTRAL TO NORTHERN UGANDA IN THE NEW RULE.
Uganda regime bailout Oulanyah from the rogoue MPs
paradigm shift  When we took over power in 1986, there were some people who were confusing Ugandans with the tribal issue of Bantu and Nilotic division, now can you see the new team of leaders we have are working together.
I have been working with our former Uganda People's Congress Party (UPC), Jimmy Akena and Betty Amongi, Democratic Party (DP) we have been talking to them, although Forum for Democratic Change (FDC) they have been willing to talk to us, but we shall reach them. The other group of National Unity Party (NUP) has distanced themselves; we shall reach out to them.
The Oulanyah win was a protected struggle that involved a numbers of stakeholders, prior, on Saturday May 22end Acholi Paramount Chief summoned all the 29 MPs at his palace. Gang Ker Kwaro, including the 15 rebels MP, but to their surprised they found Gen. Salim Saleh and Gen Charles Angina sitting before Rwot Acana the II.
Gen. Saleh and Gen. Angina told them that what is wrong with you the MPs from Acholi Region, when it come to your son, now you don't want to support him, the same was done to all Lango and Koramajong MPs, they were all summoned in Lira City, so does the Teso MPs.
Additional story appear in  the black Star News (https://www.blackstarnews.com/global-politics/africa/uganda-president-museveni-makes-u-turn-from-central-to-0)
KAMPALA-UGANDA: For the first time President Tibuhaburwa Kaguta Museveni made a debut in his state of the national address after electing Jacob L. Okori Oulanyah the Speaker of 11th Parliament and Amongi Anita the Deputy Speaker.
Museveni says his reign of power still faced the Ghetto youths from Kamucha because of poverty as well as the Country. But soon the government will handle corruption.
President Museveni says thanks Chief Justice Alfonse Owiny Dollo on two things first being care taker of president during the campaign of parliamentary and presidential polls leading to Jan.15, 2021. "Thanks very much", and also for you chairing the election of speakership, thank you very much.
He says although some of the political parties like Democratic Party (DP) have been talking some party member like Forum for Democratic Change (FDC) have not been willing to talk to us, but soon we shall reach them. But National Unity Platform has distanced themselves from us.
"When we took over power in 1986, there were some people confusing Ugandans with the tribal issue of Bantu and Nilotic division, now can you see the new team of leaders we have are working together.
Museveni made a U-turn from Central Uganda to Northern Uganda picking the three sons , with an icing on the cake in Jacob Oulanyah was only saved from a catastrophic fall by clutching onto the open hand of President Museveni. But he is back with a bang, and a backing.
According to the Uganda Daily Monitor publication May 23th 2021,
"Five years ago, he was a vulnerable man. Oulanyah's vulnerabilities are also his admirable traits: the burst of energy, arrogant brilliance, and blind loyalty to power. These flaws bring down Oulanyah to a court jester; what the Acholi call rwot ineka – a courtier who lets out a burst of deep loud hearty laughter at every joke the king cracks. But this, surely, is not the old affable, lovable, and proud 'citizen king' –Jacob Olanya Okori – of Boroboro."
President Museveni says his ruling National Resistance Movement (NRM) party has to deal with corruption because during his last tour during the presidential campaign he realized that Operational Wealth Creation programs have reached only 900 households in the country. Therefore his government will put a lot of effort within two years and they will cover at least two million households or two and half million household.
"We have bought four Uganda Airlines planes and more Airlines buses, but I was told that some people have recruited their relatives and friends, inflated big figures that led to corruption. Later when I moved in, I dismissed those corrupt officials, now Uganda Airlines is back on track,"  Museveni roared.
President Museveni says the second thing he will handle is social economic change that has affected the communities in this country. This, in order to restore sanity in the country. He adviced the New Speaker Jacob Oulanyah to reconcile parliament, and most especially  at a personal level with the former Speaker Rebecca Kadaga.
"I congratulated my Sister Rebecca Kadaga because today May 24th 2021 is her birthday, but most importantly today May 24th 1966 when  the Obote UPC government stormed the Kabaka Lubiri palace. We have to honor it more than the former Speaker Kadaga birthday, when I came here I told Oulanyah that this is your enemy; you have disagreed with them-talk to them. I phoned Robinah Rwakoojo at around 5.00am and other  people to reassure them, the group of Kadaga who they have been complaining that the Oulanyah group were going to sacrifice them.
"The ruling National Resistance Movement (NRM) caucus Sunday endorsed Ms Among as their flag bearer for the position of the Deputy Speaker race in the 11th Parliament.
This is after she scored 168 votes with her closest rival, Mr Thomas Tayebwa, the Ruhinda County North MP, coming second with 149 votes.
But behind the scenes, Museveni revealed he had been working tirelessly to convince a rebel group commanded by Ruhinda North MP Thomas Teyabwa which had stuck to Kadaga, the president was on phone the whole night, until he convinced Tayebwa and group to abandon Kadaga for Oulanyah.
"I was ringing some people at night and told them you have been with Kadaga and now it is Jacob Oulanyah." Museveni urged. We had only 16  hours to solve this problem.
President Museveni realized how the people he had groomed turned the same swords against him, as Mengo keenly watched the political  paradigm shift to Northern Uganda, while the military power base of UPDF is being gleefully  guarded by Museveni sons, Gen. Elwelu and Gen. Charles Angina.
Charles Akena, the Coordinator of Northern Uganda Media Club supports President Museveni for his up right appeals, says now Museveni should be in the same mood with the people of Northern Uganda who he had doubt with them.
For example, while advising his Right Honorable Speaker of the 11th Parliament to reconcile with the people in the parliament, that reflection should also be seen in northern Uganda.
Akena argues that those who have lost their property including cattle should be compensated, including land grabbing that is taking place in the ranks of higher military officers and so Museveni must intervene.
He observed that the social economic transformation must be seen by revamping agricultural mechanizations, citing many Agricultural farms and Institutes the likes of Adak Group Farm and Labora Group Farms in Omoro district, Laminlato Group Farm and Got Apwoyo in Nwoya district in West Acholi.
While in East Acholi there are Abayo Agricultural Farm, Ayuo Pa Ogwang Farm, Latutu Turu Group Farm to empower rural agricultural set up to repair the farm implement.
He adds that the social economic transformation should cover revamping of education sector, saying  in the past education sector, primary  school teachers were empowered, with their livelihoods and standards of living admirable. In terms of scholastic material, schools were well provided for.
"In the past education standard level countrywide was the same, the same Primary Living Education and post secondary education performances were the same, there were no issue of private  schools run by the same academic staffs in education, which have their  own private schools." This has lowered and spoiled good academic quality in the country.
In conclusion Akena advices that this is the time when the people of Northern Uganda have to have a unified statement on how we can readjust and work together in order to rectify and rebuild, considering the post-LRA conflict traumatic circumstances vis a vis the present man-eat-man conflict situation among the present political leaders where everyone is clamoring for survival-Just like the age-old adage of " Each man for himself/stomach and God for us all".
"The new era is an opportunity to the people of  northern Uganda to bridge the gaps that was created and we move as a country…we know how the NRM came into power in 1986, it was bad on us," Akena argues.
In 1986, the crop of leaders who were ushered in with Museveni  from Buganda region who now look back and begin to wonder how Central region had been abandoned are: Eriya Kategeya, Chango Macho wa Obanda, James Wapakhabulo, Justice Joseph Mulenga, Balaki Kirya, Dr. Samson Kiseka, Dr. Ronald Bata, Dr. Andrew Kayira, Prof Ponsiano Mulema, Yasi Sabiti, Prof. Yoweri Kyesirwa, Robert Epinu, David Serwano Kigozi, David Kibirango, Sam Kalenya Njuba, Dr. Zac Kaheru, Evaristo Nyanzi and Dr. Paul Ssemwogerere.
Others were Dr. Ruhakana Rugunda, Prof. Shem Masaba Chemanger, Dr. Kiiza Besigye Capt Getrude Njuma, Israel Kayondo, Prof. Katariko, John Ssebana Kizito, Amaanya Mushega, Kahinda Otafire, Mayanja Nkanji, Kirunda Kivejinja, John Ivimba, Dr. Crispus Kiyonga, Moses Ali, Bidandi Ssali.
And others are Ibrahim Mukiibi, Ben Okello Luwum, David Lwanga, Alex Ofumbi James Balwala and Mawumbe Mukwana.
The umpteenth question that many a Ugandan is asking now is: Which way is Uganda  poised for? Are we still in for another 5 years of " deception and manipulation" from the maestro of the orchestra  or  we are witnessing a new  political dispensation of transition as the Lion comes to dine with the lamb? Well, let us watch this space….