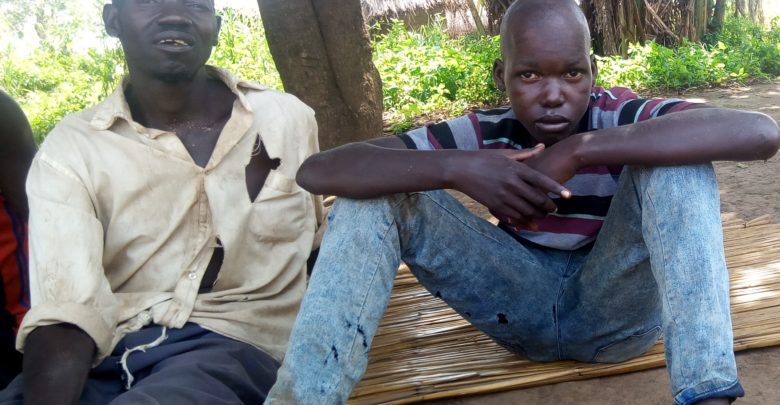 UGANDA: NODDING DISEASE CHILDREN SUFFER AS SHORTAGE OF FOOD SUPPLEMENTS MAKE A DEADLY MIX DURING COVID-19 LOCKDOWN.
"We need food supplement, now we do not have food, for us we are on treatment, without food we suffer like those who are on ARV,"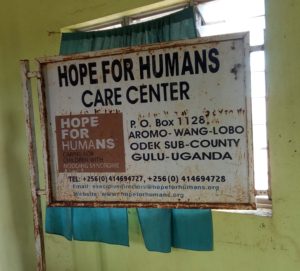 "Due to acute shortages of food supplement, my child is relapsing more than four times a day" a father of a child with Nodding Syndrome in Aromo-Wang-Lobo.
Nodding disease syndrome children need good feeding and treatment the same way HVI patients who are on ARV – without good nutrition, they succumb to death.
OMORO-UGANDA: By 2.00PM at Aromo-Wang-Lobo, a look to a first-time person to the pleasant red earth loom soil greeted you at Hope for Humanity Nodding Disease Center. The scorching sun welcomes us as we embark from the motorbike.
There are groups of about seven healthy young children playing at the deserted classrooms of the former Nodding Disease Syndrome children, running up and down. To me I breath heavily with the hope that the affected children would finally have recovered – my hope faded later on.
The sound of mooing machine could be heard from a distance slashing the busy compound deserted.
Soon there were two people emerged from the office Hope for Humanity welcoming us into their office.
"You are welcome Sir," a lady sounded a bit scare. The gentlemen in his mid-30s appeared composed and directed us inside their abandoned office dotted with broken chairs, later on I have learned his name is called James Okello.
Kenneth Odokonyero who works as a security guard and caretake of Aromo-wang-lobo Hope for Humanity Nodding Disease Center, later took us to Akoyo village— the home of the three affected children, which is about a kilometer from the Nodding Disease Center.
Odokonyero narrates that two years ago nodding disease center was still in operation when the Director of Health Services (DHS) deployed a nurse called Anono Vicky, instead of improving health condition of children, she ended up by destroying food supplement worth 1-tone, Okello reiterates.
Odokonyero narrates that at first, they had 200 nodding disease affected children at the center, but when food supplement worth 1-tone was destroyed, there was no need of keeping the children there. Now all of them stay at their homes, while their conditions worsening.
"By the time they were getting treatment, they were okay. If you had visited them when they were here in this Center, you cannot believe that those children are nodding affected kids," Odokonyero commented.
Nodding children were being fed on beans, Cabbages (Binyewa) Groundnut sauces, dry fish, vegetable food and meat in one week including food supplement and drinks," Okello could recall.
In the past, nodding children were getting treatments like Sodium CBJ, Falling Acid, Vitamin B complex among other, according to Odokonyero.
He took us to a home of one of the affected nodding children, Solomon Rubangakene, 18. Looks heart-broken and equally traumatized of taking care of his first-born son, Rubangakene, 45-year-old Samuel Okello, says he and his wife fear losing him should they leave their sone alone.
"I cannot leave him alone. He will wonder and gets lost," the father of the six said.
Okello said his son started developing nodding syndrome in 2008 when they finally left Aromo IDP camp.
"The illness usually begins with convulsion – in a day Rubangakene would fall many times, then saliva began to role down when given food," he narrates.
Later he became insane, even when there is no food and it would be worst when food is brought to him, the nodding would be constant.
He added that when they tried to administer medicine, he would stabilize for some time, but later convulsion resumes, falling follows.
Rubangakene situation deteriorated to the extent that he became dumb-mute. He used to communicate by use of signs but now he lost all sense of communication.
"Now we cannot leave him alone at home because he can just go anywhere, which he can even fall in water body or get burn."
Okello said due to lockdown on Covid-19 they cannot afford food supplement – the only food available are bean and vegetable.
20-year-old Eddy Komakech who has been suffering from the Nodding Syndrome 12-years says he convulses utmost five times daily.
Komakech has many multi-injuries on his face – a testimony that children affected with Nodding syndrome is back to square one.
"When were in the Center, all of us were okay, but what has bewitched," Eddy Komakech said in tears, "We need food supplement, now we do not have food, for us we are on treatment, without food we suffer like those who are on ARV," Komakech decries.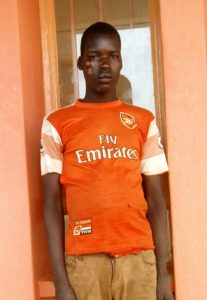 Komakech narrates that in 2018, he was studying at Aromo-Wang-Lobo Primary School, by then he was fairly healthy.
Dr. Odong Emilton Ayela, the Director of St Mary Lacor Hospital says the most important individual patents of Nodding Children must eat local dish very rich in food nutrition.
"But if they have deficiency when they are not eating well, then they should have multi vitamin to help them," Ayela said.
Dr. Sébastien Odong, the Director of Akot Memorial Clinic says vitamins B strengthens body immunity when they have little appetite for food.
Douglas Okello Okao, the Chairman Local Council V of Omoro district says there is no food rations for nodding children now during COVID-19 lockdown.
Okao says they have put request to the government of Uganda to consider supporting Nodding Disease Children with food supplement.
Adding that as a district of Omoro they have also put forward to the task force COVID-19 pandemic, but so far, they have not received any responses.
"I know and aware that there are 25 Nodding Children who are critically need high value food nurturance who are bed ridden as we talk now," Okao confirmed.
He said Omoro District has contacted Thrive Gulu and Caritas Gulu Arch Diocese and East Side Church base in Lira who had pledged their readiness to support Nodding Disease Hope for Humanity Center, but COVID-19 pandemic has curtailed the programs.
Jacob Oulanyah, the Deputy Speaker of Parliament said in 2018 when he tried to intervened by sending one Nurse at Aromo Wang Lobo to help and give services, but community who own the land where Hope for Humanity Nodding Center was denied giving to the charitable organization. They are demanding that the government should build for them houses.
"I have tried a son of the soil to settle the matter between Jaka clan, but they refused, now I cannot now enter into the matter." Oulanyah reiterates.
Nodding Syndrome is a strange ailment which has devasted the lives of thousands of children in the neglected northern region of Uganda since 2007 when community started voluntarily return home from the IDPs, about 10,000 children are believed to be affected.
The victims behave as if they are falling asleep while also drooling uncontrollably. It is a fatal mentally and physically incapacitant disease. It stunts the growth of children permanently-including the brain-and leads to mental retardation.