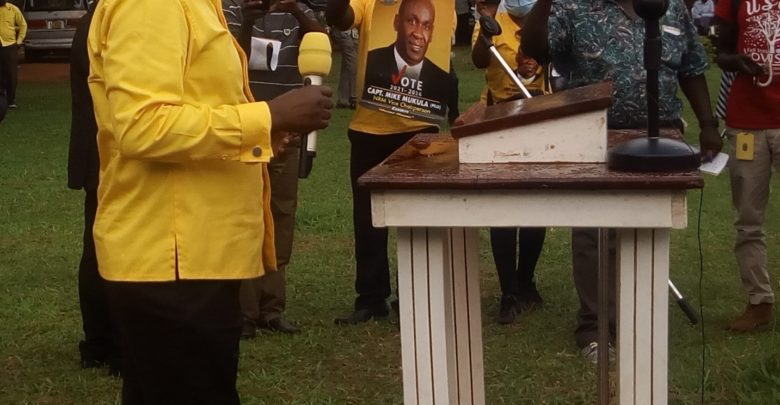 UGANDA: MESS ROCKS NRM AS YOUTH SEIZE PODIUM, DECLARE KADAGA, MUKULA SOLE CANDIDATES
Acholi die hard dish ploy, shapes order in Gulu meeting as Kadaga, Engola left haunted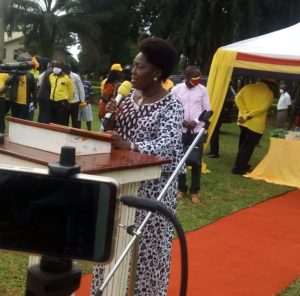 The Big Four Political Heavy weights of National Resistance Movement, (NRM) storm Gulu City during what the government calls a scientific campaign involving a rally type gathering intended to be declared sole candidates for regional vice chairpersons for the ruling Party.
A third time Vice Chairman for NRM for Northern Uganda Sam Engola, Mike Mukula (for eastern Uganda Region) Rt Hon Rebecca Kadaga the Speaker of Parliament and eying for National Women League Vice Chairperson and Moses Karangwa standing for National Vice Chairman NRM central Region were the gurus on the limelight on August 2, 2020 campaign.
GULU-UGANDA: There was a total disorder at St Monica girls tailoring school during NRM political campaign when a group of NRM Youth league took over the pulpit immediately Speaker Kadega finished her speech. A man came from the backseat and walked to the pulpit and declared Mukula and his group as winners in Acholi Sub Region.
"We the eight Chairpersons of NRM in Acholi Sub Region have endorsed Mike Mukula, Sam Engola, Rebecca Kadaga and Karangwa as our sole candidates, we are going to vote for them, who is going to second my motion?" the man said.
Susan Acan, who claimed to be one of the Youth League delegates hurriedly seconded the motion.
"I Susan Acan second the proposed motion that all the 8 districts in Acholi Sub Region, should vote Mike Mukula, Rebecca Kadega, Sam Engola and Karangwa as the sole candidates in Acholi Sub Region." Acan said.
Soon she ended her remarks, when the public address system was switched off.
Ben Acellam, who is the political Parliamentary Secretary for Deputy Speaker Jacob Oulanyah and the eight Acholi NRM District Chairperson unanimously denounced the said support of sole candidates.
As soon as Mike Mukula ended his speech, Speaker Rebecca Alitwala Kagaga convoy arrived walking as a teen girl and dressed in grey spotty long dress and naturally combed hair went straight to the pulpit to campaign.
She asked the NRM delegates to vote for her as National Women Vice Chairperson based on several reasons.
'My fellow NRM supporters I beg you to vote for me based on my accountability on family culture, constitution protecting Karamoja, accountability on education, fight against gentle mutilations in Karamoja and Sebi Sub Regions, a campaign against Homosexuality" she said.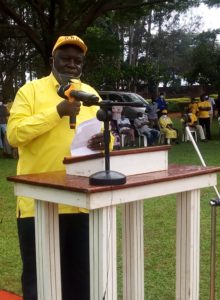 Sam Engola had a bitter crush on his back and cried for mercy as he admitted failures to pay for NRM offices in all districts.
Engola's campaign looked bleak and his body language -the face was painted with uncertainty.
A question put to Engola caused a nervous pinch as to why he forced Acholi delegates out of Lira Hotel on July 1st 2020 calling them intruders!
"Those are intrigues of Oulanyah Lanywen as his name is called Lanywen" Engola said "I do not want tribal sentiment.
Can you mention the name of the people who I have ordered out of my meeting, Shut up?' Engola fumed.
Karangwa had nothing to say, only asked Acholi NRM delegates to support his candidatures on the ground that when they go for NRM National delegates conference he will feed them and accommodate them.
"You know I am here in Gulu City seeking for your vote, unlike Minister Nadulu who is in Kampala not bothering about your vote, he is the minister and the MP for Luwero, what does he want to be National Vice Chairman." He said.
The attempt to contact Minister Nudulu was fustile as his known phone contacts could not been reach for comment.
Mike Mukula asks Acholi NRM delegates to support his candidature for Eastern Uganda and vote for him because of his support for Pan Africanism, says African is under threat in 1962 when the British flag was lowered down on the 9th 10, 1962.
Then Uganda national flag was raised, we are not going to accept being neo-colonized by another nation. We are not going to allow it to be recolonized.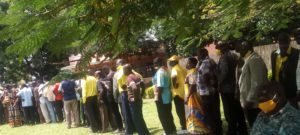 "We have our brothers and sisters who have studied, we are not going to allow it, NRM constitution says we need to provide a solution to our African problem. If they are giving you money, eat it, but vote wisely." Mike Mukula warns.
He urges that he is at home, we are not going to romance with neo-colonialism and imperialism. When you are in Japan, do you get body sweeping streets, when you are in China do you even get work in their restaurant.
We want foreign investment, we might invite you to the vendor, but not the bed room. It's an abomination in Acholi culture to enter a bedroom; it needs traditional syncing.
He argues that my brothers and sisters African must protect African, we need to provide a framework, we must find a way of resolving African problems.
"Let me tell you the ground here this time, there are issues in the country as a result of COVID-19 pandemic. I therefore tell you the election is going to be carried out, Uganda cannot be declared a state of emergency because we have only 4 number COVID-19 dead. Even if Uganda has to be declared a state of emergency, we need a referendum because in the constitution there is lacuna." Mukula reasoned.
Mukula says there are three points we are going to handle by the end of this year 2020. Our NRM Chairman has been unopposed and the Vice Chairman. You will sit in your district and endorse Museveni as your sole candidate for NRM party bearer.
Secondly, instead of going to Numbole in Kampala to vote, you are going to remain here. Shop lists the key points of what you think is a priority to the region.

The Acholi interest must be put in the national manifesto, presidential pledges which were made in the two or three years insisted that Acholi8 national interest reform the pledges that were made should be implemented.
There are cadres who have been working for the party should be remembered, you can't kick people who have worked with you like cadres. Their children and the cadres of NRM should get free education.
Also, recognizing the party member with dignity, "I warn President Museveni not to monetrinze the election," Mukula urged.
Mike Mukula who is trilinear is building the biggest sialon in Soroti and claimed that when he flies across Uganda, he sees only a sea of grass thatch houses cut across East of River Nile.
Wait in second edition why Mike Mukula since NRM came to power he has never been putting Acholi agenda as his priority, why now.
If he is elected, he is going to convince the NRM ruling party organ to appoint the son or daughter of Acholi to be commissioner of oil and gas.