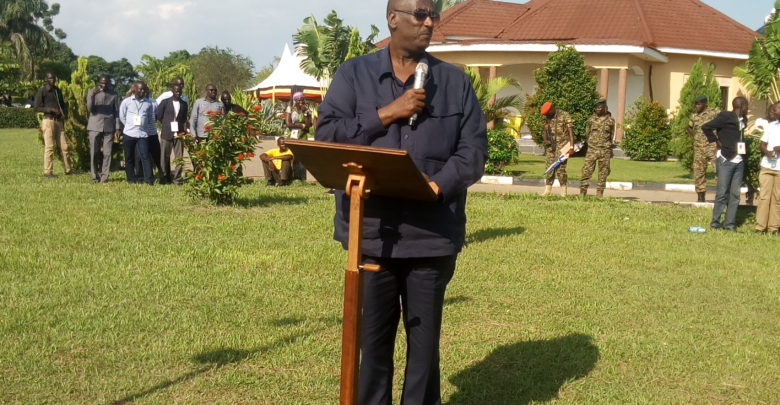 UGANDA: PRESIDENT MUSEVENI MUST PRAYS FOR NO MORE WAR IN UGANDA TO PROTECT HIS WEALTH.
Does Uganda know that Gen. Moses Ali was born at Palabek Sub County in Lamwo District, now he is claimed be a born from Adjumani District? And Gen. Paul Kagame was raised at seven Connor, Lacor center in Gulu.
Gen Moses Ali was a licensed teacher at Koch Goma Primary School, in Gulu. Now one of the richest in Uganda.
GULU-UGANDA: President Yoweri Kaguta Museveni is running Uganda as his personal enterprise; all the government institution is being run by National Resistance Movement, the brain child of Mr. Museveni, what a mess!
Mr. John Muto is a veteran Journalist and a member of Northern Uganda Media Club in Gulu City.
Oyeng Yeng News staff catches up with him to analyze the political situation in Uganda.
Mr. John Muto what is your takes on the current political upheaval in Uganda?
Mr. Museveni is running Uganda as his person enterprise, when he passed on; his closest allies will be left with huge question?
Look to the people of West Nile Region, in the 1970s all the wealth which were taken from the departed Asian was distributed to the people from the West Nile Region, but did they keep it up to date?
In 1979, when Uganda Tyranny Idi Amin was toppled by the Uganda Exiles, Uganda National Liberation Front (UNLF) in 1979, the people from West Nile Region suffered, because of the fate of their leader President Amin.
"One things we should know there is no single institution in Uganda which is not being run as NRM enterprise, the Uganda Police Forces, UPDF, judiciary, Internal and External Affairs, the Health department, Ministry of Finance, Ministry of Work, Animals, Industry and Fishery, Ministry of Environment and Water, and Information Technology are all being under one docket of the first family, being run as NRM institutions" Mr. John Muto alluded.
He adds that all these institutions will collapse when the there is know central power at helm of Museveni.
Mr. Muto argues that if the no power hand of President Museveni is removed or taken in the same way he ascended to power in 1986, then those people from Western Uganda forces will certainly not retain their wealth.
Mr. Muto says for example, in 1960 Gen. Moses Ali was a licensed teacher at Koch Goma Primary School, but look; Gen. Moses Ali now is oozing in wealth, like other Generals from Western Uganda.
In a bitter mood Mr. Muto says in 1980s during President Milton Obote II government, the language which was spoken in kitchen cabinet, the word so call "Wan Keken" literally meaning we are all one was the common words. Mr. Muto said.
"I am not surprised that the same common word which was common is being echoed by President Museveni's people, "This is our government" literally meaning, the Northern was eating." Mr. Muto reasoned.
Mr. Mark Opiyo formerly was in Uganda Army, says in 1980s Mercedes Benz were packed besides the grass thatch huts in Northern Uganda. We did not know that the worst was coming, Mr. Opiyo lamented.
He adds even in the 1970s, the Amin's people, the West Nile Region were behaving in the same way people from Western Uganda are behaving, they were amassing wealth.
"All the post cars were heading to North Eastern Uganda, including the region of Karoamoja. Now all the PRADO vehicles are heading to Mid Western and Southern Uganda." Opiyo wonders if the Western are in the know that they are heading to chaos.
Hon Patrick Lumumba the Chairman LC III for Bar Dege Division also alluded that the leadership of President Museveni government has learned nothing from the former government. Because they are doing the same things what took place like corruption, nepotism grabbing people poverty at will, and grabbing land from the poor, Hon Lumumba asserted.
President Museveni government and his chronic should not boast about wealth, we have seen it all, do you think the West Nilers would be poor to extent that they chewing Maringi, Hon. Lumumba reiterates.
"Even President Museveni once time reassured his kin mate the Bakiga people that when he die the whole western Uganda will remain rocks." Hon Lumumba argued.
He adds that what is happening will not stay forever, after President Museveni's demise some who is used to depend on him for free money of government will not survive.
"The Museveni people are printing free money, looting bank at will, grabbing land from Northern Uganda, robbing the country and looting every things, time will catch up with them