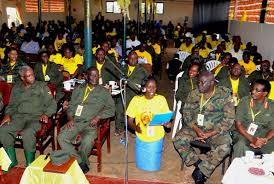 UGANDA: MUSEVENI USE THEORY OF GEO-POLITICAL CONFLICT TO CAUSE WEAKNESS IN NRM PARTY.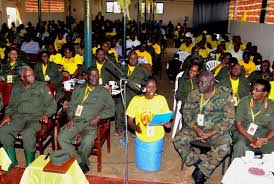 KAMPALA-UGANDA: President Museveni uses dirty trick of divide and rule to remain in power. In 2015, over UGX 30 billion was used to bribe Uganda Legislators.   
Ugandan political commentary who preferred anonymity says in 2015 during the caucus retreat of the NRM Members of Parliament at Kyankwanzi in Kanugi District in Western Uganda, Museveni was nominated as sole candidate to run for the 2016 presidency.
According to him, the NRM caucus played a Donkey role in ensuring that President Museveni got another term in office, which indeed saw him nominated as unopposed NRM party flag bearer in 2016.
He adds that, it was realized that bribing the NRM members of Parliament to support the sole candidature of Museveni was very expensive since it costed the NRM party billons of shillings.
"This time round, Museveni through National Resistance Movement party was seem not to be willing to spend big chunks of money like he did in 2015, hence, he came up with another strategy of using the central executive committee."  Political analyst reiterated.
The political analyst further adds that NRM tried to weigh among its organs, using Strength, Weakness, Opportunity and Threat (SWOT) analysis. And having done all that, they found out that it is cost effective to use the Central Executive Committee in seeing Museveni contest come 2021.
"Because they were few, facilitating them to favour Museveni to contest in the 2021 polls was easy compared to the overwhelming number of 2015." He observed.
He argues that when any member within the NRM organ tries to raise up, someone within the organization would be used to pull him/ her down.
"President Museveni is dealing with his party organs in the same way Geo-politics is being played. In Geo-politics, there is a theory of conflict which states that, if somebody can stir trouble in his neighbor, he/ she increases his/ her own powers." The analyst explains
"President Museveni's party is in fire, because according to the NRM party interest, each party member is a treat to NRM organization, for example Tanga Odoi the chairman election commissioner of the party is in loggerhead with Kasule Lumumba the party Secretary General. So, when the fight hits up, each party goes to seek favour from the tyrant Museveni" He further observes  
So, without any mean or assurance, Museveni gets everything. He despises them and keeps quiet, because he gets all information, he does not need any investigation at all.
Museveni is there to stay, he knows every thing
National Resistance Movement is the weakest party in the country, not even local council I of the area is weaker than NRM party stalwart, dictator Museveni alone is half of NRM's strength.