(BREAKING NEWS) UGANDA: ACHOLI CHIEFS WELCOME MUSEVENI'S BUS FOR ACHOLI PROVINCE FOOTBALL TEAM, SAYS OULNYAH SHOULD GO AN OPPOSE
Omoro MP, Jacob Oulanyah should go an Oppose-Odonga Otto, William Nokrach says Oulanyah is Acholi big Cock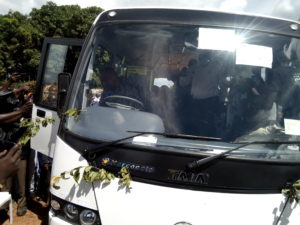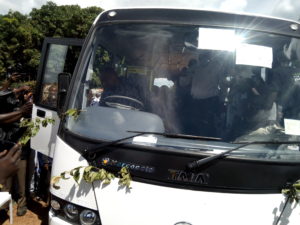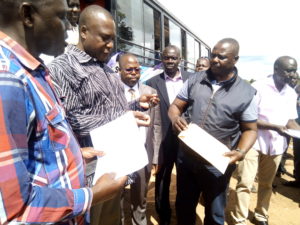 GULU-UGANDA: All the road leading to Acholi Ker Kwaro, Acholi Paramount Chief palace has been rooted by heavy escort of Omoro MP, Jacob Oulnyah.
By 2.00pm local time 10.00 GMP, Acholi Province Football Team the key was handed to Rwot David Onen Achana II, and later he enter into a new Toyota bus with a lot of jubilation dancers from Acholi music melody Wan Acel.
Rwot Achana ask people of Omoro County that this is the time to allow the Deputy Speaker Oulnyahto go and oppose, he told football fans who turn up to witness the new Bus.
"Mr. Oulnyah i know our people Acholi they have many bad things, but you may not get well with them, but those are your people.Know who to work with and who is your ally." Acholi Paramount Chief said.
Odong Otto, the MP for Aruu County who stood for Acholi Parliamentary Groups, AGP says he will now come and pitch camp in Omoro County to see Deputy Speaker go through, "Now not as a candidate contesting for Omoro County seat."
"You member of Media don't write story that FDC and NRM has endorse Deputy House Speaker for Omoro MP seat to go and oppose. we are talking like Acholi community, if we have our strong man who is close to kitchen cabinet, we should have got 60 tractors like what Rabecca Kadega sent to Busoga Sub Region. But now we have recieved only a bus." Odonga Otto reiterates.
Ben Acellam who is the Deputy Speaker Omoro political assistance who talk to Oyeng Yeng News disowned the story which was published in Oyeng Yeng News that he is one of the candidates for Omoro MP seat.
"I am getting good payment for my work, why should i go to politics which require me to attend all the funeral in Omoro County." Ben told Oyeng Yeng News.
Sources which assoitated to Owani, the reported one of the candidate who voiced his interest for Omoro MP seat, also distanced himself.