UGANDA: THE WRATH OF RETIREMENT OF GULU MEDICAL OFFICERS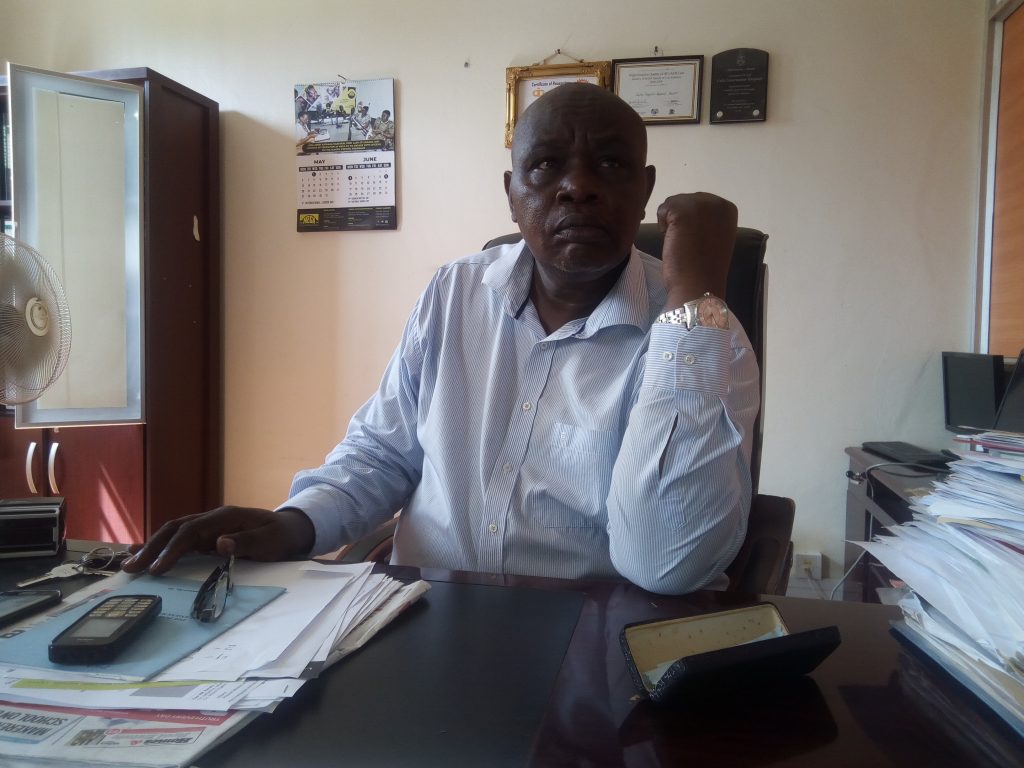 It's too bad for retired Nursing Officer, the current Gulu Regional Referral Principal Hospital Administrator need the matter to be solve expeditiously.
GULU-UGANDA: On Saturday May 11, 2019 Ayaa Lucy 63 years old former Theater Attendant came to look for her retirement package form Gulu Regional Referral Hospital after four years down the road.
She footed 47 kilometer from Alero Sub County. In a rag cloths, this the condition of a former Theater attendant.
 Ayaa Lucy and Atim Fildar both of them retied from Gulu Hospital in 2015, but still up to date, none received pension.
Ayaa says every month since in 2015, she has to come from Alero Sub County 47 kilometer, in Nwoya District to check for her pension, in vain, she claimed that the retirement packages seem being eaten by some body from the ministry of Health.
"By the time when we retired, there was the then medical personnel called Akello who told us that she has taken our retirement form to Kampala, to Public Services, but then up to now no response." Ayaa wondered.
Ayaa is accusing former Gulu Personnel Administrator Ms. Akello Harriet says she was the one either did not submit her retirement from to the Public Services, or she is eating her retirement package." Ayaa painfully lamented.
Adding that Akello the Personnel was complaining to them that their Bank account was not actives, and yet by that time we posted UGX 200,000 each in Centenary Bank Account, Gulu Main Brach.
The attempt to contact Akello former Personnel for Gulu Hospital was futile as her known phone all are swift off. She was transfer to Kampala in the ministry of Health two years ago.
With the pain of missing her pension, Ayaa condition is worsening, in March, this year 2019, Ayaa developed High Blood Pressure, now she cannot see well, and movement is a problem to her, she narrated.
Ayaa is now vulnerable, she depend on hand out from the relatives and well wiser. She has lost weight, become thin, by two years from now if she did not get her pension, she would be death.
Ayaa she is not alone, thousands of medical workers from Gulu Regional Referral Hospital they are facing the wrath pension. Her 27 years in job would come to nothing. She cannot fend for her 7 children and 20 ground children that needs a million of money.
Atim Fildar, the former Nursing Officer who live in Kirombe, 2 kilometer outskirt of Gulu City her condition is worst compared to her counterpart Ayaa who is a High Blood Pressure patient. Both are victims of high rackets corrupt in the pension scheme by ministry of Public Services.
Atim she on wheelchair, she is bed ridden her stomach is swollen, suffering Liver Siriousity according to her medical report from St Mary Hospital Lacor.
"After two moth she has to be taken to St Mary Hospital Lacor, and she would spend two weeks while the doctor withdraw fluid from her stomach." Mary Ajok her care taker revealed.  
Ajok says Atim is not likely going to receive her pension package, her condition is getting worst, she argued.
"I am spending over UGX 150, 000 for treatment, every visits on medication and up kept. It would be better if her pension was paid." Ajok decries.
Atim is very bitter about her former boss, Akello Personnel Administrator says she is using her money for her personal benefit.
Atim beg The Oyeng Yeng Newsletter writer to at list tell her story to the readers so that her plight should be herds. Otherwise, the pension would remain a big dream to her.
"I used to ring her sometime back when things were okay when she was transfer and she was picking my calls, but later she started becoming wired when she sees our phone calls number she would  hang  our phone calls . But then now she has changed her telephone numbers." Atim was bitterly said.  
In an exclusive interview with Gulu Principal Hospital Administrator, Gulu hospital boss is responsive.
 Qu's. What is your take on, the two former retirement officers they have not got their pension packages since they retired from services in 2015?
David Tibemanya the Principal Hospital Amin.
Ans. My position as the Principal Administrator, any of our workers who is retired must get the pension.
Before he or she is retired, their paper works must be completed, so at list those two officers by now would be getting their pension now, since they got retirement in 2015.
But, for gratuity sometimes it delay because we need to budget for. For those people should be coming to complain to our office. When they make nose in the media, for me we don't work with press." Tibemanya said.
I further argues that any former Hospital staff, if you know your money is not somewhere, you wake up and talk to the person.
"For this case talk to Principal Human Resources Officer, I know their name are in the register."