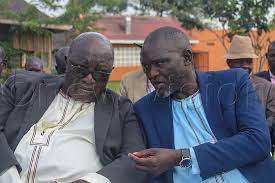 UGANDA: RWOT RICHARD SANTO APIRE FOR ACHOLI AGENDA, NOT PLANNING CHAOS-ACHOLI CHIEFS WARNS.
Rwot Apire for Acholi Agenda that shall spell out clearly how we can tackle and address the issues of education, Health, poverty and environment among other, where all Acholi people shall respect and subscribe to it
On Saturday August 5, 2023, there was total darkness in Atiak Town Council, all commercial business activities came to stand still, all shops were closed as Ricard Santo Apire, Newly Elect Chairman of Lawirwodi Paramount chiefs thousands onlookers line up the road to welcome him to his chiefdom.
Bwola dances, Acholi royal traditional, Otole war dance, and Ding-ding dancers colored Atiak Town Council, as they sang and dance to welcome their royal chief Richard Santo Apire escorting the 22 Acholi chiefs paid homage to his Atiak chiefdom to quell down the vein yards' sources of propaganda and disinformation that has been moving around that Rwot Richard Santo  Apire is not loved by his subjects, and he was not  Atiak chief.
Rwot Apire made a stopover first to officially open his newly build Atiak International Hospital which located two kilometers from Atiak Town Council in a colorful event
AMURU DISTRICT-SATURDAY, August 5, 2023. A jolly happiest Rwot Richard Santo Apire, newly elected Chairman of Lawirwodi Acholi chiefdom, is loved by his people, women knelt down on their clothes to welcome him, children and the elders people pay attention while watching his motorcade strolled on well paved marram road.
It was midday when Richard Santo Apire his motorcades touched down Atiak Town Council, people made ululations as the Council of Chief of Atiak led him to where his grandfather Rwot Olaya was buried including his father's grave.
It was a shocking moment to find a neat compound of bigger than a football field is left to be part of a burial ground where Kituba stood to affirmed really that indeed his grandfather Olaya was the first Acholi Paramount chief appointed before the advent of the British Colonial Uganda protectorate. But, Olaya had courage to called the sort to put all the central Luo under his leader chief, where his grandson Rwot Apire now heading.
It took about 40 munities for 22 Acholi chiefs to settle and making their way to where the function was designated due to heavy traffic who blocked Rwot Apire elect Chairman of Acholi chiefdom as onlooker peeping  to see who were escorting him, but they were chiefs walking on white carpet which lined about 50-meter-long with Bwola royal dances, which were beating their drums to scare away evil spirits that would befall the function.
Then came Otole warrior's dancers, who took to the pulpit with their beautiful wives who adorned Ceno royal cloth meant for women to show their dignity among the Luo/Acholi community.
Later Ding-ding dancers are played by young girls in their teenage years of about 11 to 17 years old. This where Acholi traditions and culture have been pronounced as one of the best world dances.
At around lunch time, the Rev. Father perch welcome Rwot Richard Santo Apire and all the dignitary who grace his homecoming, the Rev. Father prayed the word that Richard Santo Apire is a Joshua of Acholi, is God who crown him to lead Acholi into new land as the Bible Joshua who had led the people of Israel from the bondage to the promised land.
Afterward, Justice Raphe Ochan, the former Chairman of Uganda Public services when he was invited to welcome also repeated the Rev. Father word, but later Justice Ochan caution Rwot Richard Apire and his teams of chiefs that although their demand for change are generous, but it should lead to divide Acholi community.
"I believed that what you stood for was the right cause, but let us not be divided, our enemy will take the opportunity to weaken us more, reach dialogue where possible." Justice Ochan cautioned.
Justo Okot Atiak Prime Minister of Ker Kwaro Atiak, a tough talking person told Acholi chiefs present that although Atiak had elected and inaugurated Mandela who is the grandson to Rwot Apire as the Atiak chief, but he Mandela had abandoned his reign of leadership when he resorted to gambling and engaged in alcoholic substance and drug abuses.
Therefore, the Atiak Council of Chiefs who tried to called him in order failed when he became illusion, because of his misconduct the council of chefs had to seek his ground mother consent, it's through the Daker of Atiak chiefdom who allow us to inaugurate Rwot Richard Santo Apire to replace him
"The issue of installing Rwot of Atiak is for the Atiak people. No one can tell you who should be Rwot Atiak, but the people of Atiak who choose who to become their chief, we cannot be ruled by other people who are not from Atiak." The Primer warns.
The Primer later read memorandum of understanding to Acholi chiefs who turn up in big numbers in Atiak chiefdom, it read as follows:
Chiefdom support and welcome of ACHOLI CHIEFS. On behalf of the people of Atak Lwani (Atiak chiefdom) and on my behalf, I would like to warmly and sincerely welcome you to Atiak: the great loving and caring Chiefdom of Atiak and Acholi land by saying "Tuwa Yee, Lwani Yee, Manyago Yee, Acut ma ngute ku olang neko Nyong culu ku"
Today is a great day of historical that shall set a foundation and building of a strong united and peaceful Acholi cultural institution that shall be cherished and respected, an institution that shall be accountable to its subject.
We therefore welcome you to Atiak and wish you a successful journey on the Course of the action that you have honestly and sincerely taken to bring sanity in our cultural institution.
"Tipu Kwaro wa obewoto kwedwa, tiyo kedwa. Dok obe-telo anyim wu itela manyen"
A brief historical background of Ker Kwaro Atiak Lwani
Kwer Kwaro Atiak has a long history that stems back from their origin in Sudan and among the Luo speaking dynasty and the great Acholi tribe. Their movement has been long and complicated and eventually came to settle in the current place now called Atiak Sub County, from their great great chief Bade to the current Rwot Richard Santo Apire making almost 22 chiefs and 10 caretakers recognized and known.
Atiak chiefdom came to known by outside world during the reign of Rwot Olya, Rwot Olya was a great leader and he made very significant contributions to the unification and development of Acholi land, among his notable contribution were:
Setting up a strong and respected court system and headquarters was at Nimule.
Setting up a standard for bride price making marriage cheap and affordable to all, that is two cows and two goats.
Promoting education by personally sending his children and subjects to school and giving land to open up schools, for example Olya Primary school, Opwonya primary school.
He refused to support slave trade and told the Arab (Jhadia) openly "That with slave trade I don't accept"
He built a good working relationship with the white Europeans and encouraged them to trade with the locals.
He was a very diplomatic leader who never encouraged violence, but promoted peace in all aspects.
He encouraged and welcomed other clans to settle in Atiak, for example Palaro, Madi, Bari, Palabek and the Kuku.
He fought to protect and brought people out from the area infested with Tsetse flies.
He also sent three children to the Uganda Police Forces and were the first to join the Police Forces in Acholi, there were Abuga, Baki lokiteng and Yol.
He gave protection to Kabalega during the war against the king of Busoga, Bunyoro and Buganda here in Atiak in Pacilo parish up to now the place is commonly referred to as "Pa Kamlego" wang it
The current status of Atiak chiefdom and our vision.
Atiak chiefdom's "Vision is to have a united and peaceful society is to be a united peaceful society for a strong social and economic development."
Your highness here in attendance, Atiak cultural institution is very peaceful, focused culturally traditionally and our chief was rightfully installed and therefore there is no leadership wrangle.
Those who can't talk correctly about KER KWAO ATIAK are the people of Atiak, the cultural elders and the clan that anoints the chiefs, therefore, no one else can pretend to know what he doesn't know. In philosophy we call it "Talking without communicating the truth to you.
Your highness the quality and characteristics of who is to be Rwot is embedded in the letter RWOT. These letters stand and signify these meaning
R- Rwatte, as iot ker, rome ki kwiri
W- Wore kene, woro dano, winyo lok
O- Opore iye ducu
T-Tiyo matek, Dok maber, Tir kite tye
Our highness Rwot Richard Santo Apire qualifies and has all these qualities and characteristics, we therefore, thank you for seeing these qualities in him and elected him to lead you, this interim period. Those who walk in the light shall see life and those who walk in the darkness shall stumble and fall
 Our prayer
Your highness Rwot Richard Santo Apire and your brothers the royal chiefs from Acholi land, prayers to you are as below:
You strive to unite Acholi as a tribe across all boards that is cultural, religions, social and political.
To restore and build our cultural and traditional heritage, norms and positive values.
To recover, restore and protect our land, natural resources and environment.
To restore and build up a strong respected and accountable Acholi Cultural Institution, "Ker Kal Kwaro Acholi.
To set up Acholi education Trust Funds in order to promote the education of our Children.
To mobilize and sensitize our youths to accept farming in order to boost production, eradicate poverty at household levels, hence improving economic development.
To mitigate child marriage and gender-based violence among our people.
To come out with a clear Acholi Agenda that shall spell out clearly how we can tackle and address the issues of education, Health, poverty and environment among other, where all Acholi people shall respect and subscribe to it
In conclusion, your highness we thank you for coming to Atiak Chiefdom, we thank you for the unity and solidarity you have exhibited to our Rwot Richard Santo Apire. Our god Got Olima, Jok Otira the god of war and peace shall always protect you on his journey and the part you have taken.
The spokesperson for newly Lawirwodi Richard Santo Apire Francis Okello Mawa, the former Puranga Primer chiefdom introduced 22 chiefs who turn up to Atiak chiefdom welcome to Rwot Richard Santo Apire
Mawa in his known parse of Jogi Acholi referring to each deity of chiefdoms in Acholi paraded Rwot of Padibbe, Rwot of Agoro, Rwot of Lukung, Rwot of Palabek, Rwot of Paibwore,2 Rwot of Pajule, 2 Rwot of Pader, Rwot of Omiya Pacwa, Rwot Amyel, Rwot of Patongo, Rwot of Puranga, Rwot of Pabbo, Rwot Pawel, Rwot of Lamogi Pagak, and Rwot Patiko.
Okello Francis Mawa later read 10 names of Rwodi Acholi from Agago district who sent in their apology that they are together with Rwot Santo Apire. However, he warns other people who have turned in mudslinging Rwot elect chairman Apire and his group that they should desist from a scheme of political ploy.
Mike Lakony, the Chairman of Amuru Local Government finally grace Rwot Richard Santo Apire home welcoming, in a tactful move implore Rwot Apire, Elect Chairman of Lawirwodi to use the opportunity of chief's endorsement to reach the former Rwot David Onen Acana II,
The former Acholi paramount chief to unite for the seek of unity of Acholi community, otherwise the enemy will have used it to create more disunity.
Amuru district chairman argues Rwot Apire that if he did not raise those pertinent issues, they aa elected leaders would not raise it because their hands are tied, but now solve the strong point you have come with to bail us out of the political bondage we have been locked in during the reign of Acana.
"I know those who sit up on a chair which they are not supposed to sit on shall be told to sit down and those who have been sitting up shall be told to sit down." Mike Lakony echoed.
Insists that for us as Amuru district, our chiefs are being forced to utter words which he should not suppose to speak, without mentioning names, but says Lamogi chief his ears are tugged with goat's head. And as Lamogi chiefdom their chiefs do not have people mandate to speak on behalf of his subjects because their chief is speaking his own words.
"For us we don't have Lamogi chief, he is on lam tarmac, since you made the record clear, we stand with you."
Rwot John Ogenga of Parabongo Koch Amidi, was the chief guest of Honor, he was introduced by Rwot Richard Santo Apire as the chief behind him who nurtured him and guided him to become who he is now.
"When you look at me today do you see me as when I was not healthy as today when I left working with the government, because of him John Ogenga." While introducing him to Atiak people.
Rwot John Ogenga, in a careful wording says, the 22 chiefs came to Atiak Chiefdom to see for themselves and witness if really Rwot Santo Apire is Rwot of Atiak, because they have been told that he only hijacked the chiefdom, but not anointed chief.
However, the 22 chiefs including him have witnessed for themselves and cast out the propaganda that has been going around, we have confirmed and seen how the welcome has been.
"Indeed, if Rwot Richard Santo Apire is not liked by the Atiak community would not have lined up a two kilometer road to welcome him, and I have seen the big palace which is second to Kabaka Mwenda Mutebi, the Buganda kingdom. Are there any chiefs in Acholi who have the court and Council of chief rooms like he does, no." guest of Honor repeatedly argued?
There are people who are going behind us in the name of mediation to undermine our courses, if the chief who we have des-tool was sitting on us, and he does not want anybody to sit on him, is it right to sit on us? Rwot John Ogenga asked.
Secondly, our coming here in Atiak chiefdom is to confirm that we the chiefs who turn up to escort Rwot Richard Santo Apire we are behind him, because the development of Acholi community needs a charismatic leader which Rwot Richard Santo Apire has.
Thirdly, there are propagandist which is moving around that we Rwodi who supported Rwot Richard Santo Apire we want Acholi community to have another war, that is not right, because those who are against us they are saying that the Payira as community the Atiak people are planning to fight them, that is not true.
"There no war which is coming, and the Atiak community is not planning to fight the Payira people, this is cheap populist talk just intended to hoodwink Acholi people" Rwot John Ogenga warns.