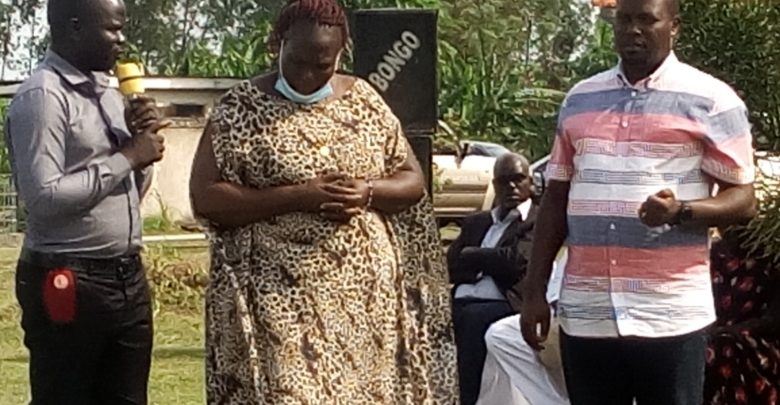 Agriculture ministery to support nowya
Vincent Bamulangaki Ssempijja Agriculture Minister says African are very rich in cultures that harmonize clan-relatives and society.
NWOYA-UGANDA: Vincent Bamulangaki Ssempijia, Ministry of Agriculture, Animal Industry and Fisheries felt love for Acholi cultural norms the way tradition shapes community during funeral that gives priority to lineage.
"I am so happy to be here today. I have learned the respect of Acholi culture, the way you honored wives of deceased family – brethren, sister's in-law, nephews, cousins, mother in-laws, uncles and grandchildren. Our Uganda culture is so beautiful that cannot be compared to other countries' although they claimed to be developed," minister Ssempijia exonerates.
Ssempijia added that he could not mention such countries where they have one language, one religious and culture and yet butchering themselves without remedy.
He says his visit to pay respect to the late Muzee Ojok Awany is returned to Gen. Charles Otema Awany's visit to their place Masaka.
Gen. Otema had been to our place many times. Even Richard Todwong, the Deputy Secretary General of National Resistance Movement (NRM) every elected Member of Parliament in Masaka know him.
Gen. Otema Awany was the very agog, saying the memorial ceremony for his late farther was only meant for few people because of the COVID-19 pandemic.
"We did not send radio announcement, neither communicated to the people that we are going to have the ceremony," Gen. Awany said, before introducing his brother Todwong, "but those who turned up for this function are our relatives from Pader, Omoro, Aswa and Kitgum because we have big clan."
Todwong also called his sister Christine Lanyero Awany, the Director of Larem Bus Company who in turn called her two Anti Mary Langol and Rozina Ange.
In the past, Gen Awany concluded, he used to hold such function with those of his sister Lanyero, but he is happy that his brother has joined in to help them.
He introduced Major Okumu and Col. Alayi Awany including Okutu Awany, the elder brother to the late Ojok Awany.
Rib breaking narratives of family loved from the Aunties.
Mary Langol was upbeat for the love late Ojok Awany exhibited while on earth, and bad relationship between the two brother who were living cat and mouse.
Mary Langol first intimated that she was also rude like the late Ojok Awany, not docile like her younger sister Rozina Ange.
"When we were young, the late Awany used to dislike her, he used to beat her," She recalled.
"One day the late Ojok Awany molested her, and her father the late Luke Awany also molested him and he was disbanded from home, until when he went and hid himself in deserted hut. But my late mother Cissy Laliya sneaked and sent food to her. She would cock and sent food to him in the hut at dawn," Mary Langol narrates at length.
She, however, said when she brought her former class mate as a wife to the late Ojok Awany, they became friend till death departed them.
Mary Langol advise people that reason the late Awany kept his family was due largely he had – when you see the late Awany's nine wives who are paraded before us – made a policy that no wife should feed her child alone, ensuring food given to any of his children.
"That is why he managed to keep all this family, pointing to dozens of Awany's children who were sitting attentively, listening to their auntie.
Mary Langol boasted that because of respect and love between them, her younger sister Rozina Ange respected her because of the grew air she has. For her she has been blessed with black air which makes her appears young.
Ange was equally proud of her elder sister. She says for her she was loved by her brother, late Ojok Awany, but she respects her elder sister.
"When food is brought to them, even her daughter would serve her first, and wash her hands"
Gen. Otema introduced his sister Lanyero that she is a billionaire of the Awany family.
"When you see us driving big posh cars, don't think that we are stealing government vehicles," Gen. Awany tells celebrants, "we have our sister who is more equally richer than Sudir."
Lanyero donated Covid-19 to Nwoya task force.