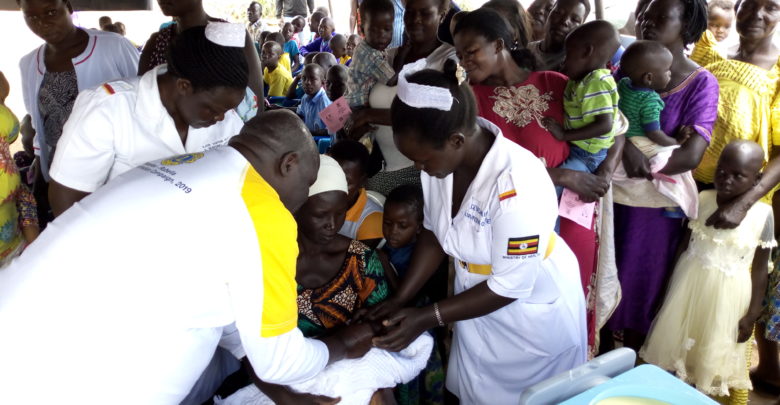 UGANDA: THE POST MEASLES VACCINATION SIDE EFFECT CAUSING MAYHEM IN UGANDA.
Which scientific findings have come out that measles Rublla is affecting Uganda Children who have been vaccinated against Measles Rubella.
In Northern Uganda they are facing effect of immunization falling sick, the parent are in harms that the government has failed to sensitize them.
OMORO-UGANDA: Hardly Three week after measles Rubella vaccination in Uganda, children who have been immunized in Acholi Sub Region, parents are in harms against the government for failure to sensitize them that there are side effects of the immunization.
Okello Allan the community social worker who works in Omoro District, Northern Uganda says the majority of children that has been vaccinated are developing bodily rash and diarrhoea, Okello urged.
"Many children have starting to developed diarrhoea and rashes, parents in my area are stating that some of their children are developing rash and diarrhoea. Okello said.
They are wondering if this had anything to do with the previous mass immunization of measles, mumps and polio.
The MR (and MMR) vaccine causes rash in about 5-10% of those who receive it.
It is more common in those who were not previously immune (but can occur in those who are immune).
The rash is usually mild and resembles a measles or a rubella or a even chicken pox rash. Your child will continue playing.
It occurs usually around 10 or so days after the immunization (which is around now) and disappears after a few days. Usually after two days.
Also note that the rash your child gets may not be due to the vaccination so you may need to get checked if it's not mild and your child is really ill.
Your child may also develop very mild diarrhoea due to the oral polio vaccine around this time. (They may already have developed it). It shouldn't last more than a couple of days. It is also a mild side effect. A few may also have mild tummy ache.
This is normal. Get checked immediately if the diarrhoea is bloody and serious stomach pain is present. Do note also that the diarrhoea may be unrelated to the vaccine. So be 'awake'.
The rubella part of the vaccine may also cause mild joint pains.All these -mild rash, mild fever, mild diarrhoea and mild tummy ache, mild joint pains – are signs that your child's immune reaction is responding to the vaccine.
Hope this helps. (Pic: Child with a measles rash)
The medical doctor on anonymous stated that the so called Vaccination that has been taking place in Uganda, there are no any scientists or medical personnel in Uganda are in the know of the vaccines that has been immunizing children in Uganda.
"Not even any laboratories in the country that have the machine that can test the vaccines which the world Health Organization is vaccinating to Ugandans children, sources intimated.
The Uganda medical doctor and the ministry of Health they are vaccinating Uganda children with either water or some things that can be harmful to Ugandan's children.
Medical sources further alluded that, the W.H.O Just decided from Geneva that this vaccines drugs can be immunize to Uganda children, Indian children, or Nigerian children. So we find our children getting immunizations from no where.
In conclusion it summarizes the thought of many scholars who has been saying that vaccination is a new method of depopulation to Africa
Gulu base scholar who talk on anonymous says the same rubella Measles vaccines was done in DR.Congo that lead to more death of children in that Country of DRC. But Ghana refused their children not to immunize against the Rubella vaccines.
"Even in Kenya the German company of Pharmaceutical industry manufactured rubella measles vaccines and took to Kenya, they mounted pressure on President Hururu Kenyatta, until he agreed to them, that Rubella vaccines was immunized against the will of Kenya people." the scholar insists
Now Catholic church of Kenya has taken President Hururu Kenyatta to court over the immunization, the German government after giving or sending their vaccines to Kenya. They gave him condition that they will give grants to Kenya.
The drugs rubella which is being used in Africa first of all is fake expired drugs, the problems is now with China, because of their trrade world with the USA, the Chinese they are taking Africa.
Uganda is not in isolation to what is going on, because in Kenya Chanciness has taken Rift Valley, like Lakes Kiyoga has been taken by China too.