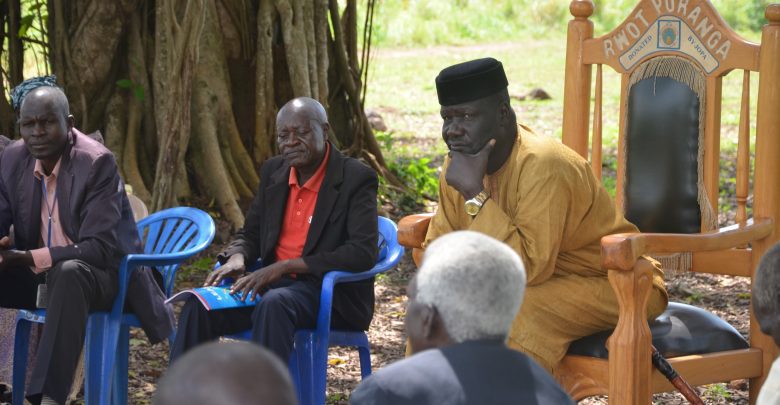 UGANDA:  MUSEVENI'S HENCHMEN RECEIVED UGX 6 MILLION LAND GRABBING FROM PURANGA RWOT-BALALU ACCUSED RDCs
Puranga Chief Jimmy Ocan Luwala, caution Acholi on sales of land, argues them that once they hire land tree plantation will not be spare
Francis Mawa, Puranga Prime Minister says his life, my struggle to protect Acholi land, now Balalu who have bought land they came for me telling me that Districts Residence Commissioners including districts Chairpersons they are saying I am a trouble shooter who is blocking them and spearheading Balalu eviction in Northern Uganda.
The Balalu have all the names of Acholi leaders who push them to go and buy land, telling them that if you go and buy land, we are behind you. The money which they are giving them is more than money we buy land, Mawa disclosed.
OMORO- MONDAY, 19, December 2022. Rwot Jimmy Ochan Luwala of Puranga Chief, on Saturday December 17, majestically sat on his throne between the two Kituba trees surrounded by the Council of Chief as sightseers made their way into his royal palace.
"Ker Kal Kwaro Puranga must stand up to face challenges of land grabbing by the aliens, we have lost a big shank of land. If Acholi stood up to defend their land, such misery would not befall us.  I call upon Acholi communities to refund the money by fraud star individual's people who sold the land without the consent of clan members." Instructing the prime minister to implement the programs."
Rwot Ochan Luwala argues that no one or person is above the clan members rule, although Wilson Lukwiya had made a mistake, but when he realized he made a U-turn, I must give thanks to him, and this must be an eye opener, Rwot Puranga alluded.
Am giving you order, let all the 55 clans under my chiefdom, let each Chairperson from clan members to reinforce my order.
The Prime Minister Mawa and Jimmy Ojok, the Constitutional Affairs Minister come up with the program of mobilization on land so that we all tour our Chiefdom to sensitize them on land grabbing.
"I have come to learn that many people who have acquired land in dubious ways, let them learn from what happened in Bolo leadership, when one person in the name of Wilson Lukwiya went behind the community and sold 500 hectares without community knowledge of people. We are going to deal with some Langi who have bought land in Acholi and have come up with all sorts of witchcraft, now our women have become victims, ghosts are sleeping with them, our people have been affected." Rwot Luwala decries.
Rwot Luwala, condemned what Wilson Lukwiya did, and warned his subject to desist from this, "Ma kelo to" if Lukwiya had not cooperated with people, what would have been the result, it would lead to death. If the Acholi community had resorted to what the Bolo clan had done, the Acholi community would have protected their land." Rwot Luwala warns.
Rwot Luwala, (wa ywayo moro ki lakadi kedi,) turning to Acholi community, Rwot Luwala says we are to blame, why do we allow aliens to be in-charge to manipulate the people.
Telling off politicians, the elected leaders the likes of Members of Parliament and the Local Councilors one who are currently are the people the Balalu used their stump for land deals, once the LC1 chairman signed the document, the Balalu now can used it to legitimize it to get the land title for the sales land. Now you find the same LC1chairman who turned out to be the social evil, today their stumps are used on one Balalu document, and next you would be surprised to find him stamping another document for the same land he has sold to another person.
"Let not be deceived by elected leaders, we elected them, when chiefs question them about the bad things they have been doing they turn to us saying we don't have a role to play and politics" What shame.
Balalu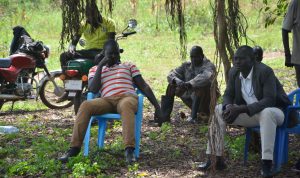 Emmanuel Mugisah who hails from Nakasongola in Central Uganda, says some he was connected by someone called Komakech from Agago district contacted me that Wilson Lukwiya has land in Bolo Juk Lebi, and when we reached the deal, we survey the land which measure about 300 hectors. And paid him UGX 6 million land that is estimated 300 hectares
"I thank, Puranga chiefdom for refunding my 6 million shillings, these people are so kind. In other areas, we have lost our money, but I have appreciated him for his kindness." Mugisah says after receiving his money.
Mawa. The Prime Minister of Puranga blamed some leaders in Acholi Sub Region, saying Mugisah told him that RDCs and Chairpersons including Acholi Parliamentary Groups AGP were behind Balalu land grabbing.
"The Balalu came and confidently told me that there are some groups of Acholi leaders who are telling them that, you see Mawa is a trouble shooter, he is the one blocking Balalu and spoiling land deals. The same Balalu said that when they check my name among the names of leaders in Acholi whom they are giving them money, my name is not among the names of people who are benefiting from the Balalu." Mawa the Balalu have a list of Acholi leaders who are pushing them on land grabbing, he told Rwot Puranga.
Okwera Alata, and two other Council of Chief joined Mawa in performing the traditional ritual "Agat" evil casting to put the last nail on the coffin on Balalu deal.
Oyee, wun Jowa Kwari me Puranga, wan tin dong en wa dwoko cente, lim me cen. Ngat ma loko ma rac, wang ceng otee ci otee, wang moni ma col li wang ceng otee, otee ma bor.
"The money we are refunding UGX 6 million is now mark the end of any land sales in Acholi, every clan who has been forcefully denied land rights, has un done the wrong abomination that has befallen our land, I stand here to revoke the social evil that has affected our land, we from helm of deity of Puranga." Okwera Alata reclaimed.
Jimmy Ojok, Constitutional Affairs Minister who also double as Speaker of Puranga Ker Kwaro ask the Mugisah to signed that he have received UGX 6 million, and Wilson Lukwiya also signed on behalf Rwot Puranga as the person who sold 500 hectares to Mugisah which the handover ceremony was confirmed before Rwot Jimmy Ochan Luwala witnessed by his Council of Chief of Puranga including Prime Minister Mawa, Ojok Jimmy.
Later Ojok Jimmy answered Rwot Luwala by saying after the new year 2023. The Puranga cabinet soon will be called to address land grabbing and will come with a road map for sensitizing communities on land uses.
"We are soon calling on the Puranga cabinet meeting to implement the position of Rwot programs, and then the cabinet ministries will discuss the matter. We shall give our position even in regard to the illegal land sales we are going to force fraud star land dealers to refund the money from community land grabbed before." Puranga Speaker commented.
Dr. Everest Ongaba, Chairman of Pugot clan from Atanga Sub County, one of clans under Payira chiefdom says whoever, sell his land without clan members leader consent, the land which purported sold will be taken away, and the person will be jail and forced to pay back the money.
"Sales of land is banned in the Pugot clan, nobody is allowed to sell his or her land, strictly sales of land ban" Dr. Ongaba notes.
John Calvin Lukwiya, the Chairman Local Councilor 3, of Awere Sub County says Balalu is currently banned in Awere Sub County, and warns his name sake Wilson Lukwiya not to try again to sell community communal land.
"Wilson Lukwiya his problem will be solved; we have understood that he sold land to prepare for the funeral rites of seven of his siblings. As clan members we are going to contribute some fund" John Calvin argued.
Wilson Lukwiya, who also attended refunding UGX 6 million, although he met Emmanuel Mugisah, he was remorseful. Promised to keep his word.
"Let us put the past away, and move forward" Wilson Lukwiya commented.