UGANDA: LRA GHOSTS RAIDED PRIMARY EDUCATION SCHOOLS IN NORTHERN UGANDA-EDUCATION OFFICER Hundreds of
Mass cross-over
school pupils in Omoro District have been attacked by LRA ghosts, demanding re-allocation of primary schools. Mostly child-girls pupils are being haunted by Lord's Resistance Army (LRA), Uganda People's Defence Forces UPDF have run berserk.
OMORO DISTRICT-UGANDA: The primary schools Management in Omoro district Uganda and the office of Omoro District Education Officer (DEO) have closed seven schools following chaotic situation in the schools, over 200 female pupils have been attacked by evil spirits.
Rev. Vincent Ocheng Ochen, the Omoro DEO says his office have suspended full day learning for a week as evil spirits many dig their hole in attacking female learner form upper classes, the reason to allow school operate half day is to allow parents and religious congregations to conduct prayers and fasting to mitigate evil spirits from the affected seven schools.
"I have directed a half day study to be conducted in three primary  schools most affected by the attack of evil ghosts spirits, to stakeholders to chase away bad spirits. This is to allow even pupils who are in top classes to sit for their Primary Leaving School Certificate which will take place in November." The Omoro Education Officer made Remarks.
Mike Odongkara, the Chairman Local Government Councilor 3, for Lakwaya Sub County, in the affected primary school follows the disruption of learners at Looyo-Ajonga primary school, Idure Primary school and Acholi Nyeko Primary school.  Revealed that in Loyo-Ajonga 20 pupils are mad, Idure Primary School 50 female's pupils attacked and Acholi Nyek Primary school over 50 pupils too was affected.
He further says Looyo-Ajonga primary school which has 840 pupils, 438 boys and 407 girls' 50 female girls in upper classes have run berserk, Idure Primary school. However according evils spirits  is giving directive through the affected pupils by uttering words that the next other four primary schools including Genies Nursery and Primary school, Awal-Kok Primary School, Aket-Ket Primary school, Lalogi Primary School, Kidobo Primary School will soon be raided by evils spirits too.
Alfred Okumu, the head teacher of Loyo-Ajonga primary school described the situation as hell on earth, on Monday, 26, October 2022. We hear the shouting of a girl from one latrine crying for help, that she is being attacked by evil spirits. And that girl was locked inside the pit latrine; when the door was open she was talking unsynchronized and soon the whole school was engulfed by the attack of evil demons.
"The girl narrates to us that an evil demon told her that the school has been built near his resting place. When they come out to enjoy sunbathing, pupils shout at them." Okumu disclosed.
Adds that the incident of evil demon attack prompted meetings between teachers and parents resolved to address problems by calling for prayer among other remedies. Other measures parents and school teachers agreed to call the community to turn up in large numbers to help quell the situation, Okumu the Headmaster disclosed.
The evil demon attack on Primary Schools in Lakwaya Sub County formerly Lalogi Sub County, Omoro district covering about 10,000 heaters was a base of Lord's Resistance Army rebel's leaders Joseph Kony where the hardened battle between LRA and UPDF fear battle was fought.
94 years old, Okwera John who hails from Idure village says at Loyoajonga primary school there are believed to be many people killed during the 1992 Fagia Northern Uganda operation led by Gen. David Sejusa according to a media report in 1992.
That operation led by David Sejusa arrested Omara Atubu, the then state Minister for Defense and Olum Zackary the then State Minister for Agriculture, Forestry and Animals Husbandry, which were arraigned before High Court Judges charged with treason and among others charges
"If LRA ghosts are coming up to attack female pupils, it is true, because many people have been killed in the past in our areas, let them speak for themselves those who were killed in cold blood." Muzee Okwera lamented.
86 years old, Tom Opiro. From Kora Kilak town council, Pader district disclosed in January every year ghosts of former Holly Spirits Movement of Alice Auma Lakwena still come to match with gospel prayer songs to commemorate the day of their fight with the then National Resistance Army NRA, now UPDF.
"Holy
Spirit Movement of Alice Auma Lakwena dube, "Acholi last hope." Anytime they can come here with the military drill song. Tita Lok ma mit kome Yesu tita lok, Yesu oloko pii odoko kong tita lok." Opiro relay
Additional statement by Col. M
STOCKHOLM
The long-running insurgency in northern Uganda was provoked by plunder of the region and revenge killings by the victorious National Resistance Army troops upon taking over power in Kampala in 1986, a former senior NRA commander has said.
The NRA was renamed Uganda Peoples Defence Forces (UPDF) following the promulgation of the 1995 Constitution. Col Samson Mande, who commanded the NRA troops that captured Gulu and surrounding areas, says claims that people in northern Uganda started a rebellion against President Museveni's government simply to reclaim lost state power, are inaccurate and misleading.
ALSO READ
In an interview in Stockholm, Sweden, on September 16, Col Mande said the defeated Uganda National Liberation Army (UNLA) soldiers, who were largely drawn from northern Uganda, had reached out to him through local church leaders, willing to surrender. But they fled after their colleagues who had assembled at Pece Stadium in Gulu town were instead tortured by the NRA (now UPDF) and some made to "disappear".
According to Col Mande, the late Lord Adimola and a one Fr John of Alokolum Seminary had approached him to negotiate surrender of the former UNLA soldiers and he agreed. He temporarily assembled them at Pece Stadium with assurances that they would not be victimised and would be considered for integration into the NRA. Those gathered at the stadium, Col Mande says, included now top UPDF commander Charles Otema Awany, one Charles Kareba and Lt Col Okoth.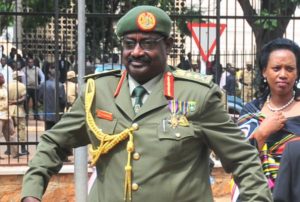 "They surrendered in large numbers and I called President Museveni who visited Gulu, and I showed him all the weapons they [UNLA soldiers] had surrendered willfully and he said I had done a good work," he said. Col Mande, who now lives in Sweden, said he was later surprised when the overall commander of the counterinsurgency operations in the north, now Gen David Sejusa, aka Tinyefuza, arrived and ordered him to "stop treating Acholi with kid's gloves". "That meant I should have molested them, but how could I? When I refused to follow the instruction which was against my conscience, Tinyefuza said I was trying to use the group to stage a mutiny," Col Mande says.
Subsequently, Gen Salim Saleh and Brig Matayo Kyaligonza were hurriedly deployed to quell the 'mutiny' but Col Mande says they found no evidence of such a planned revolt.
Col Mande says the assembled UNLA soldiers were loaded in five Lorries ostensibly to a prison farm in Kiburara in Ibanda District "and those soldiers have never been seen again and those that remained at Pece Stadium vanished".
Things then ran out of control when under Tinyefuza's command, NRA soldiers reportedly began torturing residents, confiscating their property both in homes and trading centres.
For example, Col Mande says, a generator owned by Lacor Hospital was stolen during the systematic plunder under the pretext of reclaiming property the owners "seemed to have obtained from Kampala". "I sent the President a message that [looted] things were being sent down south and he should intervene. But the President instead said I should stop being alarmist," Col Mande told the Saturday Monitor in the interview in Sweden.
According to Col Mande, the northerners with guns began individual defiance but one Capt Ojuk volunteered to organise the group for formal resistance. The late Alice Ouma Lakwena of the Holy Spirit Movement later assumed command of the group before it morphed into the Joseph Kony-led Lord's Resistance Army insurgency.
The UPDF spokesman Lt Col Paddy Ankunda, however, refuted Col Mande's claims that the northern insurgency was provoked by the behaviour of the NRA troops. He admitted there were some mistakes done by the NRA but insisted they were not sufficient to cause the rebellion.
"It is true there were some things which were not done properly on the side of the NRA. But the conduct of the NRA soldiers could not have been the original cause of the insurgency," Lt Col Ankunda said. He added: "The UNLA wanted to regain political power they had lost in Kampala and when they were retreating north, they went with that mentality, but did not agree on how to do it. A few misguided elements were propped up by the Khartoum government and thought they would fight the Uganda government."
The blame game
when he was reminded that Col Mande had dismissed that very claim of UNLA seeking to regain power as the cause of the insurgency, Lt Col Ankunda countered that the renegade NRA commander was distorting history. "Then Mande is a bad student of political science," Lt Ankunda said. On the alleged brutal treatment of the defeated UNLA soldiers by the NRA troops, Lt Col Ankunda said, without admitting nor denying culpability, that the change of the NRA's operational mode was dictated by the resistance they met on the ground.
tbutagira@ug.nationmedia.com