UGANDA: AFRICAN BRAZILIAN JIU-JUTSU EVENT TO BE HOST IN KAMPALA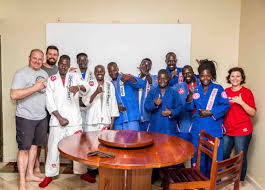 Gulu Brazilian Jiu-jutsu player will be heading to play with all the Jiujutsu clubs in Uganda, the event will take place in Mengo, a Kampala outskirt, and this is the first Brazilian computation in Country.
Jacob Oulanyah, Deputy Speaker of Parliament is the patron of Gulu Jiu-jutsu club.
GULU-UGANDA: Charles Komakech, the Chairman for Gulu Taekwondo Club and for Gulu Jiujutsu says his team is ready to win the Brazilian event in Kampala. There is nothing that will prevent us to win the game.
Komakech argues that in May 2016, the three people including himself started Jiu-jutsu training at Awere Secondary School, but later the numbers of participants grow to 40, now our club it's a full team comprise of strong men and women, he intimates.
"If Jiujutsu play is not in Gulu, that means Uganda does not have Jiujutsu." Komakech argued.
He further more appeals to Gulu District Chairman Martin Ojara Mapenduzi and David Martin Aliker who were pioneer to contribute for the Club since they were they have stake in the club. Even if they can give one box of mineral water, we can appreciate, Komakech said.
Jiu-jutsu Club now going to have the first match cord name, African Brazilian Jiujutsu federation on the April, 6, 2019, Jiujutsu has not yet kick off in Uganda.
Komakech says Jacob Oulanyah, Deputy Speaker of Parliament t is the patron of Gulu Jiujutsu club. Although he has a busy schedule, being a kick boxer he love sport. That why we choice him to be Steward Gulu BJJ and Gulu Taekwondo Clubs.