UGANDA: 5,000 CATTLE PERISH IN ACHOLI SUB REGION-GOVERNMENT IS MUTE.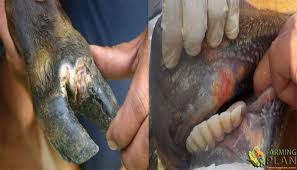 GULU-UGANDA: Black Quarter disease has so far killed over 5,000 cattle in three districts in Acholi sub region, said a District Veterinary Officer who anonymity.
The outbreak has affected three districts in Acholi Sub-Region like; Amuru, Omoro and Pader from late February.
Tony Awany, the Deputy Resident District Commissioner –RDC of Pader District says 330 cattle have so far perished from Pader District in six Sub-Counties.
 "Out of 80,000 cattle in Pader, 4, 000 has already been vaccinated and right now we have made an alarm to national Disease Control to intervene in the fight against this deadly outbreak." Said Awany
Awany says his office has directed the District Veterinary Officer to guide the farmers and give them reliable information about the disease.
"The farmers do not know what should be done, hence making them to hire fake veterinary officers to vaccinate cattle with expired drugs." Awany went on
James Akera, 39 years old from Adeng village, Bur-Lobo Parish, Angagura Sub County in Pader District, had 31 cattle. But two of his animals died of Black Quarter leaving him with 28 cattle.
Francis Otyeng, 28 years old from Jupa Village, Kalawinya Parish in Angagura Sub County who had 13 cattle, lost 3. He was forced to sell his Simsim and Chicken to raise money for vaccinating his remaining cattle.
Oketta Pasikwalo, 56 from Lukoto Village, Binya parish in Odek Sub County lost his two cow, out of 9. Oketta also vaccinated his cattle each at UGX 5, 000.
Okwera P'Odok from Ajan village, Lamala parish in Odek Sub County lost 8 cattle out of 10 animals.
Ojok Denise from Lakim village, Palaro parish in Odek Sub-County tied 5 of his cattle when he got information of the Black Quarter outbreak.
Dickens Ojok, the Councilor five for Angagura Sub-County in Pader district blames the community for the death of their animals.
Ojok says most people in Angagura failed to take their cattle for vaccination because they say the vaccines are fake, while others say the more the cattle are vaccinated, the more they died.
Michael Lakony, the Chairman for Amuru District says black Quarter outbreak in Amuru has greatly affected Puponya parish, in Atiak Sub County.
"The murder of our cattle is horrific crime, how could Kampala regime, and the Ministry of Agriculture, Fisheries and Animal Husbandry come out with outrageous statement that Black Quarter outbreak is not among the highlight of the cattle diseases? The government have no regrets." Lakony lamented
Dr. Batulomya Okwonga, the District Veterinary Officer for Amuru would not pick his calls when contacted to make the verification on the number of cattle perished.
However, Okot Emmanuel who lost 3 cattle says in Puponya Parish in Atyak Sub-County, lost over 200 cattle died out of 5300.
"The problems is, there is no vaccine from the government, but we have Veterinary Extension Officers who are helping local community to vaccinate the affected cattle." Okot said.
Ben Acellam, the former councilor five for Lalogi Sub-County in Omoro district, the political Assistance to Jacob Oulanya the Deputy Speaker says although he does not know the numbers of cattle that died of Black Quarter disease, Odek Sub-County is the most hits by the outbreak.
"Black Quarter has wiped all the cattle in Palaro Odek. Our people suffered. I don't know what can be done" Acellam wondered.    
In 1986 Uganda Army raided all the livestock from Acholi sub region, Lango sub region and Teso sub region as part of Kampala regime military campaign to quell rebellions.
Later, the government claimed that it was Karamojong cattle rustler who raided animals from the Greater North, but the trace of animals could not be found in Koramoja sub region. The question is now where are millions cattle stolen?
 Ends