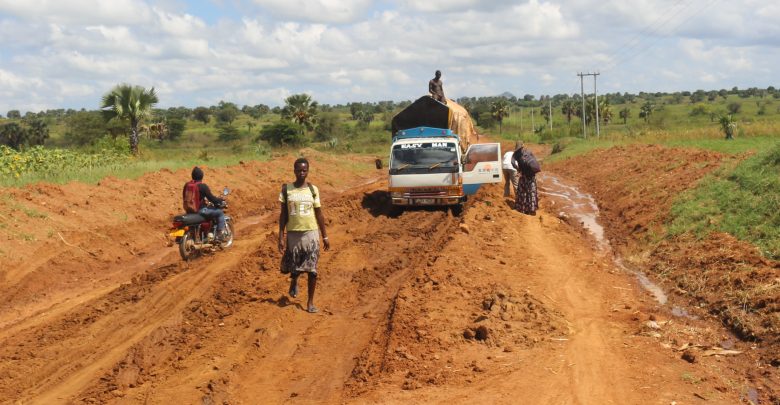 UGANDA: NO HORRORS On FEEDER ROADS  IN AWERE-ACET PLY WAYS
Awori accused Omoro District Chairman, Peter Douglas Okao of failure to stump out corruption in the district.
Even if we acquire new taxi, because of bad roads full of potholes, within one year my taxi will be destroyed.
GULU CITY-UGANDA:  Innocent Ojok Oculi has been a taxi driver plying Awere-Acet high way, he is lucky person who has never been involved in any motor accident, Okot says new taxi drivers are the ones who normally get troubled in minor accidents.
"We usually hear about fuel tankers and truck collision on Kampala-Jinja high way turning into fuel looting spree and resulting into more road carnage, but to us, we have been experiencing bad potholes which destroys our vehicles." Ojok Oculi narrates.
Jakeyo Labeja Okwera 56 years old, is one of the taxi drivers, for three years has been plying Awere-Acet road, also codified to Oyeng Yeng News that he has never seen any awful  sense of massacre in a road carnage.
"Currently, with COVID-19 pandemic, we are experiencing low turn up of passengers, and a few taxis have been loading here in Cere-leno taxi terminal, with OPS in place, there are few people. In each taxi, we are loading only seven passengers, but before COVID-19 lock down, every taxi used to carry 14 passengers. As per road accidents, there is no way, first of all we are experienced drivers, and secondly our taxis are few too." Labeja Okwera urged.
Ezekiel Onek, who operates from Gulu City Cere-Leno, is also among the taxi drivers with a good record. Two of his taxis have been destroyed, says since 2014 when he started operating from Gulu Municipality, the road from Gulu Town to Awere, which is 66 kilometre East of Gulu City, used to travel for two days to reach Awere.
"Two of my new taxis got engine Knocked, I have abandoned taxi operation because of the bad road, the stress of the road from Lalogi, Odek, and Awere Sub County. The areas between Odek and Awere Secondary School, that cover five kilometer, people have planted millet and Cassava in potholes, which were completely covered by rivers." Onek recalled.
Francisco Wadok Awori, by then Councilor for Koro Sub County, the Chairperson Works and Social Services for Omoro district was cough in the act for misuse of road fund for work repair and community road worth UGX 2.5 million that was meant to open community road 7 kilometers on Odek-Kalawyo
Awori accused Omoro District Chairman, Peter Douglas Okao of failure to stump out corruption in the district.
According to the reporter from Omoro District, Engineer of works in 2015 reported to OyengYeng News desk that roads have potholes, broken culverts and bridges.
Report says that, there was a total of 95.6 km of roads in various Sub Counties in the district which are in sorry states caused by the devastating downpour destroying roads.
From Bobbi Sub County western part of Omoro, Bobi-Wii Lacic, 9km Palenga to Ongako Sub County, Walter Ochora road 39 km road to Acet-Loyo Ajonga  and Labora, 10 km Bobi-Opayo to Hiima and 60 meter a long Hiima bridge which connects Keto-Awor in Lakwana Sub County.
Omoro district has a total of 303km roads under its management and 581 under the management of the various sub-counties.
David Ongom Mudong, the Regional Police Spokesperson for Aswa River Region agreed that there is no road carnage in most roads in Northern Uganda, because the drivers, who play on these roads, are experienced road drivers. Besides that, these roads you cannot compare it to tarmac on Kampala and Juba high way.
"We have numbers of road accidents on Kampala and Juba roads, because most of the drivers who drive on these roads, instead of using the tarmac to benefit them, they resort to playing kiddy drive game." Mudong urged.
When pressed to give numbers of roads carnage for the last five years since the road accidents have been causing death to innocent people,
Mudong insists that, he will give information later.