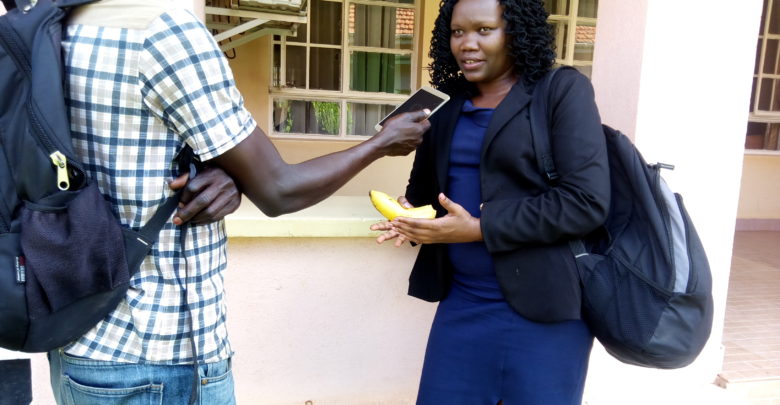 UGANDA: INTELLIGENCE ROBOTS TO TAKES OVER JOURNALISM JOBS-OPEN JUSTICE ARGUES
In China robots has taken over media waves to broadcast TV news and reading news on radio
Ms. Catherine Anite Executive Director, FOE-Hub says Intelligence  robots is a threat to takes over Journalists and gatekeepers work in 10 years to come that will take over reading news and major professional works in Africa and Uganda at large.
GULU-UGANDA: Ms. Catherine Anite the Executive Director, FOE-Hub says journalism jobs in Africa and Uganda at large are at stake due to global technological advancement taking root. She noted that in developed world China, Intelligence Robot are broadcasting Television News which has rendered the Fourth Estate jobless.
"In 10 year to come Journalists and Gatekeepers works will be taken over by Artificial Intelligences Robot in areas like news anchoring on broadcast such as Televisions and radios because in some parts of China and United State of America human and cars robots are now at work."
Anite cited an instance when she was in US for a conference; human robot was moderated programme which was supposed to be done by a person.
She feared that such invention is a threat to journalism career although she predicts that the invention may not come immediately to Africa due to slow level of technological development.
According to Ms Anite, intelligence robot may not be able to operate like human beings to cover story, collect information from the rural area, base on fact that the internet uses are still few in rural area.
"Look here in Northern Uganda percent of the people who are using mobile phone, their population are about 20 percent only." Mrs. Anite intimated.
Ms. Anite is building regional and international standards on freedom of Expression, 3-part test (Under what circumstances can FOE be restricted), understanding the media operational environment in Uganda, freedom of expression in the digital era, Uganda's context.
Currently Uganda top executive manager are using information which is basis for every decision taken in an organization, the efficiency of management depends upon the availability of regular and relevant information.
The expert says it is essential that an effective and efficient reporting system be developed as part of accounting system. The main object of management information is to obtain the required about the operating results of an organization regularly in order to use them for future planning and control.
The old techniques like intuition, rule of thumb, personal whim and prestige, etc. are now considered useless in the process of decision taking. Modern management is constantly on look out for such quantitative and such information, which can help in analyzing the proposed alternative actions and choosing one as its decision.
The management needs full information before taking any decision. Good decisions can minimize costs and optimize results. Management information system can be helpful to the management in undertaking management decisions smoothly and effectively.
Recently she published a book titled "Open Justice, a Closed Open Reality for Uganda's media." In her book media plays a vital roles providing overside on governances and public interest matter including disseminating information and educating the public on judiciary and quasi-judicial processes.