UGANDA: 650 ASWA HYDRO POWER DAM LOCKDOWN, 200 TESTED POSITIVE-UGANDA DICTATOR ARE BEHING IMPORTING COVID
Gulu District now has more than 250 new cases of COVID-19 pandemic still not brought in treatment centre as Gulu Regional Referral Hospital is full to capacity
Acholi Sub-region in Northern Uganda remains without death tolls of COVID-19 pandemic, however already 80 cases of Covid-19 pandemic has been registered in Pader District since an Italian man who is an engineer and one other working with Aswa Hydro Dam were tested positive.
Acholi Sub Region has been endowed with teenage pregnancy as schools have not been reopened as lock down has not been fully lifted.
The UGX 294 billion power station is partly funded by African Development Bank (ADB), it is owned and being developed by Aswa River Development Energy- ARPE Uganda Limited.
PAC SpA, an Italian construction Company, is the Engineering; Procurement manufacturer has been contracted to supply the four turbines and associated electric-mechanical parts.
The construction includes designing, manufacturing, supplying, transportation, erection, testing and commissioning of all supplied equipment
The power station is one in a cascade of five power stations planned on Achwa River. They are expected to produce 109 megawatts which will be distributed via a 132kV high voltage transmission line to a substation in Lira, where it will be sold to Uganda Electricity Transmission Company Limited – UETCL.
image.png
GULU-UGANDA: Work at Aswa Hydro Power Dam in Pader district has come to a standstill as two workers tested positive of Covid 19, 650 others quarantined
Pader district has so far registered eighty cases of positive COVID-19 pandemic since Uganda government locked-down her country on March 31, 2020. Two cases at Aswa Hydro Power station have been imported by two engineers from Kampala City, as later on more cases have been confirmed in Acholi Bur Centre in Pader District. Registered new cases of COVID-19 pandemic since it broke out in the country in March.
Okee said two people have so far have been confirmed positive with COVID-19, the victim is an Italian engineer who was earlier taken for self quarantine twice but unfortunately he messed up his family in Kampala and contracted the virus unknowingly, Okee reiterates.
"We expect this virus to have been spread by the truck drivers into the district who come from the neighboring countries like Kenya, South Sudan, Rwanda, Burundi and Tanzania together with some of the politicians who hold rally infecting our community." He added.
Mr. Okee quoted the president adding lockdown is the only measure to fight unnecessary movement where people must follow this presidential directive and the guidelines from the ministry of health to avoid getting and spreading the virus.
"I am happy that since the lockdown in March as a district, we have not registered any death of Covid 19 apart from the increasing cases of positive persons in my district" Okee reveals.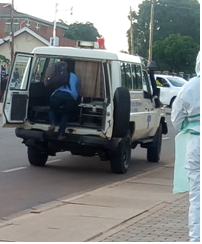 Okee said the district has embarked on sensitizing communities on the danger of Covid 19 and supplying liquid washing soap in all 150 water sources and encouraging local leaders to register visitors coming in their areas.
Lazarus Obbo, the Local Council III for Angagura Sub County observed that the community of Angagura Sub County lived in fear and urged them not to mix up with the 650 workers on Aswa Hydro Power Dam, the 650 workers .
"We are not going to take the chance to go to the Aswa HPP1 Hydro Power construction site. For us as you see us here we are not going to allow any new person to come to us." Lazarus Obbo warns.
80 year old, George Oryema and elder from Amii Lobo parish Angagura Sub County confirmed that the Aswa Hydro Power Dam COVID-19 situation is a threat to them, the impact will go beyond the boundary of power dam construction
"For us we shall remain in our place here, we don't bother what is going on so long as they are still in lockdown." Obbo urged.
Gilbert Olanya, the Kilak South Member of Parliament, Amuru District on a similar event while addressing journalists from Northern Uganda Media Club resource center in Gulu City said Uganda Prison Authority in his district has confirmed 154 positive inmates leading closure of the cells.
However, Olanya tasked the prison staff to explain how the virus entered the prison when communities are free of viruses.
"I think this could be because Amuru Prison is only 100 kilometers from Elegu border point where positive cases are registered overwhelmingly on a daily basis by the returnees from South Sudan" He noted.
Mr. Olanya threatened on failure by the central government to explain the circumstance to organize the community to block the Uganda-South Sudan border to reduce the spread of Covid 19.
He claimed that there are over 10,000 foreign nationals from across African Region that are living in Elegu.
All the positive inmates from Amuru Prison have been transferred to Gulu Main Maximum Prison and later taken to Kitgum District, the treatment center for inmates.
In May this year, both Olanya and Samuel Odonga Otto, the Aruu North MP in Pader District, staged a protest in Gulu City on the overwhelming numbers of Covid 19 positive patients flooding Gulu Regional Referral Hospital as they claimed there are no proper facilities for management of Covid 19 cases.
The duo also blocked the positive COVID-19 patient, a truck driver who was being transported from Kamdini to Gulu for treatment, until Jacob Oulanyah, the Deputy Speaker intervened.
image.png
Dr. Alex Celestine Oyoo, the District Health Officer (DHO) of Pader District says the survey shows that 98 percent of the people in Pader District are well aware that COVID-19 pandemic exists.
"What is remaining is that if people observe the measures being taken, Covid 19 will remain history as the outer cover of the COVID-19 pandemic is fatty when we are subject to sanitizer and hand washing with soap it will kill coronavirus" he says.
He encourages people to always use face masks properly and use sanitizers which are alcoholic to eliminate the virus.
Dr. Layoo also concurred with the Pader's RDC, that the two positive patients who are constructors at Aswa Ranch, Hydro Power Dam, have been transferred to Gulu Regional Referral Hospital treatment Centre with their contacts being followed.
Layoo says the good part is that people who are contacts are coming out willingly for a voluntary test which makes it easy to fight this disease.
He said the most affected category of people in their community is the girl children who are being impregnated during the lockdown.
Layoo added that there is teenage pregnancy because many parents have left their role and responsibility as parents on teaching children good morals.
He says this exposes many of the children to start practicing bad behavior like smoking opium Mira, Marijuana and peer group during the lockdown.
Dr. James Elima, the Director Gulu Regional Referral Hospital says Gulu Referral Hospital treatment center for COVID-19 has run out of capacity, as per yesterday Tuesday September 15, 2020. Number of COVID-19 cases the total admission stands at 131 cases.
Adding that Gulu Regional Referral has a capacity of 75 beds, now the hospital cannot admit more people.
It is on record that Uganda COVID-19 pandemic President Museveni should admit his failure, as per today, we have 200 COVID-19 cases in Aswa Hydro Power Dam side, those people who have been tested positive with COVID-19 cannot be transfer here in Gulu Hospital." Dr. Elima disclosed.
He added that the Health Ministry and President Museveni are playing politics, does it mean that we the doctors who are treating affected people of COVID-19 pandemic should leave our job and go to parliament and defend our people, the Director of Gulu Referral Hospital fumed.
Denise Ojwee, a journalist working with local Radio Rupiny Station in Gulu confirmed three days ago the medical doctors who are treating them in Gulu Regional Referral Hospital COVID-19 treatment Center have run out of medicine.
Acholi sub region has about 1,330 primary schools which have been shut down due to Covid 19, on record there are 4615 girls who have been impregnated during the lockdown in Acholi, according to an NGO forum report.
"The COVID-19 medicine which we received yesterday was obtained from outside, now the biggest problem, even PPE, is not there, what we showed yesterday they doctors had only what is simpler to PPE" Ojwee said.
A 56 year old Luka Ojok a resident of Bolo Langole village said the world is witnessing the new phenomenon which was not taking place in African world leading the indigenous Acholi to perform a ritual called "Ryemo Gemo" meaning devil casting.
As the virus broke out, the Acholi elders and traditional leaders In March 31, 2020. through their divine power (Got-Lagoro) in Pajule, the Chiefdom given the directive to Acholi community within and in Diaspora not eat salt, and cold food, starve sex and no quarrel at home as sign of paying honor to divine deity.
This mystery was revealed by the local chief (Rwot) Odoch Abayomac, the spokesperson of Lagoro in Pajule Pader District.
He says the Covid 19 is emerging because of the new world order where the geopolitical framework of the new millennium is a liberal cosmopolitanism which is a sign of COVID-19 Pandemic.
According to Acholi scholars, Daniel Komakech, Ph.D. of Gulu University, Rev. Willy Olango (Institute of Research and Management, Gulu), Amos Deogratius Mwaka, Ph.D. (Makerere University) they argued that their research finding supported Acholi divine deity pronouncement.
They found out that in this discourse, there is an introduction to multidimensional existentialism of humans and human experiences concept of explanatory model of illnesses and "Ryemo Gemo" as an aspect of treatment.
Their theory also discussed in detail the concept of "Ryemo Gemo" as a higher level response of the Central Luo of northern Uganda to illnesses meeting certain criteria. We will further discuss the spiritual, ontological and cosmological place of "Ryemo Gemo" before. Concluding with whether or not in our view "Ryemo Gemo" could be an appropriate response to the COVID 19 pandemic.
We do not wish to present ourselves as the ultimate authority in this cultural matter; but because the ideas are a result of not just our own experiences and knowledge, but engagement with literature, and consultations with several elders in Acholiland including traditional Chiefs and religious leaders.