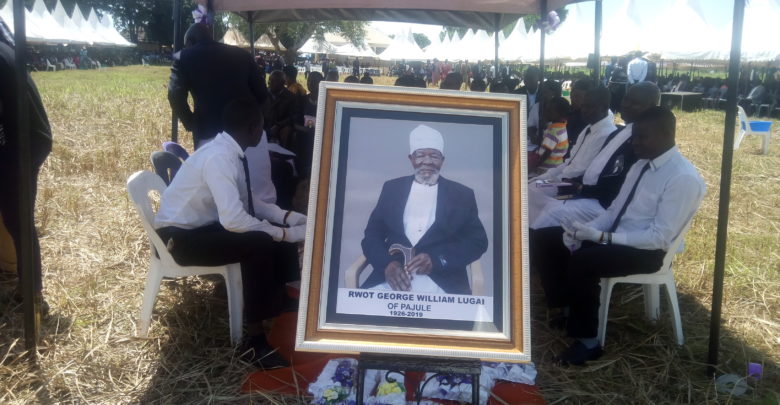 Ogul yee''''' kadeto tek, women of Palwo clan made ululation while men of Palwo blew the horn at the burial of the fallen Acholi Chief Rwot George William Lugai in Pajule sub county, on Friday August 2ed 2019.
PADER-UGANDA: Rev. Lugai the son of the late Rwot Lugai appeared amidst thousands of mourners who came to celebrate the send off Rwot Lugai.
"If any body who suffered the demise of Rwot Lugai then the first family."
Rev. Lugai introduced his daughter Winifred Amito to read the family eulogy.
Ms. Amito a presenter of Radio Tembo fm in Kitgum district says fare thee well grand papa Rwot Lugai. Read the poem.
He put his arms around you, and lifted you to rest
God garden must be beautiful,
He always
Takes the best
He knew that you were suffering
He knew that you were in pain
He knew that your world never end well on earth again
He saw that the road was getting rough
And the hill was hard to climb
So he closed your weary eyelids
And whispered peace be thine
It broke our hearts to loose you
But you didn't go alone
For part of us went with you
That day God called you home
A limb has fallen from the family tree
I keep hearing the voice that says grieve not for me
Remembered the best time the laughter and the songs, the good life I leaved while I was strong.
Continuer my heritage, I am counting on you
Keep smiling and surely the sun shine through
My mind is at ease, my soul is at rest
Remerging all how I truly was blessed
Continue tradition, no matter how small
Go on with your life, doesn't worry abut falls
I miss you all dearly, so keep your chin
Until the day comes we re-together again
Good bye our father, mentor hero encyclopedia library to mention but a few
We will miss you dearly grand pa love and peace, is what you left us with.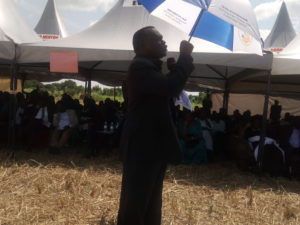 Justice Alphonse Owiny Dollo Cigamio, The Deputy Chief Justice in abovr photo while addressing mourners at Acholi Deputy Paramunt Chief Luagi says Acholi must protect their culture against the foreign attack
The People's Power Peresident, Robert Sentamu Kyagulnyi aka Bobi Wine caused storm at the burial of "Acholi Chief" Deputy Paramount Chief Rwot George William Lugai in Pajule.
Deputy Speaker of Parliament Jacob Oulanyah clash with the People Power Robert Sentamu Kyagulnyi aka Bobi Wine.   
Kyadondo East Member of Parliament, Mr. Robert Sentamu Kyagulnyi, aka Bobi Wine, caused a stir when he stormed the venue where a burial service for the late Deputy Acholi Paramount Chief, the late Rwot George William Lugai with a number of supporter as mourners were cheering him and journalist turning their cameras to him thereby disrupting the speech of the Deputy Speaker, Mr. Jacob Oulanyah.
In his speech to thousands of mourners on Friday, August 2, 2019 at Pajule Town Council in Pader district, the legislator, who is also the president of People Power Movement says that it is time for the 'old guards' in the ruling National Resistance Movement (NRM) party to resign from politics, and advices them that there is no more time for older generation in politics.
"This is our time. The old guards should leave politics. It's our time to takes away power because power belongs to the people. It is our power", Bobi Wine tells mourners.
Bobi Wine recently launched his countrywide campaign team to challenge President Yoweri Museveni who has already been declared sole candidate for his NRM party.s
The seemingly furious Mr. Oulanyah asked the mourners why they cheering for someone who 'gate crushed' the funeral, Advising Bobi Wine never to step on the 'tail of a sleeping dog'.
"Don't step on the tail of a sleeping dog because it will bite you. Never provoke a politician in his strong areas. Leave us alone. If you want to start violence, start it from your home area. Acholi are tired of war. Please take the fight elsewhere", Mr. Ounlyah begged his fellow legislator.
Mr. Oulanyah described the late Rwot Lugai as a 'peace icon', a humble chief whose leadership was not disputable, a man with of vast experience and was the Acholi bank of knowledge.
He Says if he was to write a book abut Rwot Lugayi, he would say Rwot Lugai was born ten years after Lamogi the 1911 rebellion and ten years after the Lugot chiefdom slaughtered  Musa, a British agent in Agoro hills. , Musa was a British agent who was molesting Acholi women when the British wanted to construct town in Agoro hills along the Uganda-Sudan border.
"I would describe Rwot Lugai as 'a peace Ambassador'. His presence in 2006 during the Juba Peace Talks; and many attempts to make peace between LRA and Uganda government was remarkable. I came here not to mourn him but, I have come to give him my last respect", says Hon. Oulanyah.
Hon Grace Kweyocwing, the State Minister for Northern Uganda Reconstruction Programs applauded the late Rwot Lugai for his loved for Acholi cultural norms, praising Acholi community for their strong support to defend their culture and for standing in unity.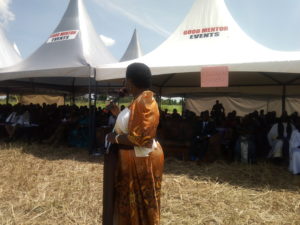 Grace Kweyocwiny State Minister for Northern Uganda Rehailitation Programmes she addressing mourners during the burial of Acholi Chief Lugai in Pajule
"I have come here in two capacities; as a government representative and as a mourner like you. In Alur Kingdom the name 'Lalak hill range' in Lamwo district was where our forefathers, Labongo and Nypir came from when the disagreement between them originated."  Kweyocwing revealed.
Ms. Kweyocwing says other tribes look at Acholi community as being united and are proud of their cultural norms and practices although the Acholi think they are not united.
Speaking on behalf of all chiefs, Rwot Arop Paul Opobo, the chief of Pagen clan in Kitgum District challenged the Acholi community to give support to their respective chiefdoms instead of making the institution to be beggars from government and other development partners.
"The chiefdoms in Acholi which was revived in 2004 but they should not have been revived at all because of the disorganization of our people have shown. We are not being supported by our subjects. It is your work to support us. How do you expect us to operate? If you cannot support us, the blame goes back to you. Our chiefs have been left in the cold." Rwot Arop Paul laments.
He says Acholi has lost their dictionary and the custodian of Acholi cultural heritage was Rwot Lugai. He expressed fear that the Acholi language may not survive as our youths no longer communicate in our local language but prefer foreign language.