GULU ARCHBISHOP WARNS CITIZENS AGAINST EVIL IN SOCIETY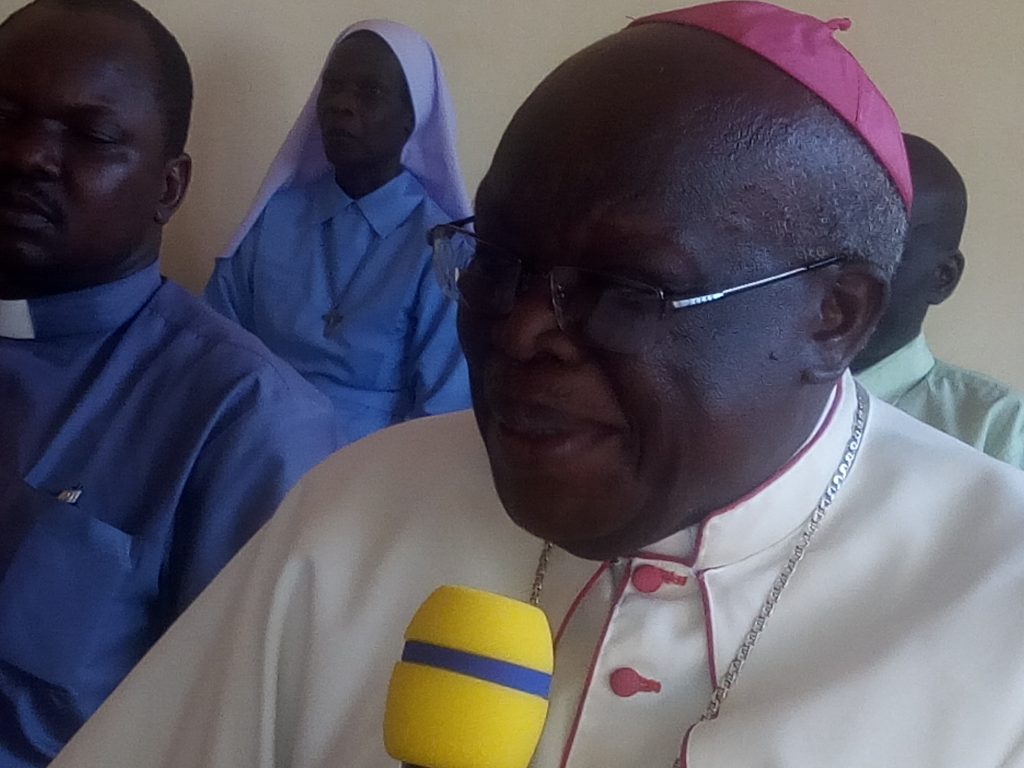 GULU- UGANDA.  Archbishop John Baptist Odama, the Archbishop of Gulu Archdiocese has cautioned the citizens of Uganda to emulate the faith of the Uganda Martyrs to enable them fight against evil acts like corruption and human trafficking that has invested the country today.
His grace Archbishop Odama who was speaking to the press yesterday 27th at his palace in Forgod in Bardege division says Uganda has become the conduit for human trafficking.
"All human trafficking businesses all over the world use Uganda as their gate to reach their respective destinations like Asian countries." Said Odama
According to the Police Interpol report, over 75 Ugandans are in death-row in China after their arrest for drug deal. While over a thousand of Ugandan Women are believed to be in United Arab Emirate (UAE) working as housemates and sex slaves. 
Odama, one of Uganda icons of Human Rights advocacy who stood for Northern Uganda children during the two decades of conflict has equally condemned the rampant corruption in the country saying as the country prepares to host over 4 million pilgrims at Namugongo shrine for the Uganda martyrs day celebration, the citizens must repent of the vise.
Archdiocese of Gulu was chosen by the Uganda Episcopal conference to animate this year's Uganda Martyrs day celebration at Namugogno on the 3rd of June. This will be the second time in 16 years that Gulu Archdiocese is animating the celebration, the last time it animated it was in 2003Soon after the beatification of blessed Daudi Okello and Jildo Irwa in 2002 at Vatican.
According to him, the theme guiding this year's celebration is "OBEY GOD ALWAYS AND EVERYWHERE" and that it was inspired by the words of the blessed Apostles to the Sanhedrin. "Judge for yourselves whether it is right in God's sight to listen to you rather than God" (Acts 4:19) Loyal to God is a priority to every believer in God.
The Uganda martyrs day celebration is usually organized on a rotational basis according to the four ecclesiastical provinces of the Catholic Church in Uganda. The Archdiocese is therefore organizing on behalf of the Gulu Ecclesiastical Provinces which consists of dioceses of Arua Archdiocese, Gulu Archdiocese, Lira Archdiocese and Nebbi Archdiocese.
The Catholic Church honors the Uganda Martyrs, Saint Charles Lwanga and Companions on 3th June. In Uganda, the day is observed as a solemnity and they have unique honor to receive millions of pilgrims from all over the world who come to pay homage to both the Catholic and Anglican Martyrs. These heroes of our faith were killed between 1885 and 1887 for converting to Christianity. The execution was sanctioned by Kabaka Mwanga II, the then King of Buganda.