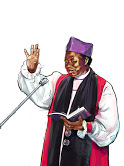 UGANDA: FIANLLY PRESIDENT MUSEVENI'S TRIBE MATE MADE RECONCILIATION THROUGH MATO OPUT AFTER 40 YEARS UNREST
If Mathew Kanyamunyo the Government of Uganda through backdoor allow him benefit in Acholi traditional retribution cultural justice system of Mato Oput, why Kwoyelo rot in jail
By Dr. Okello George Lucima PhD in politicsl
"Why Okello Lucima is Right."
Those criticising Okello Lucima have a paralysis in cultural/Traditional knowledge.
KAMPALA-UGANDA: First and foremost, we must understand that Akena's killer "cinge ki remo". Secondly, mato oput is an inter Acoli ritual. Thirdly, in Acoli culture matters of compensation of death(Culu Kwor) is not discussed in the homestead.
Recently, a woman from the Lukwor clan went to Kampala on duty for a week. She asked the husband from the Barjere clan to join her as she would be away for a while. Unfortunately, the husband killed the woman in the hotel.
When it was time for culu kwor and mato oput came. The matter was not discussed in the homestead but "idog Pager", where JoLukwor and Barjere converged because the killer "cinge ki remo".
Traditional when Acoli clans kill from within Acoli clan, you do not bring "ojebu" in the homestead.
The recent case that took place at KKA should have happened in a neutral ground far far from the homestead, perhaps, somewhere "ite cwar " mo in Laguti's Bush, and Acana as lawi Rwodi should have joined the parties in the bush to avoid "kelo ojebu" igang.
The fact that KKA allowed Kanyomunyo 'lacinge ki remo " into the palace of Acoli, means the entire Acoli "onyene woko" ki remo ma i cing(ojebu) Kanyamunyo.
Now the question we need to ask is; if tomorrow "remo" or "ojebu" pa Kanyamunyo starts affecting other Acoli who are not from "luPayira" how will Payira deal with the issue because there is no precedence.
The other issue I want to raise hypothetical relate to mato oput. I have experience and knowledge of mato oput. It is not done with Lurok.
What Acoli do with Lurok is "gomo tong" translated as bending the spear.
So the all saga that we witnessed in KKA "onyweno" Acoli ki "ojebu" pa Kanyamunyo, because KKA as we know today is "pen" Acoli or the homestead of Acoli ducu.
My prayer is the "ojebu" that as soiled the Acoli heart will not have disastrous ramifications on the entire Acoli people.
Okello Lucima's concerns are valid and should not be taken lightly.
KNO, London
16/09/2020
Additional story by Okumu Langol Livingstone.
On last Saturday, September 12,2020. Acholi paramount palace, Ker Kwaro Acholi was a beehive with activity. What was all about. the traditional function of Mato Oput being handle by Rwot Acana David, Acholi Paramount Chief.
in 2016, Akena was killed in a cold blood by Mathew Kanyomuo on Kamapala Jinja road, as he was driving his car, later the social media was awash with the news of his demise.
What follow, the death of Akena united all Acholi from UPDF, Uganda Ploce Forces and Uganda Prison forcing Kampala regime to coiled in their tail.
A week later, the Luo community in Uganda organised the send off prayer of Akena in Gulu Holy Rosary Catholic Church, both the family of Akena and Rwot David Acana II were all in grief.
But, on Saturday, 12,September 2020.it was a merry making with Akena's family and Rwot David Acana II, the phenomena exposed the inside how the media can be sideline.
The Mato Oput fianlly has enter into Uganda rule of law,