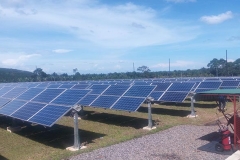 UGANDA: UNREEEA DRAWS NORTHERN UGANDA TO RENEWABLE ENERGY PROMOTION CAMPAIGN.
Following the massive destruction of tree cover in northern Uganda due to illegal logging and a booming charcoal trade whose impact the Acholi sub-region will have to deal with as a post conflict reality for a very long time .Many initiatives are underway to reverse this trend, the latest being the arrival of Uganda National Renewable Energy and Energy Efficiency Alliance "UNREEEA" which is making inroads to the devastated region.
By Okumu Langol Livingstone & Godfrey Anywar
GULU-UGANDA: Wars by their very nature are destructive and their after effects take many decades to heal. Northern Uganda is grappling with its unfair share of social injustices suffered while the war lasted to the new reality of environmental injustice which is threatening to lay Uganda's food basket to waste at the expense of the future generation whose fate posterity will not judge us well for putting at stake when we could have made a difference.
As part of its campaigns to bring the renewable energy campaign to Acholi sub-region with a big bang, UNREEEA will on a date yet to be fixed in the fast week of November this year hold a grand energy fair in Gulu town according to Richard Kyorakunde of Public Relations Knowledge the consultancy firm contracted to carry out research on how best to reach out to the masses of rural northern Uganda with refined information on renewable energy technologies aimed at increasing product usage.
Kyorakunde told journalists at the end of their first stakeholder's consultative meeting in Gulu at Lamaco White House Hotel that the Ministry of Energy in collaboration with the German organization GIZ contracted PRK a Branding, Communication and marketing agency to lay out strategies of reaching out to the people of northern Uganda.
Kyorakunde said in the subsequent year their attention will turn to West Nile where they will also hold an energy fair next year slated to be hosted in Arua Municipality which is expected to have attained city status by this time next year.
"We are here to see how we increase the business of renewable energy and to find out how much the people in Northern Uganda know about particular renewable energy products are available in the market to increase uptake",Kyorakunde said
He disclosed that the renewable energy promotion will target churches and markets within a radius of 20 kilometers from Gulu municipality drawing in, Omoro, Nwoya and Amuru main markets and Churches. Markets like Palenga in Bobi 17 kilometers along the Gulu-Kampala highway, Opit town board market , Acet main market and Bario in Omoro district are among those lined up to be visited for the awareness campaign.
The UNREEEA Communications and Membership manager, Grace Walukamba Aldon for his part expressed regret that only 26.7% of the people of Uganda has access to electricity, putting a big strain on the forest cover which people resort to for energy needs.
Walukamba further noted that the national energy policy has been shelved by parliament for much too long, which is affecting positive behaviour change and renewable energy product standards, which he said needs improvement through a legal framework.
Bernard Lakony who owns Lakim Briquettes making machine that has a capacity of producing four tones per day expressed hope that the UNREEEA intervention in northern Uganda has the potential of turning things around.
Currently UNREEEA six member consortium has Uganda Solar Energy Association, Hydro Power Associations of Uganda, Uganda National Biogas Alliance, Energy Efficiency Association of Uganda and Wind Power Association of Uganda as its members.