UGANDA: Transport minister commissions 18 JICA upgraded Gulu municipality roads
The minister of state for works and transport General Edward Katumba Wamala has today commissioned 18 roads in Gulu municipality, which for the past one year has been under construction with 65 billion shilling funding from the Japanese government through Japan International Cooperation Agency (JICA). Gulu-uganda: Wamala while addressing a huge crowd which graced the commissioning ceremony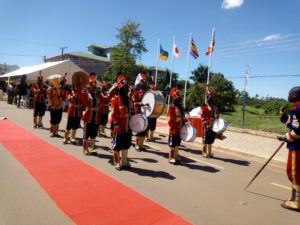 By Godfrey Anywar
The minister of state for works and transport General Edward Katumba Wamala has today commissioned 18 roads in Gulu municipality, which for the past one year has been under construction with 65 billion shilling funding from the Japanese government through Japan International Cooperation Agency (JICA).
Gulu-UGANDA: Wamala while addressing a huge crowd which graced the commissioning ceremonyat which he represented his line minister Monica Azuba Ntege called upon the leadership of Gulu not to be derailed by detractors who he said will always challenge any development process.
This was in response to Gulu municipality mayor,George Labeja's complaint about infighting due to local political intrigue which saw the development arm of the Japanese government JICA dragged to court over bogus corruption claims.
In a strongly worded speech Gulu district chairman,Ojara Martin Mapenduzi blamed cheap politics in Acholi of getting political leverage from every situation through selfish misinformation for threatening the completion of this project.
"Who in his right mind would sue someone who has generously come to solve your problem. Who does not have eyes to see that the grant the people of Japan offered the government of Uganda has been put to very good use and the quality work does not compare the previous ones we have seen in the past.It take madness to resist this quality of work",Mapenduzi said
The JICA chief representative at the commissioning ceremony,Fukase Yutaka said this grant aid for improvement of Gulu municipality roads for which a Japanese firm World Kaihatsu Kogyo company Limited was contracted has uplifted the upgraded road to Asphalt Concrete Standard with a lot of emphasis put on pedestrian safty.
"Gulu town is and continues to be a hub for regional economic activity along the Northern corridor and to us,it has always been of strategic importance.At JICA,we recognize the fact that transport needs of this region are enormous and the demand for proper road network and good transport system,including road maintenance systems are paramount if we are to talk about meaningful and sustainable development",Yutaka said in his speech.
Gulu municipality mayor,George Labeja said at the ceremony witnessed by Japan's deputy head of mission in Uganda,Mizumoto Horii  that 3.2 billion shillings has been secured from the ministry of works and transport to install 500 solar street light along the 6.064  kilometres stretch of roads complete with four metre walk ways.