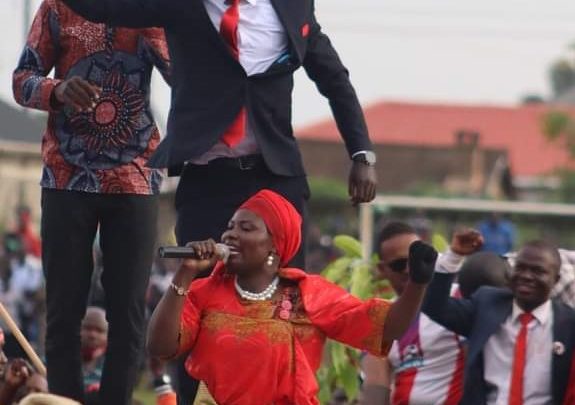 UGANDA: THE PROJECTION OF THE WINNING CANDIDATES FOR MEMBERS OF PARLIAMENT FROM NORTHERN UGANDA.
Top high UPDF high Command hold meeting at Gulu University, they are concern about is popularity, zero on him and UNP party president Robert Kyagulanyi that they are behind massive youths recruitment in the country, summon him to appear on Mage FM radio talk show last Saturday November 28, 2020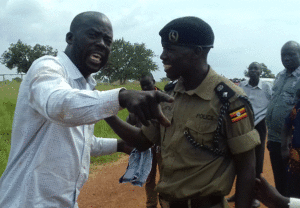 Gulu City Largo-Pace East Division the projection leading candidates as follow, Caesar NUP candidate, Rev. Charles Onen Independent candidate and Nancy Atimango NRM candidate. 
Gulu City West Bardege-Layibi East Division the projected leading candidate Hon. Lyandor Komakech incumbent MP for Gulu Municipality, Tony Kitara Independent candidate, Martin Ojara Mapenduzi Independent candidate.
GULU CITY-UGANDA:  The do or die political campaign is raging between opposition parties candidates, the independent candidates and the National Resistance Movement ruling government party.
However, the critic alluded that the main issues in general election 2021 the race are between the opposition parties and the ruling movement party. Lubangakene the National Unity Platform party argues with his voters that for them as NUP they are only computing with the National Resistance Movement party, not Independent candidates.
"I want to tell you to the voters that there is nothing like the Independent candidates, under Uganda constitution and Electoral Commissioner, the 1995 Uganda constitution clearly states there are multiparty and NRM the ruling party. So, those independent candidates NRM will be waiting for them with their NRM cards, because they wanted to work hard on their numbers in parliament." Lubangakene warned the voters.
Lubangakene says his main issues he stand for customary land who majority of people have been covered in Gulu City, how their land will be protected, issues of accountability the World Bank funded project like NUSAF, NUREP and PRDP, and the lost generations youth Aguu, free education for post war conflict and Human Rights issues.
In Gulu West City Division Tony Kitara says the main issues that are dominating his campaign are, Human Rights issues, land rights, discouraging people not to sell their land.
The projected leading candidates in Gulu West are Hon. Lyandro Komakech, incumbent DP candidate, Tony Kitara Independent candidate and Ojara Mapenduzi who is an Independent candidate.
The major setback for the former Chairman Gulu District, Ojara is corruption, sales of land and misused of Municipality Development Fund during road construction, especially from  Layibi via custom corner to Gulu Airfield road about five kilometers, he cannot account for the fund.
But, the other projection indicated that Martin Ojara is leading, the fact is, Hon. Komakech Lyandor since the official election kicked off, he has not been on the ground.
"Ojara Martin is on a door to door campaign becoming popular with the voters." Source intimated.
Gulu City Women race, Jolly Okot Grace Laker Democratic Party candidate is a projected winning candidate wrestling with Hon. Betty Aol Ocan, Forum for Democratic Change FDC candidate the Leader of Oppositions Party and Ventnor Amua Ogora.
Jolly Okot's strong point, she is building on being a champion of education, the former Country Director of Invisible Children says during the two decades Northern Uganda unrest, she promoted girl child education and generally she paid over 1000 students to various high institutions including University.
"The Leader of Opposition used to enjoy the advantage of women emancipation, taking advantage of defenseless women without empowering them." Jolly Okot urged.
Omoro County.
The projected candidate for Omoro County, the Deputy Speakers Jacob Oulanyah is now leading his arch rival Eng. Olal Obong who suffered defection when his political brainchild abandoned him due to political control.
Pastor Obina formerly was Jacob Oulanyah political aide before the creation of Toci County was created left Eng. Oolal Obong camp, accusing Aduka Laiyiling and one Ocama of political malign.
"I was forced out from Eng. Olal Obong camp by Laiyiling and Ocama, the duo was creating their political empire the Ben Acellam way, but things boomeranged when they realized that I have over 1,000 youths." Pastor Obina urged.
Oulanyah camp is gaining after the scuffle with Ben Acellam political hegemony. Many people had defected and marched to join Eng. Olal camp, the likes of Owani and Obina.
Aswa County.
Hon. Ronald Regan Okumu FDC candidate, the incumbent has suffered political setback due to COVID-19 pandemic, according the projection in Aswa County, Patrick Okello Onguti, the DP candidate is a leading candidate, follow by Simon Peter Wokorach, third position Christopher Kinyera and Hon. Okumu Regan.
Hon. Okumu Regan luck has been attributed due to COVID-19 pandemic, the vineyard source mooted that the travel banned, has blocked him from traveling to his alleged witch doctor (sic) Nigerian satanic worshipper. It was alleged that Hon. Okumu used to visit his witch in Nigeria, and upon coming all his political opponents would become hopeless.
Pader District.
Hon. Odonga Otto, the incumbent MP for Aruu County, has run amok. Odonga Otto is facing former Mulago National Referral Hospital Christopher Komakech, Justin Odong, Aceng Helen and Okello Denise.
Aceng Helen and Komakech they are making sleepiness night for Odonga Otto who used not to donate money during his campaign
Aruu South.
Hon. Santa Okot the Independent candidate the former women MP for Pader District is projected to be the leading candidate with Achiro Lucy Otim, Onen Benson Akamaba, Ochan Julius, Obwona Bernard Ology.
Pader LC5
Akena Alfred and Oola George followed by Otema John, Oringa Largo Godfrey Oloke Julius Obwoya Fearless Oyat.
Agago Women MP.
Franka Akello the incumbent MP, the FDC flag bearer she is battle with Beatrice Okidi Independent NRM candidate, Winne Okidi the Independent candidate and Aber Lillian the Independent candidate.
Agago County.
Lagen Dived Atyka the NRM candidate, Hon Otto Edward Makmot the former NRM flag bear for Agago South, now the Independent candidate
Agago North.
Okot John Amos NRM they are battling with Hon. Prof. Ogenga Latigo the incumbent MP Independent and Ojara Jackson Aburu the Independent MP candidate
Cwaa west.
The incumbent MP, Okin PP, of late the projected to be a leading candidate, while Otim William aka bosmic NRM candidate is losing due lack of political agenda, source say this came out as the radio talks show, instead Otim instead to answer phone call directed to him, he just abuse his opponent, source alleged.
The minister Beatrice Anywar, the incumbent is projected to be leading candidate.
Lamwo women
Hon. Molly Lanyero, the incumbent MP for Lamwo, is on the lead, while Sarah Lanyero trails her.
Lamwo East.
Dr. George Okello Lucima, the Uganda People Congress Party UPC, is projected leading candidate; followed by John Ogwok Chairman LCV for Lamwo while Dr. Okullu in the third position.
Ajuri County.
Obwa the incumbent NRM MP is being outsmarted by Isaac Okwir.
Lira City.
Dr. Ruth Jean Aceng NRM candidate she projected beating Joyce Alum Ongwen, the incumbent MP.
Dokolo North.
Hon. Paul Amuru, the incumbent former NRM candidate now Independent is a projected winner for Dokolo North MP, beating JB Okello, Moses Ogwal NRM candidate.
Oyam North.
Okello Engola, is suffering in the hand of Unif Apio.
Oyam South Betty Amongi the NRM candidate is beating Obong Patrick and Queen Nalongo.
Otuke East.
Omara Atubu is beating Acon Julius the incumbent MP, and Ogwal Jacinto.
Erute North.
Akello Christina Gwoka Dako Angiro Gutimio popular with the voters than Geoffrey Omara, while Adigi was demoted by EC due to academic paper.
Pakwach County.
Fred Omac Jacan former MP is a projected leading candidate.
Payere County.
Joshwa Anywar
Jombu County.
Christopher Okumu