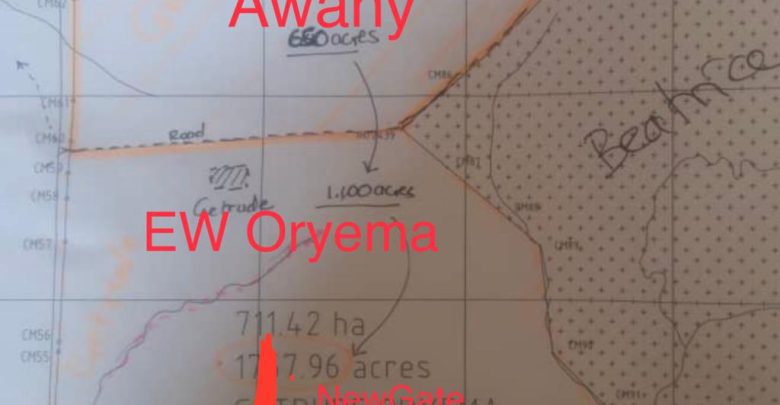 UGANDA: UGANDA: MARAUDING GUNS WAILDING IN A LAWLESS COUNTRY UGANDA-THREATENS LIFE OF FIRST IGP GRANDDAUGHTER
Nwoya district, on the news
The total nightmare is occurring on a daily basis in the Nwoya district, especially in Tangi village, Purongo Sub County according to a police report. Nancy Oryema, the granddaughter of former Inspector General of Police IGP SSP Erinayo Oryema revealed to media that every day she gets threatening messages from unknown sources who call her a prostitute and someone who has been brushing dog teeth in London while the General was fighting Joseph Kony's Lord Resistance Chief.
This area we are putting up a gate is not part of the land case we are pursuing and before Gulu High Court"
NWOYA DISTRICT. -FRIDAY, August 25, 2023.
Nancy Oryema the granddaughter of Uganda's first Inspector General of Police, the late Erinayo Oryema still recalls the bitterness of the gruesome killing of her grandfather, the 1977 murder of IGP Erinayo Oryema, Archbishop Janani Loum, LT. Col. Oboth Ofumbi by Uganda dictatorship, monster president Idi Amin in cold blood.
As another pillage person stormed their homestead and hurled verbal words that Uganda is a lawless country where anyone can be slain in cold blood their case can be written off.
The gruesome murder of Erinayo Oryema reminds Nancy of the ongoing acts of impunity where soldiers are tempted to kill her like the grandfather.
Nancy Oryema narrates to the media that, at around 11.00-12.00 PM local time there came an ill-fitted drunkard UPDF soldiers officer who identified himself as Komakech, cocked his gun and announced to them that all of them would be dead because they were blocking water sources.
Nancy said luckily the Intelligence Officer from Gulu 4th UPDF headquarters rang her to find out what was going on the ground, when she told him that there was one soldier who was threatening to shoot her, the IO officer who asked not to be named directed me to give the phone to Sgt. Komakech, when he was asked, he only managed to mention only one name,
"I heard when he was telling IO from Gulu 4th Division that he can only take the order from Bombo UPDF headquarters not from anywhere. Then later Sgt. Komakech went back,"
"Sgt. Komakech came here and threatened us that they could shoot me, I am a mere prostitute who was bursting dog's teeth in London while the General was fighting Joseph Kony, where was I? Even if he kills me, nothing can happen. I am here, my life is being threatened, I am getting a text message threatening me from Thomas Lapyem the brother the the General. And soldiers came here saying they can knock down my gate and shoot down my CCTV camera," Nancy poured out her venom.
Ajok Prosy, a woman in her mid-30s had no kind word, "I came here. We were putting up the gate when two soldiers of UPDF arrived and one made their way to the other side, as soon as he moved forward he cocked the gun".
"He asked me why we are putting up the gate, and we told him that we are not trying to block the access to the water source, later That officer started abusing my Anti Nancy", Ajok commented.
Charles Mawa, a worker who was found at the scene, confirmed that some marauding guns wielding came and threatened workers who were putting up the gate which was destroyed on 19, August, 2023.
"We advised errant soldiers who cocked their guns to shoot, to cool down first and not take the law into their hands, but they went back to General Charles Otema Awany. I hope they will not come back." Mawa added.
Thomas Lapyem, when contacted for comment about the allegation of threatening violence against Nancy Oryema, denied the act of the alleged threatening violence.
"I am not aware of the allegation of abusive text to Nancy Oryema, and I have not been part of her saga, it is news what you are telling me," Lapyem argued.
Lt. Gen. Charles Otema Awany, when contacted over the alleged threats through Sgt. Komakech at the scene of Nyelo Munya stream boarding his farm and the late IGP Erinayo Oryema's farm, disassociated himself from the incident, expressed remorse, and promised that he would follow up on the issues.
"I am not aware about the violence of shoot to kill, but I know that one Sgt. Komakech is one of the Reserved UPDF soldiers attached to Bombo UPDF headquarters."
Last week on Tuesday, August 22, 2023. Oyengyeng Online published a comment attributed to Lt. Gen. Charles Otema Awany. Nancy Oryema had blocked access to water from his workers, and that is why his people destroyed gates built including CCTV cameras.
Lt. Gen. Otema Awany says he cannot further comment because the issue is still before the Gulu High Court Judge.
"But that lady Nancy, she is very stupid" Gen. Otema warns.