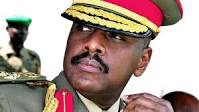 UGANDAN TYRANT MUSEVENI PUTS UGX 80 BN TO COMPROMISE UGANDA SUPREME COURT JUDGES, FORCING ROBERT KYAGULANYI TO WITHDRAW ELECTION PETITION.
Okumu Langol Livingstone-Political analyst
Ugandan tyrant Museveni and 38 generals retreated to Gulu City, Northern Uganda, plotting the next plan of action, should Alphonse Owiny Dollo be forced to pass verdict in favor of Robert Kyagulanyi Sentamu a. k .a Bobi Wine or viceversa.
David Muhoozi, the Uganda Chief of Defense Forces CDF, Commander of Land Forces Peter Elwelo and former IGP Kale Kayihura are sleeping and sharing one hut in Gulu City.
GULU CITY-UGANDA:  The word of God came to pass, (Roman 5-6,  Isaiah 11; 6.) : The Lion will live with the Lamb, the Leopard will lie down with Goats, the Calf and the Lions; and they  will yell together…….and the little child will lead them.
General Museveni, the author of genocide in the Great Lakes Regions, according to Dr. Ambassador Olara Otunnu, the former UN Under Secretary for Children Affairs during the campaigns leading to the presidential elections in 2011 accused dictator Museveni for causing genocide in Northern Uganda during Lord's Resistance Army campaign.
https://www.voanews.com/africa/ugandan-opposition-candidate-accuses-president-genocide
Despite the long history of Museveni's civil strife in Northern Uganda spanning the Uganda People Defense Army wars of 1986 to 1988,the Holy Spirit Movement of Prophetess Alice Auma Lakwena and then the Lord's Resistance Army(LRA) war that covered the period from 1987 to roughly 2006, so to say, the very Northern Ugandan people whom Museveni has been blatantly calling  backward, savages ,animals and an uncivilized community, happen to ironically be the very kith and kin he is now seeking abode among.
What could force Museveni, after 35 years of oligarchy to dine with 'the animal community'?
Let us have a look.
President Museveni's younger brother, Gen. Salim Saleh, wherever he goes, is eyeing land for grabbing, and that is what has brought him into the Acholi Sub Region.
Another key factor is what dictator Museveni and 38 UPDF generals have in their treasure chests in Northern Uganda after looting oil and plundering forest wealth in Acholi Sub Region.
The bedrock as to why the son of Kaguta is in the North, and for reasons best known to him  has been running his government from  Gulu City since January last month prior to Presidential and Parliamentary general elections leaves a lot for the common mind to decipher.
Vineyard sources intimate that fear of unspecified goods that have been entering into the country, among other goods cleared by Uganda Revenue Authority URA being Robert Kyagulanyi's brand new armored SUV and other 'unclassified' items.
President Museveni is boxed in, cornered, and regretting why his regime has fought the Lord's Resistance Army (LRA) war for over two decades. And yet when took power in 1986 and the years that followed the  northern Uganda unrest, both parties could have reached south-north Uganda amicable conflict resolution. In any case, it is never too late to take recourse for trackII and III diplomacy.
There are three issues why Sebugabo retreated to the Acholi Sub Region. Museveni and followers have learned the hospitality of Acholi community and Acholi Cultural traditional norms (Mato Oput)-traditional mechanisms that entail forgiveness and reconciliation.
Musevenism feels the atmosphere of homage because the Acholi community exonerates for the past deeds that arose out of the Northern Uganda unforgettable crisis, and they feel that they have been forgiven..period.
Secondly, the reason for Sebugabo's homage to Northern Uganda is the Buganda issues of Robert Kyagulanyi and the massive support and weight the Ganda have thrown  behind their son. For this, President Museveni feels that they are not secure in Kampala and surrounding districts and therefore the  Kampala regime doesn't have trust in their former ally. In Lwo speak therefore, it is like the proverbial "dongo kweyo"  loosely translated as weighing the odds between two antagonists with a sadistic and avaricious goal of attaining his ends, at all costs, that is.
Museveni and his chorines as such opted to clandestine covert acts, resorting to kidnap, disappearances and outright  pandagari, with the regime currently using drone vehicles  instead of the usual Tata Lorries that was used in 1980s.
A fortnight ago, during the state of the nation address, the Uganda head-of-state openly told Ugandans that when the Police Forces and Uganda People's Defense Forces knock your door you would have to open. This clearly confirms that statehouse has been backing up state terrorism mechanism against innocent Ugandans.
Thirdly, Sebugabo's retreat in Northern Uganda, it to put pressure on National Resistance Movement supporters who in the past used to get his billions of money, but ended up not voting  for him, and instead opposition parties legislators were voted for while the NRM were on the receiving hand. This is therefore a time for accountability.
This possibly accounts for the reason why the Mzee is planning for his 6th term swearing-in in Gulu City.
The other reason for Sebugabo and his generals pitching camp in Acholi Region, is to monitor the fragile South Sudan,with  the latest development between President Salva Kiir and Ryek Machar's  uncoordinated command  taking toll.
With the  above reasons, David Muhoozi, the Chief of Defense Forces, Peter Elwelu, the  Commander of Land Forces and Gen. Edward Kale Kayihura,the former IGP have also pitched camp in Gulu City sleeping under one room in a small hut.
However, the Spokesperson for Gulu, 4UPDF Division Lt. Ndifula laugh off, when contacted for comment, says he was not aware of their  private visited
The three generals also have  their mission charted for South Sudan, because the Juba regime is an extension of Musevenism.
The Ugandan opposition leader Robert Kyagulanyi has been forced to withdraw his election petition at the Supreme Court challenging the January 14, 2021 polls re-election of president Museveni. Kyagulanyi wants  the three Supreme Court  Judges to resign as it alleged that they have been behind the  UGX 80 bn bribe, and is contemplating for plan B.
Soon after his move on Monday  to quit the Supreme Court election petition, announcing a  tough daring decision which was blocked by a team led by Chief Justice Owiny Dollo , Uganda police heavily armed tankers moved to block his party office. The Uganda military blocked him, his lawyers and party officials from accessing his National Unity Party(NUP)office.
Bobi Wine says the judiciary is not free and fair,  and  not intended to serve justice in the matter and opined that at no time will his party participate in this kind of mockery of justice.
"The Supreme Court said we could only submit this our petition for 30 minutes. Now, that was clear that, one, the Supreme Court did not want this matter to attract so much attention. So, for that matter, for the reasons we have given above, we have decided to withdraw from their court. The court are not independent; it's clear that those people are working for Museveni," wrote Kyagulanyi  to his lawyers.
Kyagulanyi asked the court to ensure that Museveni can never run again in an election, accusing him of orchestrating violence by using UPDF and military police to pre-tick ballots and invade polling stations.
In Kampala, the drone vehicles are reported to be kidnapping and abducting Kyagulanyi supporters, possibly buffered by the state-of-the –nation address where the president urged citizens to open their doors whenever the police or army knocked at their doors.
Chief Justice Alphonse Owiny Dollo Cigamoi who is carrying the guilt, during his ruling rejecting 150 Bobi Wine affidavits warned Bobi Wine that he cannot dictate who should be the judges, and who should not be.
"We did not invite Kyagulanyi to come to the Supreme Court petition, he came to us, therefore he cannot dictate upon us."