ANITE FRUSTRATION; FAILURE TO UNDERSTAND THE POWER DYNAMICS IN NRM
West Nile region crying foul for Anita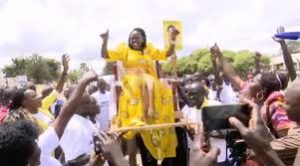 By Odaka Asuman
When Hon. Anite Evelyn first addressed a press conference in her office and subsequently  spoke in parliament about the UTL issue, I knew she was beginning to cross the line she will not be allowed to cross. Subsequent events that followed but most importantly her indifference to the events that followed made me think that my long term friend has never bothered to learn how the system she claims to be part of was constructed and actually works. She over estimated her relevancy, worth and usefulness to the system judging from her behaviors.
For example, shortly after Hon. Anite's outbursts, a letter attribute to president Museveni addressed to the Minister of Justice and constitution Affairs, copied to the PM and AG and NOT TO ANITE emerged. It refereed to some meeting which by the look of things, Anite was not privy to either by design or plan.  Within barely 16 hours minister Otafire had renewed Mr. Bemanya's contract almost 12 months in advance. The letter had amazing details as if not only to disregard Anite but also to draw a  line of limit for her. I am surprised Evelyn I know could not read these signs of her "last days as favored "item" even at that level.
Anite is by no doubt fighting a war in the interest of country and the common citizen would ordinarily not find it hard to support her, the problem is that there was a time she worked hard in the interest of the very mafia whose anti people activities have now knocked at her doors. Making her wet her pants because she know how lithel and ruthless they can be
The power dynamics in this system is a product of the Luwero consensus of which I doubt if Anite has any iota of claim. The Luwero consensus power dynamic segments our society into four groupings;
1. The POWERFUL and COMFORTABLE: These fought or are connected by blood to someone who fought in the bush. They are untouchable, immune to any kind of prosecution, they own fattest bank accounts, big and many mansions, huge tracks of land, drive latest models of bullet proof cars. The power they have, has no origin whether in law or anywhere known buy because they fought.
2.The COMFORTABLE BUT POWERLESS
This is where the corrupt and ruthless machinery of the system is situated. The system uses these to white wash their dirt, they subdue and superintend over the masses keeping them in check and always conditioning them to eternally grateful to the sacrifices of the liberators. Like HIV/AIDS they are the permuted and carbon copies of the the first group.
Although many are involuntary recruits, some are willing captives of the old adage of "…if you can't beat them, join them…" In this segment are fovarite contractors, corrupt riddled suppliers, political activists in the army and in police uniforms, some RDCs, some MPs, ministers etc. These are the ones who are quick to speak in favor of the regime.
3. The POWERFUL but UNCOMFORTABLE
Some out of this group have attempted to put up efforts to make reform and transform uganda. They have been sidelined resulting to some joining the opposition or simply going mute but with/critical attitudes towards the system.
4. The POWERLESS and UNCOMFORTABLE
This is where the abandoned down trodden ordinary citizens are located. Their situations have not changed and in some cases worsened, they are given huge empty but promises, they're constantly lied to and benefits have bypassed them.
In the heavily commercialised ritualistic elections that the Luwero consensus brought, they have been conditioned to vote for the highest bidder. This way, the misery of the poor continues for yet another 5 years.
My friend Anite and many of her likes have never studies this science and even don't know in which segment they belong and therefore may never know how to behave and or craft a proper survival alliance. This is where H.E. Kiwanuka Sekandi beats them all. Sekandi behaves like he has no ambition, no political innovation and no view of his own, he is just an obedient member of the league of the comfortable but very powerless.
When Hon. Anite was kneeling before the most powerful and most comfortable, leaving the country in shock, amazement and agony, I still don't know if she even knew that she was serving the project of the mafias, when she told the country that "they have the majje" I don't know if she knew that people she is calling the mafia were and are still the majje and/or they own the majje so how can she turn to the same people she threatened with the majje.  Like broilers, hon. Anite was fattened by the system and she must know its her time to be eaten.
Hon. Anite is fighting a just war but must first apologize to Ugandan for the "majje" idle talk.
Besides the Mafia phenomenon in Uganda is now a reality. Am convince that Hon. Anite is being fought because of the expected "Juice" in that mango network just like PS Asuman Lukwago, Eng. Byandala etc were fought. And many others will be fought and defeated provided they fail to understand their position in the power dynamics of the Luwero consensus.
Story from Acholi Economic Forum whatsapp page