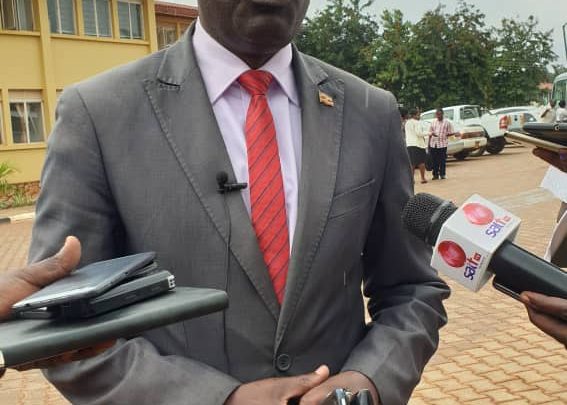 UGANDA: MR. PRESIDENT MUSEVENI YOU ARE BEHIND APAA, CALLS OFF THE ATTACK OF MADI COMMUNITY ON ACHOLI-GILBERT OLANYA
The renewed ethnic clashes between the Madi and Acholi communities in Apaa land conflict have displaced hundreds of households
Over 150 people displaced in Apaa village epicenter of land grabbing scene of 2014 nakedness women paraded their bodies part to thrash UPDF invasion aftermath of decades LRA conflict.     
 A group of 30 marauding from West Nile Sub Region have descended in Apaa village taking over entire three villages, looting household including livestock.
AMURU DISTRICT-UGANDA: Gilbert Olanya, the MP for Kilak South County failure to meet demand to bailout Apaa community attack by Madi community, kneels down before President Museveni and beg him to stop what is going on now between Acholi and Madi that has claimed 85 lives from both side.
"Mr. President Museveni, on Wednesday last week we have been blocked by UPDF not to go and visit the community of Apaa where Madi people attack them and burn down 300 grass thatches huts. We know that you are the only one who can stop the killing in Apaa." Olanya begged Museveni while kneeling down
President Museveni instead of answering Amuru south MP, on Saturday 11, June 2022. He order the master of ceremony to ask those people who have matter to raise to write them complaint down and give to his personal secretary Omona.
"Please I don't have time now; those people who have issues to raise can write them down and give it to Omona my PS." Disgusted Museveni shouted.
Three days ago, friends of nature environmental activates from Adjumani had organized community walk after visiting Joka forest which being depleted by community from both side of divide Acholi and Madi.
The friends of Joka forest includes two muzungu and Peter Taban, the Adjumani District Chairman Residence Commissioners   attack Pakapaka village and nearing village which 60 kilometer west OF Apaa villages, as Madi community is torching grass-thatched huts, grabbing goats, poultry birds and motor bikes amidst fear of escalation of tribal unrest orchestrated by Uganda dictator Museveni, according to community outcry Robin Omon Kibwota from Goro B village, Apaa village Amuru district on Sunday, May 8th, 2022 said a group of 200 marauding individual divided themselves in 30 groups, displaced 150 people.
"On Sunday morning 30 group of people came to my home and robbed 8 cattle, but when I made alarm, 6 cattle run back to my place. I reported the matter to police who were manning a roadblock, 4 of the officers intervened. However, the marauding individuals warned police officers never to try to disrupt their business", Omon Kibwota decries.
He added that those the raiders threatened that they will either disarm or shoot with arrows, saying, "The police failed to stop them".
Michael Lakony, the Chairman of Amuru Local Government, confirmed the wave of new attack at Apaa village, saying, "the people they are looting household items and livestock".
He added that they have raised the concern to the Adjumani district officials, and had scheduled a meeting on May 12, 2022 in Apaa.
"The meeting has been postponed for another date", Lakony confirmed.
"We were supposed to have a security meeting with the Adjumani Residence District Commissioner (RDC) but he informed me that the meeting has been postponed, but as I speak now the Madi community has resumed attacking the people of Goro B village and Joka village. They are picking house hold items, and occupying the homestead of the affected community, since our people they are not engaging in open war with the Madi community." Lakony added.
Ben Wanyama, the Chairman of Adjumani Local Government in a press interview with Northern Uganda Media Club (NUMEC) distanced himself from the group of the Madi community who have renewed the attack on Apaa community, commented that his office has not ordered for the attack.
Mr. Wanyama says, what you are saying is s to me, but, we are organizing the meeting between the two communities of Madi and Acholi in Apaa village soon, Adjumani District Chairman mooted during the press briefing on Tuesday May 10, 2022, on sideline press conference at Gulu University Multipurpose Laboratory
"We cannot allow the tribal war between Madi and Acholi Communities, we have been living as one ethnic's communities before, and why now? If Acholi community they are not fighting with Banyankole or Madi they are not fighting with Banyankole, then why us. We are going to meet and sort out bad political leaders who are fuming tension amidst us soon.
Muzee Atunya, early on codified to Oyeng Yeng News that the entire village of Goro A,B, and C. Juka village A,B and C extended to Ngom-Oromo village which is near River Nile bank, which community have abandoned with the advent a new wave of Madi community attacking Acholi community in Apaa.
Muzee Atunya intimates that that since 2011 when Apaa land conflict began, it was reported that Martin Bruce. An investor from South Africa, the Uganda Wildlife Authority UWA gave him the lancets to operate Game Reserve for hunting animals.
"Uganda Wildlife Authority together with Uganda Police and UPDF forcefully evicted 26,000 people of Apaa, until members of Acholi Parliamentary Groups APG MPs and Leadership of cultural group and Religious Leader Peace Initiative stopped the eviction, however, 16 people killed, and score of dozens civil was arrested by Madi and the combine military officer.
They were taken to Adjumani district 60 kilometer, West Nile Sub Region; I witnessed 9 people who were locked in grass thatches hut in Adam suit." Muzee Atunya commented.
In 2014, groups of hundreds undressed themselves before Gen. Aronda Nyakirima the then Minister of Internal Affairs, and former Chief of Defense Force.
"Hon. Aronda Nyakirima scammed to death in 12 Sept 2015 died in plane on his way from South Korea, his demise was attributed to nudging taboos of Apaa, once, women undressed themselves before you to express their grievance, if that abomination, the ritual is made, it will result to death. The Acholi community says the demise of Gen. Nyakirima was caused by the nude protest by Apaa women." Hon Gilbert Olanya argued.
In 2015, government of Uganda forcefully planted mark stone s in Apaa village to demarcate boundaries amidst protests from Amuru residents. More than 21 people were injured when police used live bullets to disperse those who are opposed to the demarcation
In 2017, Tom Butime declared that indeed Apaa village is part of Adjumani district, but the government maintained talks between the two communities of Madi and Acholi who have been living together.
The Committee chaired by Prime Minister Dr. Ruhakana Rugunda and eight team from Acholi and Madi were formed to investigate the root cause of the conflict.
The Acholi teams was headed by Dr. Dan Komakech a renounced academician from Gulu University settle for degazettlement of the disputed areas for human settlement while Madi community, on the other hand settled for the relocation of the resident of Apaa to other areas in Acholi Sub Region.
Later President Museveni dissolved the committee chaired by Dr. Rugunda and appointed Speaker Oulanyah.
According to Mr. Oulanyah, when President Museveni was in Omoro district, he requested for audience with the president over Apaa issues.
"The committee will revisit and seek all the possible lasting solutions to make certain that our people have peace and support they need to develop and move on from this long standing strife." Oulanyah remarked.
While Acholi community has been armless, the Madi community, the attacks were majorly in Goro and Juka villages in Apaa Parish, they affected villages have been attacked  by men, armed with spears, bows and arrows, knives and axes, believed to be back up by Gen. Moses