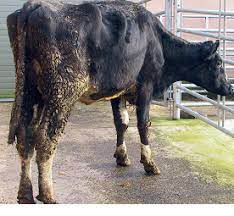 UGANDA: LIVER FLUKES IS STILL A PROBLEM IN AFRICA.
The Chairman Omoro District live with Liver Flukes as life goes on
In the midst of Northern Uganda, livestock keeping stands at risk due to lack of
Veterinary officers' extension worker's ineffectiveness leading to the death of over
hundreds live animals that succumbed to an avoidable death.
OMORO DISTRICT-UGANDA:   Mariyano Aboga 85 years old, on Thursday,
September 1, 2022 was lying down lonely at his courtyard at 11.00AM deplorable,
contemplating about the loss of the livestock in Awa-kok village to liver fluke.
Awal-kok village, in Lakwaya sub county Omoro district is 24 kilometers, east of
Gulu City, where dreaded liver fluke's kills animals with knowledge on innocent
community.
Aboga was listening to a popular Luo song from MEGA FM called. (Gina ngati
mo pekonyi ba, twara meggi kadi ojony ci konyi.), literally meaning being
dependent on your own hard earned will give you breakthrough in life. Rather than
seeking for handout syndromes.
The morning sunbath in Awal-kok village was over, but the fear of losing all his
eight cattle was fresh in his mind. In 2021, after getting two tons of Soybeans
which earned him UGX 20 million, he bought eight Heifer with the hope of
restocking his cattle after failure of recovering his 40 cattle robbed in 1987 by the
government army, the then National Resistance Army NRA.
"You are welcome young boys," when Black Star News Correspondent and his
aide approach him, Aboga mummer in his deep Luo language voice.
"I am listening to Radio MEGA FM, with the hope that maybe I will hear good
news that the Omoro District Veterinary Officer will announce the program for
vaccinating our cattle. We have lost over 100 head of cattle within two years due to
liver flukes." Aboga narrated.
Odong Jakeo, 49 years old, son of Aboga too lost two heifers. But, says also
worries that maybe his animals have been infected by liver flukes, and disclosed
that they have been losing numbers of cattle to liver fluke for the last two years.
"Last year, when my Heifer died, we opened the liver, we found more than 50 liver
flukes inside the liver, we don't know. The problem here for the cattle keepers is
we don't have a veterinary extension worker; this makes it difficult to know if there
is drug for treating the vices. Even the bull we have we don't know if they will not
die too" Odong laments.
Otto P' Kari lost 30 cattle to the vices, he is among the people who suffered
silently due to lack of veterinary officers, the outreach extension workers.
"There is no way, I have lost hope to have big livestock farming in Awal-kok
areas, although here I still have more than 50 head of cattle, I don't know if they do
not live to the next coming years." Otto argued.
Awal-kok village is between the two tributaries of Ora-kworo stream from
southward, while Laminodwany stream is located to northward, these two streams
are slushy water beds to allow liver flukes to breed in it. For years the community
of Awal-kok have been suffering quietly in silent about liver flukes that has caused
death to many livestock.
Obwoya Ocheing, 64 years old, says five of his brothers lost over 60 animals, but
they have no means of stopping the animals from drinking water from the streams.
"The problems that we face really, during the dry season, cattle from our
community move endlessly looking for greener pastures and drinking water, that is
where they drink water which is having liver fluke."
Okello Douglas Peter Okao, the Omoro district Local Government Chairman who
is also a resident of Awal-kok village, confirmed to the Black Star News that
indeed the streams within their areas have liver flukes. Which has killed so many
cattle, the number could even reach thousands, but for now he bought 10 cattle that
are going to be used as pilot study for the community.
"Of course, we have this problem of liver fluke, it is now the work of the Omoro
district Veterinary Officer to come in and help the cattle keepers." The Omoro
district Chairman reacted.
David Aliker, the Omoro DVO when contacted was unable to comment on the
rampant losses of cattle in Awal-kok, Lakwaya sub county. He could neither pick
his phone.
However, a joiner officer worker from Omoro district head acknowledged and
confirmed that the district has lost more than 100 cattle to liver flukes.
His advices were that if the community should de-warm their cattle regularly to
avoid the infection and dead of the animals
"We a numbers of drugs that kill liver fluke in store, like Alb 18%, Jure 17& and
Tredax can be used to eliminate infection of liver flukes. But, we cannot supply it
in the river to avoid killing fish and mammals that live in the river." Sources
revealed.
Andrew Onyuk, the Residence District Commissioner, (RDC) says his office was
not aware of the losses of cattle in Awal-kok village, that is good news, we are
going to work on that,
"Let me follow it up with the Omoro District Veterinary Officer, DVO, this is a
matter of great concern." Onyuk echoed.
Andrew Ojok Oulanyah, the Omoro area MP says he would be tabling the motion
in parliament so that the affected community of Awal-kok village should have
dam, says he is aware that the effect of Fasciola SPP, and Dicrocoelium as liver
flukes contaminate ruminants and other mammalian extensive and cause major
diseases of livestock that create considerable economic losses.
"I will visit the affected area soon and evaluate the contamination rate and if
possible table the issues before the floor of parliament." Ojok Oulanyah responded.
This retrospective study has been done to evaluate the rate of slaughtered animals
with fascioliasis and dicrocoeliasis at Lorestan abattoirs. In this survey, the
prevalence rate of fascioliasis and dicrocoeliasis in slaughtered animals in a 3
years' period (2013-2013) has been analyzed.
A total of 356,505 livestock including 265,692 sheep and 90,913 goats were
slaughtered in a 3-year period and 39,613 (11.1 %) livers were condemned.
The study also reveals that Fascioliasis and dicrocoeliasis were responsible for 6.3
and 4.8 % of the total liver condemnations in this period