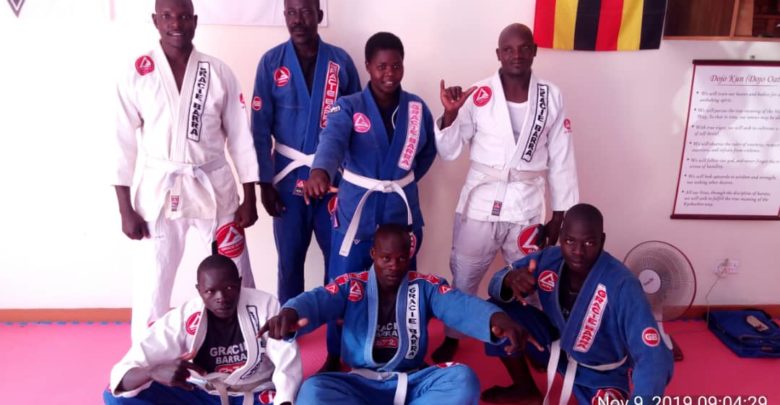 UGANDA: GULU GRACIE BARRA JIU-JITSU KAMPALA TOURNAMENT IN PREPARATION FOR THE WORLD BJJ EVENT
Gulu BJJ won with 11 medals, beating the host Kampala BJJ team
..KAMPALA-UGANDA:  Gulu Gracie Barra Jiu-jitsu has won BJJ tournament for the second time, on Saturday November 9th 2019 in Kampala event they became number one, beating other four BJJ teams. The participating teams included; Fort portal BJJ, GOMW BJJ, BJJ KAMPALA GRAPPLING and FUJI BJJ.
Gomes BJJ became the runner-up, followed by Kampala grappling and Fuji BJJ became the last because most of their players were young.
Gulu BJJ team got five Gold medals, three Sliver medals and two Bronze medals. While early this year in April, Gulu Gracie Barra Jiu-jitsu beat   bjj One Kenya team with four Gold medals, two Silver medals and two Bronze medals. BJJ One Kenya team got four gold medals, four silver medals and two Bronze medals.
Charles Komakech, the Coach of Gulu TK and M.M Art Gulu intimates that BJJ Kampala event was called in preparation for next year 2020 international BJJ tournament that is scheduled on Fed 2, 2020.
In 2020 Kampala BJJ international event will take place at Lugogo MTN arena, BJJ's from other countries like Kenya, Tanzania, Ethiopia, DR.Congo and the USA will participate in the event.
Kampala BJJ event is doubt as the fourth East African BJJ tournament which will run for two days.
The details for Gulu team win are as follows; Mike Olara got two Goals medial; Okot Dan 9 got one gold medal with G-Gracie Barra one silver with no G medal, Atim Gloria got 1 gold medal, Bosco got two silver medals, Odongpiny got one medal with G-Gracie Barra, and Silver with no G. and Komakech got a bronze.
Komakech says Gulu BJJ started with three players David Martin Aliker, Martin Ojara Mapenduzi and himself Komakech who is the chairman for TK and MM art in April 2017.
"Our coach called John who is based in California USA, started GULU bjj with the help of Gulu World Embers, but now we have 15 players." Komakech reiterates.
Brazilin Jiu-jitsu Gracie Barra has got more than 7,000 teams world wide, they have the same training schedule programs which all take place at the same time with the 7,000 players. This gives them equal skills to meet at any event with their counterparts, according John Gulu BJJ trainer?
The challenge however, is that Gulu BJJ is facing a serious financial constraints among other things. In July 2018, Jacob Oulanyah, the Deputy Speaker who is a patron supported Gulu BJJ by transporting them to Kampala when they went for their first tournament. The Deputy Speaker further supported Gulu BJJ with UGX 2.5 million, because he is also a kick boxing player.
He also promised to support Gulu TK and M.M art team with boxing kits and also promised to get for them a home of TK and M.M art sport academy since Gulu Municipality has been elevated to City status.
Gulu TK and M.M   art is hub for TK in the country, through Gulu TK club; most of the good players in all the higher institutions of learning have been drawing their manpower from Gulu TK.
Jimmy Komakech alike, Jimmy "Makome" who also doubles as Omoro District TK club and a star for Ndeje University TK player, also a coach for Omoro district TK club is a product of Gulu TK AND M.M. Ayella, the coach for Gulu University TK team says they have a mission to see that youths benefit from TK.