UGANDA: GULU FOREST IS A BIG CARBON SINK AND A BIOMASS PRODUCER IN NORTHERN UGANDA-RETIRED CIVIL SERVANT AND FORMER DIRECTOR OF NATIONAL FOREST AUTHORITY.
I am open to make a joint venture to start commercial forest industries farming in Northern Uganda with land owners who have big chunk of land.
I am open to make a joint venture to start commercial forest industries farming in Northern Uganda with land owners who have big chunk of land.
Let interested people come and we talk. I will show you how things are done. I have model in my mind. There are people with big sank of land in Northern Uganda that are under used.
Why can they put part of such land under some form of commercial tree cover?
By the time we come to harvest the forest and depending on the species planted, we could be sinking about 9 tons/ha/year of CO2 (22.7Kg/tree/year for agro-forestry or natural forests) or 14 tons of Carbon dioxide per hectors per year (33.2Kg/tree/year for planted forests like pines and eucalyptus).
Currently I might be one of the biggest sinker of Carbon dioxide in Northern Uganda (about 1,500-1,800 tons per year from 130ha of planted forest) which is a remedy for mitigating climatic change.
GULU-UGNDA: Mr. Langoya CD, a retired civil servant and a former Director of Uganda National Authority (NFA) says that natural forests are the sources of traditional herbs and are ideal for conserving local environments.
However, if one wants to absorb a lot of CO2 as one of the ways of climatic mitigation, let one plant fast growing trees in a plantation setting. Planted forests absorb more carbon dioxide that national forest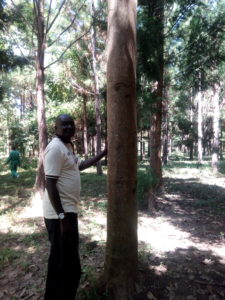 .
The Pallodium held Northern Uganda Investment Conference on 27-28 November 2019 at Watoto Church in Gulu which drew over 500 investors and scholars across the region with the theme: Northern Uganda as an emerging investment destination in Uganda.
The investment conference has provided a platform to drive awareness about investment opportunities and aim to attract new financing into the economy specially.
Currently, northern Uganda is poised to become a major player in trade and investment within the Agribusiness space. With improved connectivity, and major breakthroughs in peace, security and infrastructure development, the rates of growth in the region has been impressive, observer noted.
Over the past five years, the region has registered the highest growth in per capital consumption expenditure at 21.3% and poverty fellby 11% in the same period (UBOS, 2018). It has also growing class of middle-income consumers and three emerging cities, Gulu, Lira and Arua are good exit routes for regional export.
Presently, the region hosted over 100 large scales commercial farmers, as well as a number of processing and manufacturing industries of different scales and sizes from agriculture and related investments.
With good rainfall, welcoming people and fertile soil Northern Uganda is well placed as a key investment destination where various commercial endeavors from crop production to livestock, forestry and agro processing have already shown admirable returns on investment.
Meet Langoya CD who has made the in road in producing woody biomass while cleaning the environment through carbon dioxide absorption, an intervention to climatic mitigation.
Verbatim
Langoya CD on one to one interview at his home in Pace Division, 2 kiloliters outskirt east of Gulu City.
I am open, let people come and we talk. I will show you how things are done and done well. I have model in my mind. There are people with big chunk of land .Why can they put their land under forest cover?
The model is rather than keeping large chunks of land "idle" with limited return, one could come into an agreement with an investor to plant a given acreage (say 500 ha. The investor then plant trees and give the land owner for example 20% of the planted area (about 100Ha) after maintaining it for 3-5 years (this will depend on the type of tree crop). The investor may also pay ground rent to the land owner on top on getting his return from the 80% of the planted area. It is important that the investor will not own the land.
If I am going to be a land owner, I will go that model especially if I do not have capital to invest in my land. Using the above figure of 500 ha land put under planted forest, the land owner will be having 100 ha under forests and the land owner would produce about 300-400 cubic meter of timber. Currently a mature pine tree is sold at 80,000/= per M3 one would have a crop value of 2.8 billion shillings.
On the other hand, if you have some capital of your own, people with big land could invest in tree growing. For example one could invest up to UGX 500 million in 100 ha (1Km2) over 15-20 years and would get a return of between 2.8-3.6 billion shilling. For sure, this is a long term investment and one must be ready to wait.
By the time we come to harvest the trees, we will have been sinking 14 tomes of carbon dioxide per ha per year (i.e. 1,400 tones/year).
By involving in tree growing, one will be doing green economy (turning the bad gas-CO2 into a good product-woody biomass. Under a normal circumstance (which should be a government policy), tree growers should be paid for cleaning the environment at the cost of about US$ 150/ha/year (about UGX 560,000/ha/year). This could come in form of a grant or a very low interest loan of 1% to the tree farming investors.
The other option is to offset tax when the final forest product is being sold at the farm gate price. For example, with 100 ha of planted forest, the estimated cost of carbon sequestration is UGX 1.120 billion (at UGX 560,000/ha/year for 20 years. And with a total investment cost of UGX 500 million, government of Uganda should support tree growers to first recover UGX 1.620 billion from the 100ha and then tax any additional income thereafter.
Based on the 100ha model, in every actual sense government or some one should be paying tree grower severy year, because they are cleaning environment at the cost of about $12,000 which is about UGX 45 million per year.
In order to get the best out of the 100 ha model, one has to maintain the forest very well. But most important is the seed or planting material sources. People have the mindset that tree grow by themselves, when they throws the seedling they think they will grow without weeding and fire control.