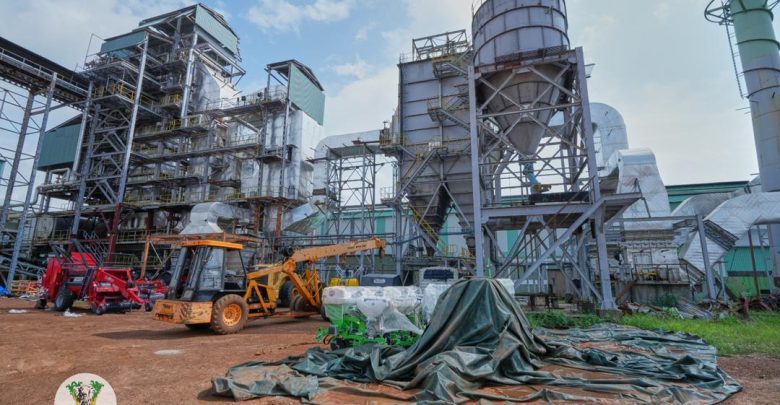 UGANDA: ATIAK SUGAR WORK LIMITED GEARED TOWARD SOCIAL COOPERATE TO MITIGATE AS FACTORY MOVES TO HEAVY MECHANIZATION.
The question still remains an answer, is the community in Atiak whose land has been grabbed by the Horal Investment Limited and The Ogik family of Pacilo out-growers still demand compensation, otherwise the factor will suffer community humiliation.
The Director of Communication moves to avert community malicious damage, of late for the last three years, Atiak sugar cane has been burnt down by irate members of the community forcing the company to close down its productivity indefinitely.
The War Victim and Children Network, former women returnees of Lord Resistance Army LRA vowed to crush Atiak Sugar Work Company Limited, should the Hoyral Company who own the sugar plantation ditch them out as new management mooted during a press conference says that the Sugar Work Plantation has cut the contract with the out-grower.
The question still remains an answer, is the community in Atiak whose land has been grabbed by the Horal Investment Limited and The Ogik family of Pacilo out-growers still demand compensation, otherwise the factor will suffer community humiliation.
AMURU DISTRICT-FRIDAY, 8,2023.
The Horyal Sugar Work Limited Management soon acquired heavy mechanized 600 horsepower tractors for sugar production, to avoid manual labourers says the factory recently lost up to a total of UGX 33 billion worth.
"The company is contracting an irrigation pipeline for firefighting and mitigating environmental change."
Ben Ongom, newly appointed Director of Communication on Friday, September 8, during the press briefing at Atiak Sugar Company Limited, hosted on the factory side, says the moves to mechanized farming came as a result of Horyal management's decision to end Atiak Out Gowers which has been part of sugar cane plantation, weeding crushing sugar cane, including manual laborers crushing at least 1600 tons of cane with 1500.
"We have 75 percent of 600 host power heavy mechanize machine that would replace 6,000 sugar cane out growers, the company has been having 2000 casual laborers on a daily basis. This host power machine is going to do the plantation, and weeding, as part of combine harvesting. Therefore, we do not need manual laborers."   The Director of Communication told the press.
Other strategies that the company is developing, for example, emanate from experience, Uganda has very low output, we have 75 horsepower tractors, and yet we need 600 more horsepower tractors As you see they are being assembled from here for effectiveness, the company wants to build a railway line to boost the transportation of cane from plantation to the crushing site.
Our emphasis as the new Director of Communication and Strategy, our interest is to see corporate social responsibility benefit the community who lives within the outreach, we shall make sure that Atiak Sugar gives back to the community, we are going to build hospitals, and schools and give scholarship to student being admitted to Gulu University and Makerere University, those who are perusing science courses, and contract road network within the surrounding areas.
"We don't want a repeat of sugar cane fire destruction which led to UGX 33 billion losses, we are going to introduce social welfare agricultural productions, we have a farm within the company, which we are growing numbers of food items, that we shall invite the local community social responsibility." Ben Ongom reassured.
Ongom revealed that although Horyal Sugar Company Limited has 51 shares while Uganda Development Cooperation has 49 percent of shares we are giving more money to the government, 70 percent of Labour of Atiak Sugar coming from the neighboring districts, the agreement between Horyal and Atiak outgrow cooperative Society. Ask UDC.
But, we are committed to paying the sugar cane grower, ask them, if the legal binding was between Horyal and out grower.
Within a few weeks, there will be a lot of payment between the out growers. We do understand where we are coming from, In the past, the government did not harmonize the good working relationship between the out growers and the Horyal Company Limited.
"We are going to give to society, from Gulu, Amuru, Adjumani, and Lamwo districts agricultural investment, we want to open to the farmers around here to come and benefit from our farm mechanized gardens
Bunty Seeruttun, the Director of Agriculture of Atiak Sugar Company Limited says people should not expect the factory to produce sugar at the end of this year or next year. But, after two years. Because the current sugar cane you see here which got burnt last year 2022, is going to be used for plantation. However, the Company is exporting new varieties of cane from outside the country that would meet weather reliant to be planted.
Bunty insists that as part of social cooperate responsibility, they are investing in education and sport. But, the situation is not going to be like in the past when the Chairman heading the factory would walk in and demand UGX 50 million and offer to the sports club.
Bunty strategic plan is to build a dam that has a capacity of 5 million cubic meters of water, the water will be tapped from hills that surround sugar cane plantations, where an irrigation pipeline will be constructed to pump water from the dam. This will supply water that will be used within 65 to 550 acres.
The irrigation system will help to mitigate weather changes because after nine months \ the Atiak area faces a shortage of rainfall, the season around the sugar cane plantation would be dry, and as such sugar cane needs a lot of water for its maturation.
The pipeline irrigation we are constructing covers 7,000 acres in the plantation, and in case of a fire breakout, we are going to monitor our plantation by the GPS, if where fire happens to break out, we are going to open out the irrigation line to pump water to put out the fire.
Former women LRA returnees demand 60 billion from Atiak Sugar Works Company.
Stella Lanam Angle, the Director of the War Victims and Children Network, farmer LRA returnees says they are demanding UGX 60 billion from Atiak Sugar Company Limited, because of backlog payment.
She warns that should the Management of Horyal Company Limited undermine former war victims who were the sole funder of Atiak Sugar works, they will meet the force equal to works done. Horyal Sugar Company received UGX 108 billion from UDC because the money was meant for the former LRA returnees, so the fund that Horyal used was not funds borrowed from the government, but part resettlement package of LRA
We were recruited in three phases, the first phase was in year 2008, the second phase was in year 2013 and the last phase was in year 2016. In total, we are 1,444 both women, and children born in captivity, Boys, girls, and men from the Gulu, Amuru, and Lamwo districts are part of the Growers Cooperative Society.
Lanam says they have petitioned Uganda Parliament to complain because out-growers were never paid, including People with disabilities PLWH,
Their rights were abused, we encountered human rights abuses, and the company used their Amnesty and National Identity Cards as a way of luring them into the sugar cane project.
Initially, the company promised us five acres that were our bargain which was promised by the management of the Atiak Sugar cane to each worker, and since they are being kicked out what would be their faith?
Naming some victims, the likes of Oyat James who died of Hepatitis E due to poor workmanship and unpaid Labour for the workers for their work plantation, weeding and cutting sugar cane.
"The management misused their position of authority, violence against women there was a limited time of rest, some women got miss-courage, the mother was used like prisoners, one Christine Amony got miss-courage as result of hard Labour and poor feeding from worker's camp.
Other people were transported by using tractors pro and to a sugar plantation, no insurance was accorded to workers, and workers were eating rotten beans and expired flour, and congestion in the camp, and poor water sanitation resulted in an outbreak of cholera" Lanam Angle decries.
National Agricultural Adversary Board NAAD intervention
Lanam Angle disclosed that when their case was tabled before Parliament, the agreement was reached between Horyal and NAAD Investment Limited which prompted President Museveni to intervene by releasing Funds to support the development of the Atiak Sugar factory that favored the war victims.
Although NAAD intervention was a social evil, it has never worked in their favor, because the MoU was signed between Horyal Investment Limited and NAAD, and their representative Joyce Laker and Christine Lutara respectively, date war victims never show the MoU.
"We were cheated when we paid our membership fee, each district paid different amounts, Members from Lamwo district paid UGX 10,000, Amuru members paid UGX 80,000 while members from Gulu paid 50,000. NAAD promised two tractors to the out-growers, including PWD, HIH, and war victims' returnees. All of us were not paid except 10 people from PWD, and HIV when the sugar cane was burnt." Lanam concluded.
Filed officer dismisses war victims claimed
A filed officer from Atiak Sugar Cane Plantation who represented Out Grower Society refuted claims from the War Victims, alike PWD, and HIV out growers, saying that during plantation each person was paid according to their workload.
"As one of the supervisors, my responsibility was to pay workers per measurement, A person has to plant one line of sugar cane of an acre, and we paid him UGX 4,000. So if you don't work hard, you are paid less, and food is enough for all of us. We would bring the Workers from September to December, and by the time they finish plantation weeding would be ready for them.
So we were taking them in swift, according for three months period, there were others who would dose work, others people were hard-working, so you earned according to what you have work for." Sources intimated.
Disable voices
Oryem John Bosco, one of the disabled person, and one of the out-growers, says PWD still demand their payment, and if Horyal terminates their contract we shall sue them because we have a receipt which shows that part of the payment was made.
"For us PWD, our Lakwo Geoffrey Councilor presenting paid himself, leaving all of us." Oyrem John Bosco admitted insurance was not covered by the government, only the Horyal factor was insured, if the plantation was insured we would have paid out the grower.
Joyce Laker, the Chairperson of Atiak Sugar Cane Out Growers Cooperative Society revealed that Mahmud the Director of Horyal Company a son of Amina informed them of the changes in July this year, and said that the Grower shall be replaced by a mechanized farm production. On Friday last week, Ben Ongom new Director of Communication Strategy phoned her and informed them that they would meet the out-grower to mitigate new changes.
Joyce Laker agreed that Horyal through NAAD, has signed a MoU, that is still in place, if any changes taking place we are going to benefit. At the moment Atiak Out Growers has Oil Miller that can produce 60-80 tons of oil in a day.
"We have our Oil miller in Lamwo, Adjumani, and Amuru districts, the one in Amuru district is at Akurukwe, and also we have an Oil pressing miller that can produce 40 to 80 liters of oil in Gulu City, Adjumani, and Lamwo districts, so we are not going to lose." Laker Joyce reassured.
National Agricultural Advisory Services (NDAADS) has signed a Memorandum of Understanding (MoU) with two Sugar Cane Out-grower Cooperative Societies and Four District Local Governments in Acholi Sub Region.
The party to the MoU is Horyal Investment Holding Limited a private Company that is constructing Atiak Sugar Factory. The MoU which was signed on Monday 6, 10 2019 at the MAADS Secretariat establishes a framework of principles and procedures that will facilitate guide and enhance a collaborative approach among parties and stakeholders for supporting the production of sugar cane among Out-grower in participating District Local Governments covering a total of 13,042 acres