UGANDA: FDC SWALLOWS PAIN OF DEVIDES FOR RELEVANCE IN GULU CITY MAYORAL RACE
Chairman Ojara Mapenduzi, Gulu District Local Council V, failed to pick his form from FDC twice, political vineyard kneely washing.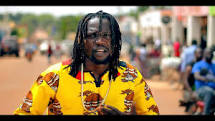 Hon. Ronald Regan Okumu, Martin Ojara Mapenduzi and Achire Christopher put differences aside and married themselves against DP Lyandro Komakech.
GULU-UGANDA: Before the entrance of Christopher Achire into political arena, some big political guru was making political ping-pong they were standing aloof, but George Aligaz Lapir, Alfred Okwonga and Robert Mugabe had already declared their political interest to stand for Gulu City Mayorship.
According to political vineyard intimated to Oyeng Yeng News source revealed that there is already political move by Forum for Democratic Change (FDC), to ring fence Gulu City Mayorship, Gulu West Division, Gulu City Women MP and Aswa County MP seats.
The meeting has been taking place even before lockdown in March this year, the first meeting was called by Rwot Yusuf Okwonga Adek, the Pageya Chief who summon his subject ahead of the Presidential polls 2021.
Top on their agenda, Rwot Adek called for supporting Martin Ojara Mapenduzi, the current Gulu District Chairman Local Council, Rwot Adek want his subject to support him against Tony Kitara who is also from Pageya chiefdom base on the fact that if both of them stand in Gulu West Division, it will divide their votes.
That was before COVID-19 pandemic, the Rwot Yusuf Adek meeting had proposed to front Tony Kitara against George Aligaz Ogwal who they believe to the strong pin behind Gulu City Mayor because of his popular being president of USMID development.
Christopher Achire, a political hegemony of the big 4 of the FDC between Ronald Regan Okumu, Betty Aol the leader of Opposition and Martin Ojara Mapenduzi.
The FDC alliance is a marriage to capture votes in Gulu City Council. Betty Aol also, sources say, is seeking support from Achire who is the aspirin Mayor candidature, Regan Okumu also ask him to back him in for Aswa County seat and finally political vineyard revealed that Gulu District Chairman Ojara Mapenduzi also is seek heavenly support from him.
The FDC alliance is to counter the influence of George Labeja, the current Mayorship of Gulu City Council. Why does the FDC abrogated their political marriage with Gulu City Mayor Labeja, and yet in the last election in 2016 the duos backed George Labeja for Gulu Municipal slot for Mayor against Geoffrey Otim who was backed by Stalwart Norbert Mao, the President General of Democratic Party, who is also standing for Gulu City East Division.
The FDC alliance of gang of four just dumped Geoffrey Otim and they decided to go to George Labeja at eleventh hours, not thinking there will be tomorrow's election.
Norbert Mao factor in Uganda politics.
Norbert Mao, for years has been behind most of the opposition party face in Acholi Sub-region, from Okumu Ronal Reagan and Mike Ocula way back in 1996 when they won the election. It was Norbert Mao's influence charming politics that made them to won the election amidst UPDF front runner Betty Begombe, the then Minister for Northern Uganda Reconstruction Program.
Then came little known Betty Aol Ocan the former District Councilor for Laroo Division, the then Gulu Municipality who stood tirelessly twice and lost for Betty Akech Okumu the then Minister for Education and Sport, her luck came in 2006 when she beat Hon Betty Akech although she stood in FDC ticket. But Mao weight a lot in propelling her to become the Legislator.
Is Norbert Mao still relevant in Uganda's politics visa vie Acholi politics?
Norbert Mao, has been advocates of the new Uganda political thinker and Human Rights from the time he stood against NRM regime Guild President Norbert Mayombo, as he was emerging after the collapse of the fall of Gen. Tito Okello Lutwa 6-month military junta.
In Uganda not only anchored by liberal democracy, but…… is a genuinely liberal, protection of individual rights of Acholi who were being clobbered on Kampala streets in the names of Anya-anya, the backward northers.
His victory was to the northern means that the ideological controversies of the past have given way to groom the likes of Opposition Leader Betty Aol Ocan, Gulu District Chairman Ojara Mapenduzi, Ronald Okumu Regan, Mike Ocula, Richard Todwong and Dan Kidega among others.
Norbert Mao, stands not only about the Universality enemies or Acholi value, but he has placed Human Rights at the core of international law.
Mao urges that DP party does not need to get political marriage with and political alliance of the FDC, but his alliance are with the people, so let come 2021 Presidential Polls.
Norbert Mao, from 2001-2011 he served as Gulu District Chairman and left the Chairmanship to Martin Ojara Mapenduzi, but before he served two Parliamentary terms and later, he stood with Museveni in 2011 Presidential when he was elected Party President for Democratic Party.
The aspirins for Gulu City West Division are as follow: Lyandro Komakech, Otim Bosmic, Martin Ojara Mapenduzi and Tony Kitara. While Women MP aspirins are; Betty Aol Ocan, Joyce Laker Okot, Rose Mary Atim