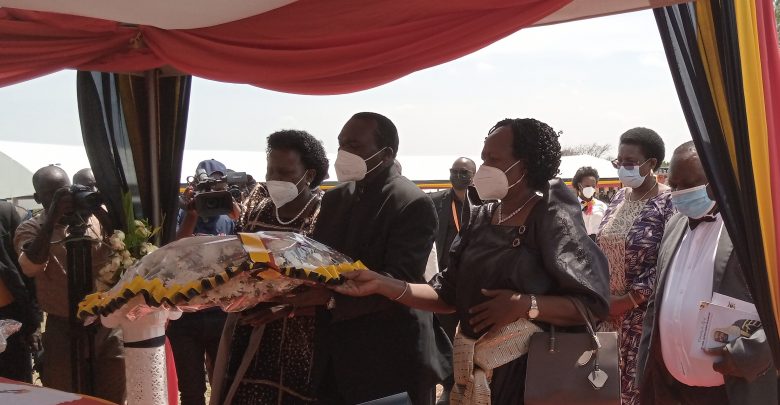 UGANDA: ARREST SUMMONS STILL STAND ON RUMORS MONGER-POWER DYNAMIC CANNOT BE RULED OUT ON JACOB OULANYAH DEMISE.
There was a total deadlock that  engulfed Jacob Oulanyah burial at Ajuri Primary School, Ayomlony village on  9th April 2022 when a cyclone swept through and almost turned down the casket containing the body  of Jacob Oulanyah, blowing up the tent.
The cyclone interrupted and dismantle pavilion where the Omoro Women MP, Catherine Lamwaka who was co master of ceremony was speaking. As Nathan Okori Adiyo Oulanyah's father looked at as his name was missing from the lists of those who were supposed to speak.
National Resistance Movement (NRM), mafias say Jacob Oulanyah was elected speaker and should stay under Oywelo tree. Now started to build a mansion. Begin to compete with Uganda dictator Museveni.  
UGANDA-OMORO DISTRICT: President Museveni still insists that the late Jacob Oulanyah died with natural death, and says Uganda Police Force will go after those rumor mongers who are allegedly saying the late speaker was poisoned.
"Police will summon those rumor mongers who are alleging that Jacob Oulanyah was poisoned, Jacob Oulanyah died in one of the most outstanding world hospitals, Seattle, USA. The medical report says." President Museveni warned during his Easter summons.
Nathan Okori Adiyo, the father of Jacob Oulanyah told mourners on April 9, 2022 that before his son Jacob Oulanyah was taken to Seattle, USA cancer hospital, He told him that he had been poisoned. And when he was taken to the hospital that poison had consumed his stomach badly, Muzee Okori speeches left millions of mourners with tears as they blow horns and ululating showing their pain.
"My son Jacob Oulanyah told me that he has been poisoned by a man from Omoro and a woman from Kampala, and he made it clear that he does not know if he will come alive from Seattle, USA cancer hospital. Okori Adiyo revealed.
He further, thank the vice President for coming here, thanks you the speaker for coming here, He thought President would attend the burial, but since he is committed to other state duty, tell him that my son was poisoned.
Who could have been the suspect; there are so many schools of thoughts behind the late Speaker Jacob Oulanyah's death.
Others says President Museveni loved the late Jacob Oulanyah so much that, his interest was to see political transition change take center stage when the late Jacob Oulanyah was in speakership, to make sure that Lt. Gen. Muhoozi Kainerugaba, this impeccable source from statehouse revealed to Black star news.
The power swift's dynamic is raging on which sources alleged that it is being controlled by the mafia. Which as a result of Uganda political transition so far has resulted to high profiles blood clots death, motor accidents, cardiac arrest? And alleged poison
Temali Merundi, the  former Presidential Press Secretary, alleged that there are mafia in state house,  power corridor  it is alleged that President Museveni have been enraged by the waves of the current  assassination.
A case in point, the killing of the late Flex Kaweesi, the former Uganda Police Force Spokesperson which was gunned down in 2017, in the morning mayhem, in that year, the Major General Julius Oketta, the former Director of Operation Wealth Creation died with alleged cardiac arrest, in June 19, 2018 Aura Municipality was gunned down, a day when he booked appointment to meet president Museveni.
Flex Kaweesi was designated to be appointed Uganda Police Force IGP, and Major Julius Oketta was designated to be appointed Deputy IGP, while Ibrahim Abiriga was supposed to brief president Museveni about the clandestine Balalos present in Northern Uganda.
The third power dynamic is being run by the mafia close to first lady Janet Katas   Museveni; although she may not be responsible for their operation, but vain yard sources within the statehouse corridor, state that those sympathetic mafia groups exit.
The last groups, of power dynamic, mafia are those who are allegiance to Muhoozi Kainerugaba and his uncle Gen. Salim Saleh. Sources close to Black star news intimate that, most people who are believed to have succumbed to allege poisoning President Museveni does not have a hand in those people death.
Okwera  omony,  an elder from Acholi community, said sometimes they preempt the police investigation with their public outcries by mentioning and condemning the government, and yet instead they should wait for the statement from the power that analyze it.
Addressing mourners during the vigil night, Oulanyah's first born Diana Acheng narrated that the pain of Patricia Lakidi endurance to ensure that her father Oulanyah was comfortable was something she has not seen in her life.
"She praised Patricia Lakidi for hanging and being strong at a time that other women had turned their back on her dad."
However, Nathan Okori Adiyo, Oulanyah's father during the burial, appeals to Chief Justice Owiny Dollo Cigamoi, to intervene into the matter of the late Oulanyah's estate saying that there is a certain woman now who has grabbed the book bank account and other properties. The Chief Justice should help the family to recover stolen properties.
"Chief Justice Cigamoi, when Jacob died he left me in your hand, please there is a woman now who has grabbed all the property of Jacob and is now masterminding us, she is living in the house, including his will, please work hard to help us." Okori Nathan begged Chief Justice.
Francis Joel Emuna, Oulanyah brother also castigated a certain lady in Kampala without mentioning her name, told mourners that his brother after the divorced with his wife Lady Winne Amoo, in 2016, she never introduced any woman to them. Any woman who claimed that she is Oulanyah's wife is injudicious.
"I want to tell you mourners that my late brother Jacob the late speaker never introduced to the family any wife, if there are some ladies in Kampala that claimed to be part of the will, that are mere con women. "Emuna warned.
Patricia Lakidi claimed that Jacob Oulanyah signed the will on March 18 two day prior to his death in Seattle, USA witnessed by Dr. Opiyo Oloya, made her Administrator of his estate. And claimed that the late brother Emuna took away a briefcase which contained the USA dollar, she claimed.
The attempt to reach Patricia Lakidi was futile as she failed to answer question, and response to the questioners send to her by the Black Star tried to reach her on the phone, but she hung up the calls. On the number of issues concerning forcing the late Oulanyah's estate. And being administrator of Oulanyah will.
James Odongkara chief escort of the late Jacob Oulanyah and his brother Emuna, accused Ms. Lakidi that she always pick the phone from Oulanyah's when he is on phone.
Odongkara further reveals that, Ms. Lakidi was the only person who could share food with Jacob, and she could even bring tea from Bukoto flat to the late Jacob.
"MY boss Jacob Oulanyah would have died, when he was being taken to Seattle, USA cancer hospital, Patricia Lakidi ordered me and Francis Emuna not to board the plane. She could even pluck off the phone call from Jacob whenever I rang him, me and Emuna we would have donated his organs to save Jacob live." Baiter police chief escort narrates.
Eng Olal Obong, the former Independent MP candidate of Omoro County who contested in the last election 2021, when contacted about the bad blood between him the late Jacob during the last election in 2021, sometime he used to attacked the late, accusing him of planning rigging election, it was a rumor that during election it was alleged that he promised that should election be rigged then the winner of rigged election would be dead.
Eng. Olal Obong, sort back that.
"Mr. Langol it is extremely bad baseless and unfounded to start involving me in the death of Hon. OJ. The father of Hon. OJ told the media in broad day light not once, but many times that his son told him he was poisoned by two people he normally shared meals with the lady and one from Omoro, if you ask yourself.
This nonsense." , it is not my duty to even guess or name those suspected individuals who might have been suspected to poisoned OJ, the father knows and I am sure will let the nation knows them.
Thirdly, I am surprised of what you are trying to talk about, that I told the people of Omoro that if OJ wins the election, he will be dead, I am just hearing from you for the first time I do not know from which source." Eng. Olal Obong reiterates.
The Oyeng Yweng News t reach Ben Acellam, the former political personal assistance to Speaker Oulanyah, and campaign manager, close ally why he was order and blocked on two occasions by Oulanyah's father Okori. Who accused him of being alleged to have hand in his son demise?
Ben Acellam, could not pick up the phone twice, and did not even respond to the whatspp message which was sent to him, to get his side of the story.
However, in August 2021, Jacob Oulanyah told mourners during the burial of the late mother of Ben Acellam, that if not with the power of God, he would have succumbed to death.
"I was poisoned by an Acholi from Omoro district, the person. (Ngate owola ni, laco man woto ni nyam nyam, dok lajok mako way at owola.) the man who poisoned me, is from here, a big man walk gigantically, a witch" Oulanyah told mourners at Lalogi.
Okeny Ngomkuri, the late Jacob Oulanyah says, you see what killed your brother Oulanyah this mansion building, he had planned to be working from here and he goes to Kampala to conduct parliamentary business.
"This building caused his demise, the mafia from statehouse claimed that Oulanyah by putting up state house at Lalogi, he was computing with president Museveni." Okeny and operative from state house say.