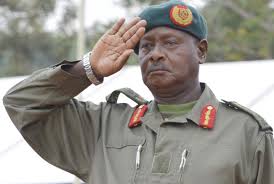 UGANDA:(BREAKING NEWS) UNKNOWN FOREC ARE IN MILITARY IN NWOYA NORTHERN UGANDA JANGLE
The 4the division UPDF spokesperson when contacted his known phone could not be reach for comment.
Alingiri-Village in Lungulu  Sub Country for a week community are on the run following heavy military present and bombardment,  tractor drivers disclosed to Oyeng Yeng  News.
NWOYA-UGANDW: 47 years old,  OKELLO John a tractor in Alingiri Lungulu  Sub County. Says coming for a week helicopter  Surabaya flies low following Rivet Nile,  and drop military men who later begin shooting guns.
Alingiri 30 square kilometer is farm to Harreit Aber Saleh who died three week ago.
One elder in Gulu City codified  to Oyeng Yeng News that Gen.  Salim Saleh meet 15 elders in Gulu 4th Division barrack,  during their meeting Gen.  Saleh says although he is not  born of soil but he know a lot
"Do you what is here in Acholi region?  Ate you aware of Acholi master plan,  if you ate not in the knowledge,  the government had a big plan to developed your areas. " Gen Saleh mooted.
The 4th.UPDF Division Army spokesperson Major Telesphor Truyamumanya confirmed the present of UPDF in NWOYA district  who are doing Military drill.
"we aren't doing military paratrooper commandos training in Alingiri. any military helicopters operation we ate behind.  No any military forces can be present in the region  without our knowledge. " Northern UGANDA military spokesman reveals.
One of the elder who attained the meeting called by Gen.  Salim Saleh in Gulu 4th Division barrack says Salim had organised to meet Acholi elders who hail the 8 districts including Gulu City and Kitgum Manicipality to understand why there was NRM primary violent,  and if the ruling party is gaining ground in the country.
Source mooted that they told him Gen.  Salim that the NRM primary election there were a lot of rigging, sources revealed.
"We told Gen.  Salim Saleh that there were voters inflation,  where the candidates get 160 votes,  the aspirants colluded with the returning officers and they instead adds one zero to be 1600." source said.
Salim Saleh further more revealed to Acholi elders who numbers15 that Acholi Sub Region is endure with menarels .
Gen.  Saleh is pitching four week in the Gulu City to monitor military drill and he will morning his late wife Harriet Abet Salim, but during the late Aver burial, he denied being the husband of the late Aver.
"I have come to Barry my business partner,  should it not been because of her mum,  we would have parted away long time back ." Salim says hipduring the burial.
.