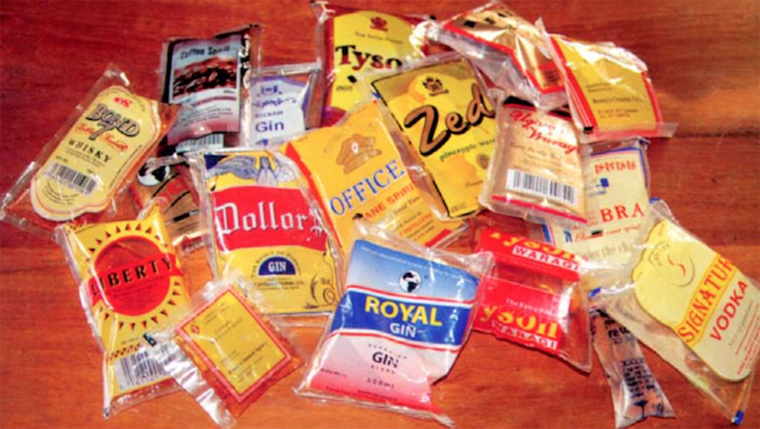 UGANDA: THE U.S.A RESEARCHERS SAY SACHET WARAGI IS CAUSING MASS DEATHS IN THE POST LRA.WAR CONFLICT IN NORTHERN UGANDA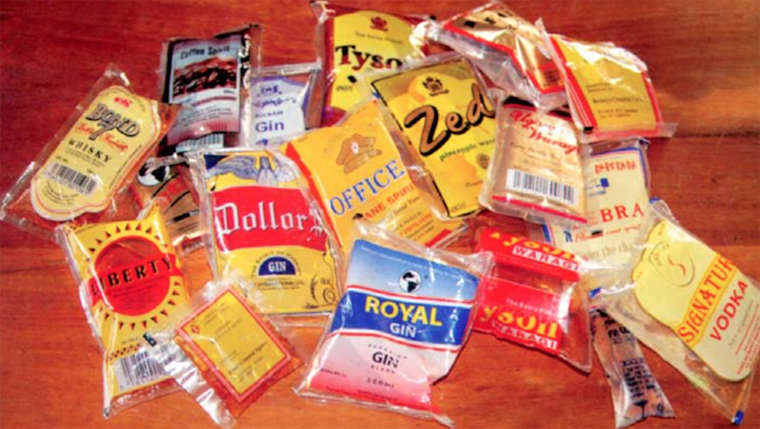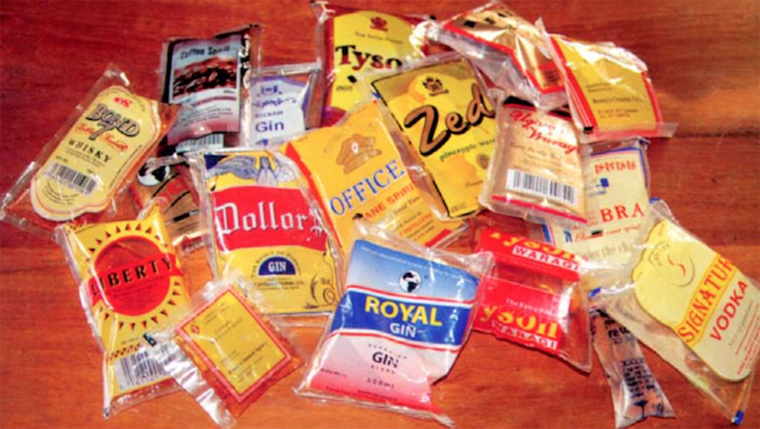 "Poor quality control of sachet alcohol puts consumer`s health at risk in Uganda."
Assessing the health risks of consuming 'sachet' alcohol in Acoli sub region, has discovered Estimation  the causes of high death mortality rate  in post war Northern Uganda has been because of the average daily heavy metal intake in the sachet alcohol.
Exposure assessment to estimate the intensity, frequency, and duration of human exposures to alcohol contaminated with metals was carried out by calculating the average daily intake (ADI, in mg/kg/day) of the 20 metals studied, and of ethanol ingested by an Acoli adult (assuming consumption in this population begins at the of age 15) report indicates.
GULU-UGANDA: The paper on sachet waragi was authored by Dr. Ochan Otim a chemist affiliated with the University of California, Los Angles, and United State of America.
"Fire begotten fire" Dr. Ochan Otim his grand farther Ocen Lamero was a hero of Puranga Bolo, the first person to rebel against the British rule in 1903 together with his brother Ongom Okute. And the first Acholi son from Puranga who joined Uganda-British police.
 Tom Juma a chemist affiliated with the environmental monitoring Division, Los Angles, and California United State of America. And Dr. Olara Otunnu, former Under Secretary General United Nations.
The current situation in northern Uganda:
The current situation in Acholi Sub Region due to consuming 'sachets' alcohol has led  to high number of mortality rate among the communities,  the findings by Oyeng Yeng Newsletter reveals that on a weekly basis, it is estimated to be in hundreds of people who succumb to deaths triggered by consuming sachet waragi.
According to the announcement from Gulu FM, Mega FM, and Ruupiny FM. The same radio announcement broadcasting the deaths of loved ones are being broadcast from Kitgum District based radio stations like Kiti FM, Tembo FM, while Radio Palwak FM in Pader District and Lwo FM in Agago FM also carry such death announcement in hundreds.
A new scientist study in a United State journal has found that the sachet waragi consumed in Acholi has a dangerously high quantities of heavy metal that poses a danger to public health.
 Verbatim,
 The USA report of the research has been silent on metal substance found in Sugar sales and ice-creams being sold in Gulu markets. Which contains metal substance of steel wire, and also homemade cake (sapati) are sold on streets in Gulu city to be.  
 The increased mortality rate among the Acoli people of northern Uganda is anecdotally blamed on excessive consumption of cheap and widely available sachet-packaged alcohol in the region. In this paper, we quantify this perceived association by determining statistically the health risks associated with ingesting 20 heavy metals in 17 popular spirits products consumed in Acoli.
Thirteen of these products were industrially packaged in sachets (locally known as 'sachet,' waragi, arege or moo lyec) and four were locally produced Lira-Lira spirits from Bolo, Awere and Teso Bar in the region and Nsambya in southern Uganda. A Scottish whisky purchased in San Diego (USA) was our reference.
 Risk assessment was performed according to standardized protocols developed by the United States Environmental Protection Agency (US EPA). Our results show that a strong correlation indeed exists between health risks and ingestion of spirits in Acoli. At 2.5 sachets/day for 240 day/year over a lifetime for example, the risk of developing cancer due to exposure to As, Pb and Cr alone is 1 in 102,041.
This estimate excludes ethanol, a known carcinogen, and 17 heavy metals also studied due to lack of their cancer slope factors. The primary non-cancer related health risk factor in all samples tested is ethanol with unacceptably high health index of four.
The Lira-Lira spirits, with 100–6000% copper above the US EPA limit for intake by oral ingestion in water, would be the 'cleanest' without copper and at par with the Scottish whisky. Collectively, we find that no amount of alcohol consumed in Acoli is safe.
Preventive measures are therefore recommended to reduce mortality in Acoli in particular, and in Uganda in general. These measures should include public education, better public policies, creating productive economic activities other than brewing alcohol, and social activities that engage people away from drinking.
Historically, the sub-Saharan countries of Africa are currently experiencing an increase in adult mortality partly believed to be due to the heavy consumption of cheaply and widely available spirits in the region.
 This scenario is best illustrated by the plight of the Acoli population of Uganda, a community in which uncontrolled alcohol consumption and alcohol dependency was acquired involuntarily during a 20-year civil war.
This population, centered approximately 350 km (220 mi) north of Kampala, the capital city is emerging from two decades of interment in which the entire population (close to 2 million people) were confined into heavily guarded satellite camps.
 Within these camps, distilled or refined alcohol dependency was allowed to take root, albeit disproportionally affecting twice as many adult males as women. Since leaving the internment camps, this population continues to experience high death rates which the local population blamed on the consumption of the poorly regulated and readily available spirits in industrially packaged plastic sachets or tot packs of 100 mL or less.
 The suspected linkage between mortality and alcohol consumption is strengthened by an incident in 2008 where over 100 deaths were officially attributed to alcohol poisoning in one locality alone.
 For this reason and others, the Acoli population of Uganda are not only right in suspecting spirits, but their predicament also offers uniquely an opportunity to study a host of health-related factors associated with physical confinement and heavy alcohol consumption.
Materials and methods
Sampling and quality control
Thirteen brands of 100-mL sachet-packaged spirits used for this study were purchased from the study area. These purchases were done without attempts to pick true random samples because of the logistical challenges and the restrictions encountered in attempts to collect representative samples of the sachet types sold and consumed in the study area. That said, as much diversity as possible was included on a first encounter basis.
 The 13 brands were Big 5 Vodka (B5V), Beckham Spirit (BEG), Bond 7 Whisky (B7W), Brigade Spirit (BRG), Chief Waragi Spirit (CW1 and CW2, duplicates sampled one year apart), Goal Vodka (GOV), Kick Spirit Pineapple Waragi (KPW), Relax (REX), Royal Vodka (ROV), Salongo Spirit (SAG), Uganda Waragi (UGW), and V6 Tangawizi Vodka (V6T).
At the time of this study, spirits sold in large bottles were outside the financial reach of the study population, and hence of no consequence here. For comparison, waragi from undocumented distillation processes (here referred to interchangeably as Lira-Lira spirits) were collected in duplicates in new and unused 50-mL Falcon screw-capped polypropylene conical centrifuge tubes (Fisher Scientific, Waltham, MA, USA) from three study area Bolo (BOL), Awere (AWE), and Teso Bar in Lira (TEB), and from a Kampala suburb (NSB, Nsambya Police Barack;.
To ensure that the Falcon tubes were not introducing extractable metals into samples, two fresh tubes were filled with a 50/50 (v/v) mixture of 100% ethanol/distilled water and incubated for three months, the contents of which were analyzed as regular samples. A well characterized Scotch whisky (The Glenlivet (TGL) purchased in San Diego, California (USA) was used as a 'certified reference material.'
To ensure control over the reference conditions under which trace amounts of metals could be detected with 99% confidence in ethanol, the 50/50 (v/v) mixture of 100% ethanol/distilled water was included as a blank sample in each batched analysis, and as a platform for laboratory control spiked duplicate samples.
Sum of all metals detected in each sachet is shown as solid rectangles.
(a)   Cu is detected at high levels in locally distilled alcoholic drinks (AWE, 421 μg/100 mL (97%); BOL, 123 μg/100 mL (92%); NSB, 140 μg/100 mL (94%); TEB, 1210 μg/100 mL (100%) and in the Single Malt Scotch Whisky (TGL, 41 μg/100 mL (76%));
 The former due to long copper tubes employed in the distillation process, and the latter is due to copper pots used in the brewing and distillation processes. (b) An expansion of the plot in (a) without Cu, an outlier, to confirm the disproportionate level of copper in the Lira-Lira spirits. Note that levels of all metals are overrepresented in REX. Means are very low and shown as angle grids.
The levels of metals (μg/L) in each brand of alcohol and their associated health indices (HI).
HI is listed from the most significant (top) to the least Uganda Waragi (UGW) and Bond 7 Whisky (B7W), both made by EABL Group at Uganda Breweries have the lowest detectable levels of metals and, surprisingly, compares well with levels in the Lira-Lira spirits without Cu (AWE, BOL, NSB, and TEB; ).
Researches added that UGW and B7W, two brands probably designed externally to appeal to different constituency, were also found to contain similar levels of metals, but with differing organic signatures (unpublished material).
 We believe that while different grains might have been used in the brewing step in this case, the same distillation and blending processes was employed to produce both B7W and UGW. The Chief Waragi brand sample duplicates CW1 and CW2, marketed as identical, contained interestingly differing amounts of metals (CW2: 112 μg/L and CW1: 42 μg/L, details in, we believe a change in the manufacturing process is the likely cause of this difference since the organic signatures of CW1 and CW2 are identical (unpublished material).