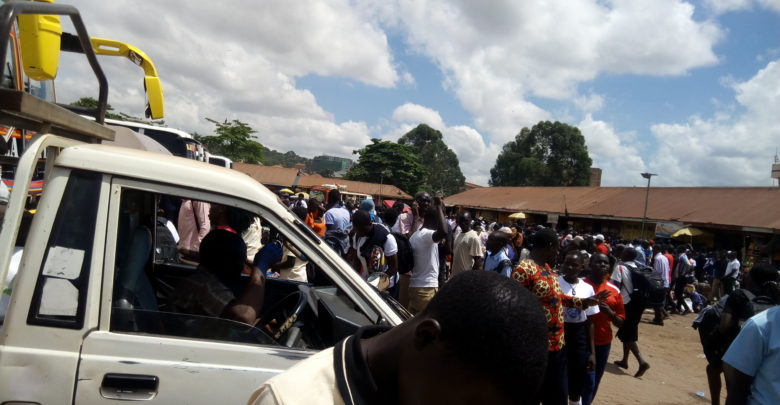 Sir Samuel Baker  (Pong Dwong tye Gulu Kwan Ngo icwalo Kampala) in Gulu what kind of learning do you need in Kampala, this was a song appealing to student who were seeking or  wanted to go and study from Buddy King College, Namulanyago SSS when we have a better school here in Gulu.
 So the same adage now goes to parent who are found taking their toddler to school in central region amidst …..
Abut 5,000 student from Northern Uganda were stranded in Kampala as COVID-19 pandemic announced by President Museveni leading to close down of school.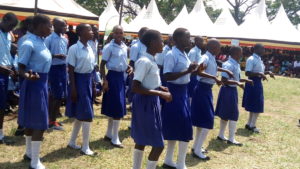 Pupils got problems of transport in Kampala as COVID-19 pandemic school was ordered to colse downKAMPALA-UGNADA: On March 20th 2020 Kampala, Namyimba Bus terminal was a total night mere as thousands of students across the country got stranded, many students including younger pupils had no transport, some were young at he ages of 7 years old.
All of them were straggled to board buses enrooting to Northern Uganda destination, to their disappointment there was no buses luckily Costar committers stepped in.
Odong Peter a father of four pupils was sitting in front of my me, boarded the same Costar committer who's the owner offered to transport stranded pupils and students who were lock down in Kampala as transport become another agenda. The incident happened on Saturday March 20,to Gulu after seeing how the children are becoming mul-nurse.
Odong place two of his elderly children next to my seat, one girl who seem to be around 10 years old sat behind my seat, while he was carrying one boy who look to be in nursery class
From the look, you see Odong is having a guilty face, his inner words from the look tell you that the man is wondering that in case of calamity what can be done to his four children.
But he was enduring with the silent pain as other parents who also are in a biter pill looking for transport their kids from Kampala to Gulu, Kitgum or Gulu.
Mary Akot one of the parent who travel from Gulu to Kampala to pick her daughter was sitting holding her a child in her tight, a kid seem to be in her teenage sitting comfortably in her mother tight, reluctantly not knowing the pain and the fatigue how  Akot  travel to Kampala. And she could not afford to pay for and extra seat, but quietly sitting at her mother lab while Akot she enduring with the pain carry her distance of 345 kilometers.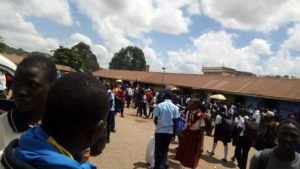 Kinto Joseph the owner of Costar committer was offering a fee of UGX 45,000 to a person is willing to travel to Gulu at owner risk, he was jokily saying every person or pupils from Northern Uganda, Gulu, Kitgum or Lira money is not their problem.
He asked Ajok why she could not afford to booked for her kid a seat, before Ajok could response, another boy asked him from behind to refund his UGX 5000, after learning that the fair of transport was UGX 45,000.
Kintu was catastrophic, revoking him, says do you think his work is for free, "In every job we do here there an extra cost." Implying that he will not refund extra money that the boy paid to him before.
Namyimba Bus terminal was a bee's hive with mammoth crowds, pupils just wonder from bus stages to the other. The bus conductor had changed method of issuing tickets, instead of the usual lining up before in front each bus, re-arranging desks waiting for passengers. They have resorted to (Magendo or Maputamingo) the black markets used to be during in  the 1970s when president Idi Amin was at helm of power, where every businesses was done behind the back door.
My fellow friend John Muto Ono p'Lajur had already boarded early Costar Committer, and he was traveling ahead of us, for him he says parted with UGX35,000, luckily for him.
For those pupils and students who had failed to get means of transport, the following morning on Sunday March 21st 2020 the buses fairs even  for Costar committers was going at UGX 70,000, the bus owners were had hike transport fairs says the high cost covered transport to and for.
Many people who were contacted by Oyeng Yeng News they say those parents who are taking advantages taking their pupils to Kampala, they are wasting their money and times. During trying moment they will pay the prices.
Jenifer Angeyo the Executive Director of Mother Ludiya private own school in Gulu, she is proud person, says for Angeyo her school tuitions fair is very accommodative, even poor parents can afford.
Mother Ludiya Primary private school, for a new extern they pay UGX 900,000 with including food rations and uniforms.
She says for the second terms the fees are lower to UGX 700,000. "And yet the parents who take their children to Kampala parted with ore fees, which are levy very highly to the tune of UGX 1 million or more. If transport to be there it would come up the tune of UGX 1.5 together with transport fairs." Angeyo lamented.
According to statistics from District Education Office, there are good primary schools which are giving hope in term of quality education, there better improvement of education in Northern Uganda schools like:
Ocere Secondary Private School, Emmanuel Primary School, Mather Ludiya both Primary and Secondary School, Al-El-Shaddai Private School, UNIFRAT Private School, Layibi Hill View Private School, Eagle Private Primary and Gulu Police Private School, the list is long.
While in Kitgum and Lira there good promising private both primary schools that include St Kizito Primary private school among others.
Gulu District Authority say in every term parents from Acholi Sub Region spend UGX 3 Billion per term, this money if it was plough back to developed schools in Northern Uganda, we could have improve our academic performance.
Last year in 2019 Al-El-Shaddai got 140 Division one, while Gulu district got got about 500 Division one, Lira District got over 1,000 Division one.