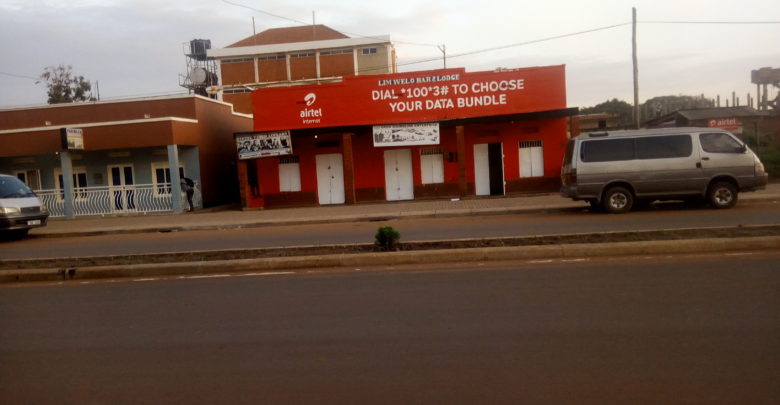 UGANDA: PROSTITUTION TAKES CENTER STAGE AS GULU GAIN CITY STATUS
Sugar daddy who trickles in to trade in the new found hobby called them "Abalo pa nga" literal means in Acholi words the tendering young virgin.
.
GULU-UGANDA. Gulu is 61 square kilometers located at latitude 2, 48'N and …E in Gulu District in Northern Uganda, in the south of sub Sahara regions of tropical Africa. There would be total darkness always as the moonlight disappears, so the time is best suited for sexual marketing for both young and older female youths.
Paula Adong (not real name), in late 30's, a shabby looking woman, with light brown skin color emerged from Limwelo guest house, armed with customary care language and gesture for serious business is one of the active vendors in the town.
As the hotel guests and customers enters the hotel, she always wearing a sweet enticing smiles on her round face saying,…"Hello you are welcome to Limwelo guest hotel", she then leads you through the reception pretending to be a waitress who is on duty whose her role is to guide customers to the receptionist, and yet she is a sex worker.
In a camouflaged interview with Oyengyeng recently, Ms. Adong, led us from the reception to her business arena, a dark intentionally maintained with purposely to signal what's next once you entered. Adong says normally once a customer enters she would hug him tight on her breasts covered with a light smooth top that reveals her hidden treasures. Once a customer gets that feeling, business is a success.
Oyengyeng can reliably bring to you details of sex business around town through our professional journalistic unearthing skills.
At 11.00PM, Acholi Road, one of the partially lit streets in the Gulu City, young girls, both elite and illiterates and new urban migrants roams like untied goats in the dry season. You will find some of them just walk to and fro and back in a routine manner as if they are looking for a lost coin at that time. It's a tactic of scheming men who normally come and stopover and pick depending on buyers taste and preference.
Good numbers of young girls between the age of 13 and 17 dealing illicit sex business were also spotted on the said busy street.
Sugar daddy who trickles in to trade in the new found hobby called them "Abalo pa nga" literal means in Acholi words the tendering young virgin.
Acholi road is a hotspot, just like in Kampala City Simoni Road, 1st, 2nd and 3rd streets of industrial areas and Gaba road in Kabalagala strategically positioned to target the tourists who visit the country. However, Oyengyeng publication also found that hangout joints including, BJz, Cemetery road, Buganda Pub and the busiest part of Gulu-Kampala road between Stanbic Bank to Don Petrol station are very well known for sex transactions.
What is disturbing about Acholi road, it proven that sexual marketing start as early as 1.00PM, you will see new faces of young girls and bigger women put on appealing-mini-skirts indicating that potential buyers can hook them for sex for money.
However, Oyengyeng can authentically reveal that the starving sugar daddy falls for young and underage child girls, an according to eyes witness account.
Some of the women we talked to claims that the sky rocking prostitution in the town is a clear sign that Gulu is becoming real city.
"In every city, it comes with the social evil like high way robbery, the up right of streets kids, now called Aguu, murders including sexual prosecution" the anomy's sources narrates.
However, On Thursday October 3rd things didn't go well with Ms Adong. As she tried to usher a elderly Wilson (not real name) who is about mid 50s, he wondered "Why all this things happening at rash of a second? I only came to get accommodation" he wondered, insisting that his mission was to look for accommodation, he reasoned. Ms Adong who could not hide her high sexual feeling to search for customers to bong for money had to excuse him.
In short while, after Ms. Adong freed Wilson, another young teen girl pop in from nowhere, "calo ngwec pa Goo". In bold loving agitation in affirmative attitudes says for short time, you can offer UGX 10,000.
"If you wants short is UGX 10,000, or if you want to spend the whole night, you can pay for lodge at UGX 12,000 and on top of that you can pay UGX 50,000 for take home." the young unidentified girl explained to our reporter.
The uniqueness of the new booming sexual worker in Gulu City, the prostitution has taken a new direction; Limwelo Guest House sex workers rent Limwelo Guest House as business unit.
But, there is decade's sex workers based on Gulu-Kampala high way, as you enter Gulu City, you see a big sign post Buganda Pub, inside Buganda Pub there are lodges sex workers rent to trade in sex.
The new trend of sex trade in Gulu town is not just being led by Baganda, Munyankole and Langi as it used to be. The current one includes Young Acholi girls and mixers of all tribes not forgetting the usual Baganda. However, the Acholi girls claim that they are in the business because of poverty and high cost of living. Others say they have lost trust in marriages and men do not want to marry them due to cultural requirements for marriage.
It is alleged that the proprietor of Buganda Pub for years has been transporting young tender ladies from Kampala, to sell sex at his premises. The commercial sex workers have been operating for years back to the time when Lord's Resistance Army LRA was operating in Acholi Sub Region.
"For Mr. Opit, he has been earning money in commercial sex, may be the owner of Limwelo Guest House is also in the footmarks of Mr.Opit, who knows, the adage of any City to develop, it bear immorality too." Labeja Mike a boda boda rider in Gulu City commented.
In Acholi community in the olden day's young girl child between 14 to 17 years old would elope to their peer male age mates; this was what they called sex for enjoyment. This was arranged marriages that were so very common in Acholi Traditional Customary.
However, Uganda Constitutions of 1995 criminalizes the practice of prostitution. Rights activist earlier this year demanded Parliament to outlaw prostitution with claims that the business is lucrative and can earn so much revenue to the country.
The Bill 2016
The Sexual Offenses Bill of 2015, was tabled in Parliament in April 2016 as a Private Member's Bill by MP Monicah Amoding under the umbrella of the Uganda Women's Parliamentary Association.
The objective. The Bill seeks to consolidate and amend the laws related to sexual offenses from various enactments and to provide for procedure and evidential requirements during the trial of sexual offenses in courts of law.
Sections. The Bill is divided into five parts; the preliminary section which provides for the interpretation of terms, part two which provides for sexual offenses in general such as rape, unnatural offenses, prostitution and incest.
It is about child to child sex and child pornography, part four is about special powers of the court and jurisdiction which includes powers to award compensation and part five provides for miscellaneous provisions which include provision for extra territorial jurisdiction, regulations and saving of laws.