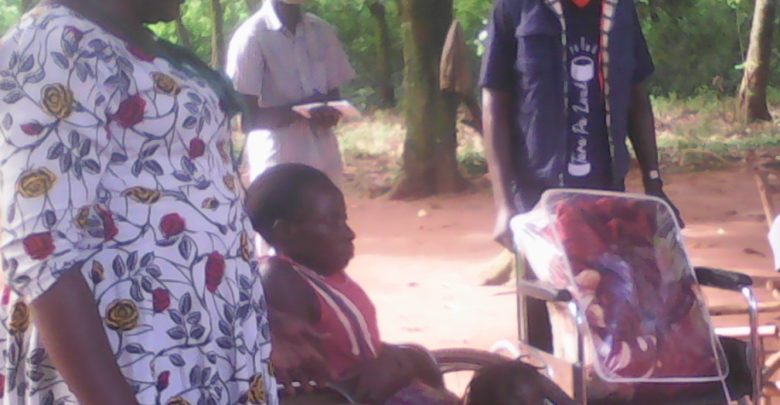 UGANDA: PICTORAL ABOUT THE LIFE STORY OF OYELLA IRIS A DISABLE WOMAN IN GULU CITY. MUST READ
By Christopher  Nyeko.
Who is Oyella Iris and where does she leave?
Oyella Iris aged 36 years old is a dratted disable woman living in Lacor Katikati Abuga  7 kilometer north-west  suburb of Gulu City, together with her two biological children identified as Otim Elvis aged 8 years old and Ayero Gifter aged 5 years old .
What is her suffering ?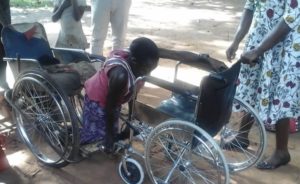 From her childhood she never knew a man until in 2012, when she was at the age of 27 years old, she developed a relationship with the father of her first born son . her man persuaded her that he shall take care of her till death parted them, narrated Oyella.
Oyella later says since she was virgin then the man ended up taking advantages of her disability.
"Love is blind," she got conceiver, she realized later on, what happened it was a God mercy
Oyella could not even managed to reach out for antenatal care services (ANC) was a night mere. But she got helped from her neighbor who transported her for antenatal just once.
When her time comes for delivery, Oyella being disable person could not managed to delivery normally.
She underwent caesarean section after that she became weak. Indeed she lost herself employed job which was hairdressing where she used to earn UGX 10000  per day this made her more vulnerable and dependent. '
Oyella wondered how the future of her two children would be!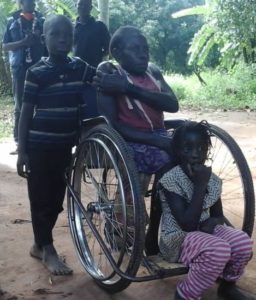 She decried and wondered what would be next when she die, her first bone is now 8 years old.
The second born is now 5 year old and they are not in school because she can't afford to pay for their school fees .
"What am teaching them is informal education which is not competitive in the current job creation to their future. "she lamented.
Stigmatization still high on PWDs
In 2012 she attempted to commit suicide, she disclosed to media who paid courtesy visit to her . However, according to her story, she says after conceiving the man who was responsible for her pregnancy ran away and   left her in dilemma the only option was to die. I went to Lacor trading center , I bought Subscale for UGX 2500  and alcohol because I had wanted to die as a result of high level of stigmatization imposed on to me but narrowly I was rescue by a certain pastor who came to my home a took away the items I bought for suicided.
A journalist came across oyella.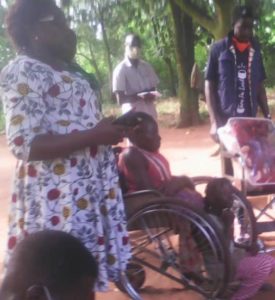 I got my first wheelchair in 1994 from a certain donor but up to date 2020 it was to be repaired . operating it was a tug of war . There came a journalist named pat Larry Larubi who took my photos and shared them with the whole world then after  a lady who took my first wheelchair and prepared it tires and tubes.
Oyella got items worth UGX 795000 shillings.
Just in the middle of October 2020 Sr. Flavia Teddy Okello the  Director of FLAMA MEDICAL CENTRE  paid visited to her home. She says after seeing my photo  on Facebook which was shared by  journalist.
Oyella she happy for the  wheelchair, blankets and mattress which Sr. Teddy Okello brought to me .
I thought I was not going to sleep on a mattress .
What does Good Samaritan Flavia Teddy  Okello say about helping hands?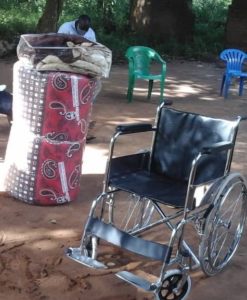 Sr. Teddy Flavia Okello a founder director of Flama Uganda while handing over the wheelchair worth UGX 600,000, mattress UGX 120,000 and blanket 75,000 to Oyella Iris said God normally bless the hand that gives than the hand that only received .
Added that she came on the Facebook post on the 19 .October.2020 posted by one of the journalists with the captions
"Oyella a woman with disability was begging the well wisher to help her with anything".
She Urged Acholi and the whole world  to keep supporting those in need as the Bible says when I was naked you gave me clothes to wear, when I was thirsty you gave me water to drink.
Teddy appreciated the journalist for doing the wonderful thing for the betterment of the local community and advised the local to elect the leader who can represent them as  the whole country is  mourning for the campaign.
How do politicians treat oyella?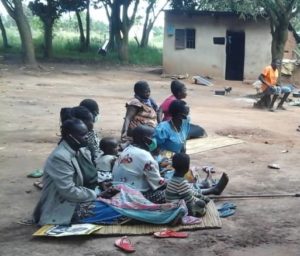 In 1995 my father Otto George William constructed a very wide home for his bakery business but after he passed on , the community of Katikati Abuga is using our home as ground for campaign, village meeting, and polling station for political election
This has brought to me a lot of problems my pit latrine is now full, even the bathing room is being shared with many people though I normally sit down and sower .
This situation is exposing me to unmarry track infection, gonorrhea and so on even  my children are tired of fetching water during elective period .
What does she need now?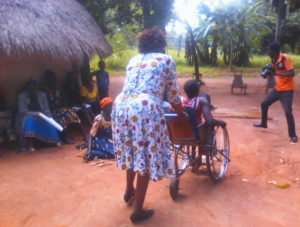 I beg the well-wisher to help me pay my two children in school, rehabilitees my home, and give me food to eat .
I urged everyone leaving with any form of disability to be prayerful and happy so that the can be help by those with charitable heart
Pat Robert Larubi the activist for person leaving with mental illness in Uganda
1 out of 4 is mentally ill he added that to become disable does not give alert .Omoro is leading in suicide attributed Pat
Larubi explained that the main cause of suicided in northern Uganda are poverty, domestic violence, and trauma .he requested the local to seek for guidance and counselling .
Joyce Amito  cited Luke 12:25-37
FLAMA MEDICAL CENTER is the Good Samaritan in Acholi because many of the organizations are formed but not meeting the real utility of the community.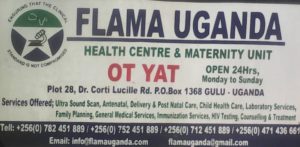 Amito confirmed that many organizations have been to oyella and created hapless hope in her . she added that the Oyella' home needs to be rehabilitated and. not only Oyella in this village but more than seven people are disable , You can reach Oyella on 0783791 481