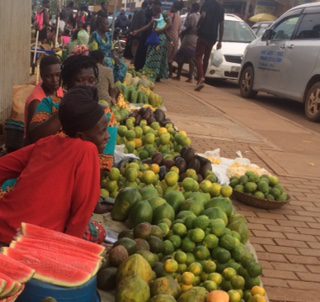 UGANDA: NORTHERN UGANDA HORTICULTURE FARMERS REAP BIG IN THE SECOND RAINING SEASON.
The Gulu community decried for a lack of rainfall partner in the first onset of the rainy season as dry spell hit the farmers who engaged in Soybeans failed to realize good harvest.
The prices of the community are still soaring up, despite expected promising crops production that will soon flooded the markets.
GULU CITY-THURSDAY, OCTOBER 9.2023.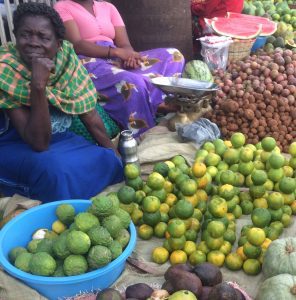 Margret Oyella 40 years' old, former fan of Radio Uganda drummer player (Tuku Goga) she very excited meeting one of dramer player Okumu Livingstone Langol who she has never met, but opportunity knock, and from nowhere the former drummer player came to do a market survey at her work place
"I used to listen to Goga play in the early 1990, by that time I was about 10 years old. Glad to meet Okumu Langol, you still look younger than me."
She lamented that she traveled from Aworanga village 4 four kilometers to come and sell my produce, you see me sitting here, I am a mother of seven children, proudly she insists.
She was one of the Market vendors in Gulu Main Market, reluctantly selling her produce ranging from beans which sold at UGX 6,000 per kilogram, millet sold at UGX 5,000 per kilogram pigeon piece a kilogram sold at UGX 6,000. While Simsim, a kilogram sold at UGX8,000, rice a kilo sold at UGX 5,000 Binyewa a kilogram is sold at UGX 9,000.
Other commodities she sells Simsim pest and groundnut pest, a kilogram sold at UGX12,000, a liter of horny she sold at UGX18,000 while shear batter she sells per litter at UGX 30,00.
On the other stool next to Oyella, Akumu Christin displays a bag of rice, which she sells at UGX Sindani 25,000, a bag Rice Supper UGX 300,000, Irish potatoes a bag goes at UGX 170,000.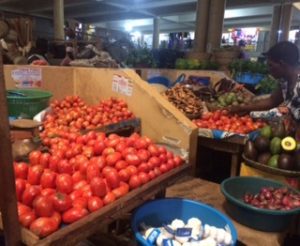 She sells a bag of Simsim 100 kilograms at UGX 800,000, Bean a bag of 100 kilograms sold at UGX 600,000, Pigeon piece 100 kilograms at UGX 600,000, Maize of 100 kilograms sold at UGX 150,000, Soroko a bag of 100 kilograms goes at UGX 600,000.
Jenifer Akello, 36 years old, a mother of five children, has been selling fish in Gulu Main Market for the last 15 years, she sells big Tilapia at UGX 20,000, while the small size goes at UGX 5,000 to 15,000.
Akello connects to the fishermen from Lake Kiyoga which is about 140 kilometer South-East of Gulu City who sent them on credit. But, when she sold the fish, she will reimburse the capital, and remain with the profits which are about UGX 50,000.
Akello argues that currently sales are not going well, otherwise in the past they were getting good profit of about UGX 150,000.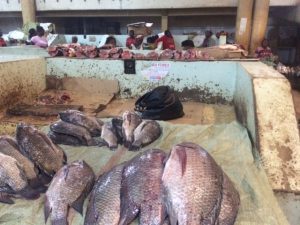 "I happy that the proceeds I get from selling fish, I have built my three-bedroom house and my first son is now in Senior three." Akello lamented.
Doreen Ajok, 60 years old, sells items like Watermelon at UGX 8,000, Lemon six of them at UGX 2,000, Tomatoes a box is sold at UGX 400, 000, Cabbage a bag is sold at UGX 150,000.
Ocaka Maxwell, Deputy Market Master of Gulu Main Market, he is in the In-charge of security says. This time around the second season of the rainfall, there is a lot of production which is expected.
However, according to him. Some people complain that most of the horticulture being produced is the likes of tomatoes, Cabbage's the problems they spray such production lest and bring them to be sold, which is supposed to take seven days before being sold.
In the long run, Horticulture  product will cause cancer to the consumer, because information which is being spread in Gulu City is that, Tomatoes, water Lemon, Cabbages and others, the farmers sprayed a day before harvesting it, and they hurriedly rust it to the markets. which is contrary, after spraying it should be kept for seven day before harvesting.