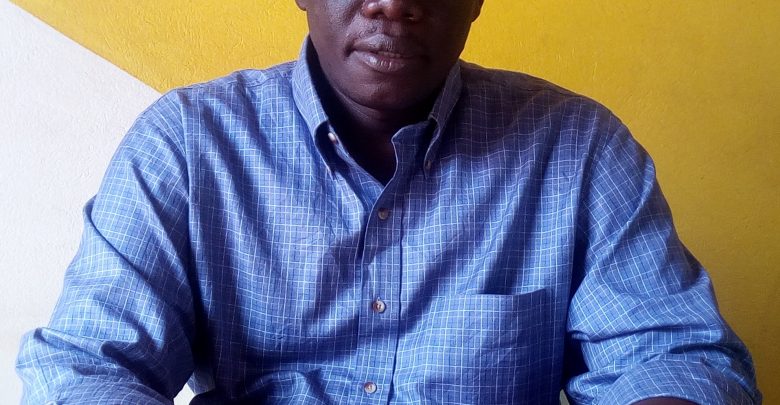 UGANDA:  NATIONAL RESISTANCE MOVEMENT BIGWIGS CROSSED SWORDS IN THE GREATER NORTH AS ODOCH PAGODA DISHES BILLION TO NON PARTY STRUCTURE.
Who is who in NRM party?
Odoch Bosco Olak, aka Pagoda blasted the Deputy Speaker Jacob Oulanyah and other die hard National Resistance Movement who blame him for recruiting former LRA returnees and UPDF veterans back to UPDF, that those people are mad men.
 "If I have transported the so called former LRA and UPDF veterans using government fund, why should they complained" Odoch insists
GULU CITY-UGANDA:  The tension is high inside National Resistance Movement ruling party in the Greater North, from the West Nile Sub Region, the Acholi Sub Region, the Lango Sub Region and the Karamoja Sub Region as Odoch Olak aka Pagoda presidential Envoy refused to use NRM grassroots structure, but opted to crate his parallel mobilization strategy.
The youthful  Odoch Pagoda he uses new loyal NRM cadres empowered them with over UGX 100 billions  that  he sponsored NRM  parliamentary candidates, leaders of district chairman including  Gulu City Mayor and Local Councilors in 41 districts from the Grater North.
The Black Star News Reporter caught up with playboy Odoch in his Pagoda Hotel in an exclusive interview and asked him a number of questions.
Question: Who are you and why are?
Ans. I have been an NRM cadre for a long time from 1989  way back to date when my father Eng Victor Olak Aliker was killed at Anaka Town Board by  the then   Holy Spirit Movement, now LRA, this pushed me to join the then National Resistance Army NRA. But, I have been working behind the curtain.
I have been NRM Vice Secretary for Nwoya District and administrative secretary for Nwoya district too, Chairperson Murchison Park Conservative, Vice Chairman Nwoya Chamber of Commerce and Chairman Nwoya Land Owner Association. So, I am not new.
Question:  Tell us more about NRM recruitment including NRM cadre to join the National Leadership Institute (NLI) at Kyankwanzi, recently we have heard that some members from Acholi Sub Region have taken courses, tell us more?
Ans.  Yes, I have been recruiting NRM new cadres who organized them for campaigning for the presidents and parliamentary candidates not only in Acholi Sub Region, but for the Greater North.
Those who have been with me during campaign trial from the West Nile Sub Region, the Acholi Sub Region, Lango Sub Region and Karamoja Sub Region. 137 people who went for two weeks in Kyankwanzi, including three journalists from Northern Uganda Media Club, Briand Canda from Mega FM, Okot Job from NBS TY, and LK Bernard from Rupiny FM
I first picked the people who have been working with me during the presidential and parliamentary general election 14, January 2021.  For leadership skills training in national leadership institutes, the training in self defense and platform against corruption.
Those 137 people president Museveni gave them some token amount, each got UGX 10 million
Although I have been offering money to our candidates during political rallies, because when you call people, they cannot stay without food, and I gave each candidate according to the area of their jurisprudent. For example those who are in the Karamoja Sub Region got a different amount, while the candidates who had been in the cities areas like Lira City, Gulu City and Arua City.
Although there is some talk that I have been giving UGX 400 million, that is not the sum of money I gave.
We also brought non functional NRM members who had left the party, about 5,000 of the former National Resistance Councilors (NRC) members who started working  in 1986 when Museveni first came to power, some of them had left, retired or  were killed including  the UPDF veterans.
Question: why are there hullabaloos when you recruit former LRA returnees?
Ans:   There has been misconception about former LRA returnees, those women and children who came from the bush were left to suffered, but I have decided to bring them on board in the NRM main stream.
I have recruited those returnees to help the mobilization at the grassroots, and later on after election those who are able to join forces could not because most of them never went to school. However some of them who are able join the rank of UPDF together with the former UPDF veterans.
I have realized during election campaign mobilization that 36,000 former LRA returnees, 15,000 West Nile Bank Front and 20,000 Amuka and Arrows boys alone.
But not all of them have taken into active military service; we have observed 6,000 of them.
Question: when we asked Stephen Odong Latek, the new Gulu Residence District Commission, said when he had learned that you are recruiting former LRA ordered you to stop the recruitment, what is your take on that?
Ans: Odong Latek, who was just three day into the office, did not know anything, "Those are mad people with the Deputy Speaker Jacob Oulanyah."
President Museveni even says, he is very happy, before my endeavor, NRM support in Acholi Sub Region was decimal, but in Omoro district Museveni got 12,000 votes.
I have understood that RDCs were being used by some politicians, those who accused that I had not used NRM structure because they wanted to eat only money, here in Gulu there are some big sort who are accusing me because in the past they  NRM funds was a project for them to enrich themselves.
The same crying I got also in Karamoja, Arua and Lira those people have been criticizing me, the issues that I have been recruiting rebels with were raised by the Deputy Speaker, I got information from Oulanyah, but they are not appointing authority.
Question: it means that the house of NRM is divided; do you think it is good for party growth in Acholi or Northern Region, when you are criticizing Oulanyah who is a National Executive Committee CEC member?
Ans; I don't have a problem with anybody, if someone wants to fight me, let it be their issues.
I don't know why they are doing that, what I know is that when the Deputy Speaker went on air, he was very alarming. But people who crossed to NRM, say Oulanyah crossed to NRM 10 years ago, they are all the same. They are saying we are demobilizing NRM to NRM.
Question:  what are your roles in the National Unity Platform NUP?
Ans.  I have also recruited NUP members and promised them that I will forward their issues to President Museveni; when President Museveni met after Kyankwanzi training he promised that he would give them revolving funds
Through NUP defection from former presidential candidate Robert Kyagulanyi Sentamu aka Bobi Wine we, have known plan B, plan A was to win election, and demonstration plan, plan C is war, but they hover in Gulu with their heavy escorts vehicles they don't know what plans Bobi Wine have.
President Museveni knows all the accusations leveled against me, he knows why he put me here, am his ally.
Question:  why did you ignore NRM party structure, do you think Museveni is using divide and rule just for his political gimmick to hoodwinks you?
Ans: I didn't use NRM party structure, but like NRM stalwart mobilize, I used my own NRM associates those  who are loyal, unlike the old guards who used to get money from President Museveni and instead of using it wrongly
Meanwhile, Okot Jimmy security personal, not his real name says the former LRA returnees and UPDF veterans some of them have been sent to Singo military wing in Central Uganda,
Okot intimated that former LRA returnee and UPDF they are now fighting cattle rustlers in Karamoja Sub Region, says Karamojong community has re-integrated during parliamentary and Presidential general election