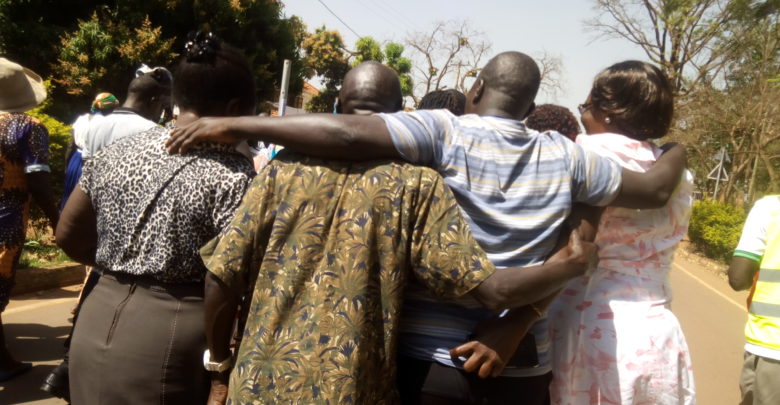 UGANDA:  MUSEVENI IS CAUGHT BETWEEN THE ROCK OF ETHNIC CLEANSING, AND THE HARD PLACE OF: DEMOGRAPHIC CLEANSING AND REFUGEE OCCUPATIONAL FORCES
Dr. Olara Otunnu left the meeting with an assignment, saying "we have homework, we are not doing what we should have been doing, and we must change our methods of work".
Has President Museveni reached hard, to resettle Rwandese from Eastern DR Congo, Tanzania and Kigali to the central Luo mainland? Disgruntled Acholi warriors who 36 years ago, had joined Uganda's tyranny regime are now crying foul. Hon. Martin Ojara Mapenduzi and Odoch Pagoda handed over important Acholi land to the president's younger brother, Gen. Salim Saleh; impeccable sources intimated.
Ever since we have been meeting on regards to land grabbing, Acholi land leaders, can we present our findings on these meetings? How is the Apaa land conflict and Aswa Ranch land grabbing being solved? I challenge the Acholi cultural institution, religious leaders including associations like the Acholi Religious Leaders Peace Initiative (ARLPI) and the Acholi Parliamentary Group to come out with their research institutional findings to face the land grabbing issues in this region.
GULU CITY-UGANDA:  We have been facing land conflicts since 1986 as the National Resistance Movement regime shot their way to power. However, a big question has been asked why the land conflict is still raging on, in regards to people masterminding land hegemony.
Ambrose Oola, the Prime Minister (Acholi Ker Kwaro) cultural institution, remarked during an Acholi Wang Oo meetingchaired by Chief Justice Owiny Dollo Cigamio, that president Museveni asked the MP for Lamwo West County, Mr. Hilary Onek that,"what are those idiots, the Balalos (mad ones) doing in Acholi Sub Region?".
''President Museveni rang Mr. Onek yesterday, November Saturday 13, 2021 when we were meeting the 16 clan heads in Lamwo, Northern Uganda and asked Onek, "What are those idiot Balalos doing in your area?, you send them away from Lamwo''.
The Prime minister made pertinent remarks concerning the Balalo cattle keeperswho are now settled in Acholi Sub Region with more than 20, 000 heads of cattle. President Museveni has given them a 2 month ultimatum to leave Northern Uganda. Museveni is now "worried" about the presence of Balalo in Northern Uganda.
Oola argues that President Museveni has 'learned' that Banyarwanda who hails from Tanzania, Rwanda and Eastern DR Congo are now occupying the Nile Valley. "This week on Wednesday (24th November) when we were meeting Uganda People Defense Forces' Gen. Wilson Mbadi and Brigadier General Bonny Bwanwisiki, at Gulu 4th Division barracks, they told us that Musevenihas given a two week ultimatum for the Balalos to leave Acholi Sub Region", he states.
''President Museveni is worried about the presence of Balalo in Northern Uganda, Gen. Wilson Mbadi, the UPDF Army Commander, told us that President Museveni has realized that Balalos from neighboring countries has entered Uganda, and they are guarding their cattle with guns. Museveni feared that his enemies are using the Balalo to plan and topple his government.'' Oola informed the meeting chaired by Uganda Chief Justice Owiny Dollo Cigamio.
Chief Justice A. Owiny Dollo Cigamio in his response to the Wang Oo Groupmeeting said President Museveni sent him to chair the land conflict and the threat of Madi Community which planned an invasion of Apaa community living in Amuru district which was curved to become part of Madi district in 2011.
Justice Owiny Dollo urged the gathering to be easy-going since the Acholi and Madi boundaries of 1962 at the time when Uganda got independence from their colonial master, the British Government, has demarcation which are in degree coordinates.
Chief Justice Owiny Dollo on the Balalo issue, warned the Wang Oo meeting on  taking the law into their own hands, saying since President Museveni sent him to meet the Acholi leaders, he will take back the resolutions of the meeting to him by himself.
''But, I disagree with anything that will put Acholi to war with the Madi community.We have been living together with our brothers of the Madi community for years, if for war,the Madi know that we have defeated them in 1925.Before that Madi was beating us because they were using bows and arrows. In that war the Madi people were defeated, because on that day, it rained heavily at Bar Ataka that madethe Madi bows useless. That was when they were defeated, they cried with the words, '' Laro  pii,'' their men should take cover in the river. This is the boundary between us and the Madi at river Coro, coming to river Joka".
Dr. Ambassador Olara Otunnu, the former UN under Secretary for Children Affairs warned Balalo and their prolonged master plan, that Acholi community will not tolerate what they perceive as'ethnic cleansing' when they (Balalos) want todestroy the community who live in those areas through what is called  demographics.
''We should not refuse people who come with peace, but we should reject occupation, those who come with force, we must reject ethnic cleansing, thirdly, we must reject demographic cleansing,'' Otunnu said.
Dr. Olara Otunnu fumed on how to solve the land conflict in Acholi…"we must get leadership expertise to make documentations of the current land conflict including the Balalo threat to our existence".
He posed a question to the Acholi parliamentarians present in the great Wang Oo meeting; do you have the research paper on this issue?
How about religious leaders who also do not have the research paper in regards to the Acholi land conflict?
The former UN Under-Secretary on Children Affairs said "our major problem is tribal differences, others say, I am from Payira chiefdom, I come from Puranga chiefdom, I come from Chwa chiefdom. All the meetings should have a clear agenda."
Dr. Olara Otunnu left the meeting with an assignment, saying "we have homework, we are not doing what we should have been doing, and we must change our methods of work".
John Livingstone Okello Okello, the former area Member of Parliament for Chwa County in Kitgum in the 9th parliament, the Chairman of Wang Oo groups, said he wanted to talk on a few issues.
The first thing, the issue that Acholi land is so big, does not come from heaven, but our fore grandfathers fought  and conquered this land with spears and arrows. The second issue, in 1968, the Acholi community chased all the Balalos from Acholi land. Because when the Balalo who were cattle keepers, while looking after animals, they were killing bulls of the owners claiming those cattle died of the diseases.
''They were boiling water and instead pushed it the nose of the bulls, and as a result the young calves died. In their culture men and the elderly people killed cows from grazing fields, and they roast the meet, eat it from the field. But later each will bring the meat to his loved one, this is their culture''. Okello Okello amused everyone at the Wang Oo meeting when he revealed that up to today we Acholi don't eat 'dead' meat.
Okello Okello insists that, other crimes caused Acholi community to chase the Balalos in 1968. The Balalo were given freedom even to sell milk and cow batter, of which this gave them a lot of wealth. In the long term, they became rich and when they bought bicycles, they named their bicycle Acholi Ming. This annoyed the youth who later battered the Balalo in big numbers.
Adding that when they reported their case before Grade I magistrate, a one called Kagwa, a Muganda who was a court officer in Kitgum district, he ruled against Balalo, by registering word on all their bicycles Acholi Ming , they provoked their anger, and they all Balalo deserved beating, it came to passed.
Okello Okello's third issue was about Gen. Moses Ali, whom he knew way back from school days in the 1960s, when he sat both Secondary school certificate and Advance Leaving examinations.As it was required, students who were in vacation were required to apply for jobs.He applied in the public service to work atMaga-maga barracks (now Gadaffi barracks); the then Military garrison officer was a Second Lt. (Gen Moses Ali).
''When I got Moses Ali there, he was still only a 2nd lieutenant.  But, in 1971 when Gen. Amin took over power from Dr. Apollo Milton Obote,  when Col. Abwola who washeading the Moroto Barracks as a Commanding Officer rebelled against Amin. It was Moses Ali who was sent to quell that civil unrest; it was he Gen. Moses Ali who massacred the sons of Acholi and Langi in thousands where he got promoted as a minister''. Okello reasoned that till today Moses Ali still sees Acholis as biological substances.
And then in 1986 when the ULFA government was dislodged, the then NRM government who came to power, made an announcement that all working civil servants must report to their offices. When they responded to the calls, on their way when crossing what is now called Centenary Park in Kampala, they were jumping over many dead bodies of our sons who were killed by them.
He added that "one day, three people were killed and their bodies were fixed on 'chopsticks', there was a letter in red pen circulating in Kampala written anonymously listing all the 19 tribes in Uganda who fought for independence".
"But the letter was written that, amongst 19 tribes in Uganda, the most stupid are the Acholi tribe. When you ask them to bring their head they will bring their head. The second tribewho are also very stupid are the Madi, when you ask them to come and give them drinks; you will kill all of them. While the third tribe in the country who are very stupid are Buganda, when you give them money you will kill all of them.
Indeed the Acholi and Madi are a stupid lot in Uganda, no wonder they are engaged in squabbles, Okello Okello remarks.
"During the letter saga, we were all afraid to step up to collect that letter, a one Okello Ali Kiceka got that letter, but when he died, we looked for the letter but we did not get it".
Lastly, OkelloOkello says, "because of the land, we are going to be killed by Museveni's directive letter to his younger brother Gen. Salim Saleh".
''Yee Sebo, re-thinks, our agreement we made in 1981-85 during the 'Luwero Triangle' that, when toppled, Gen. Okello Titu's Junta Government's boundary will stop at Karuma bridge. But now when travelling from Arua to Moroto, then to Tororo, while stopping each times picking soil samples from West Nile to Acholi and Karamoja areas, I have found out that Acholi land has one of the best soils in the country. Therefore, we must now wipe out those animals who are occupants in northern Uganda.'' Okello revealed.
In an earlier development, James Ochola, the Speaker of Lamwo District, On Wednesday 1, November 2021, with over 300 people from Lamwo Sub-County stormed OjarOgali Village and destroyed 13 grazing grounds of the Balalos and chased them away from their district.
''Seven Lorries of Balalo cattle were chased away from Lamwo, now they have cross to Gulu district, let them go back to western Uganda.'' Ochola claimed.
Lazarus Obbo, the former Councilor III of Angagura Sub County first raised the issues of Balalo who sued Rwot David OnenAcana II for killing Balalo cattle.
President Museveni extended the ultimatum to 2 months for the Balalo to evacuate Acholi Sub Region.However, president Museveni softened his stand, saying, for the Balalo who have bought their own grazing ground, they must fence them.
He has appointed Col. Sam Engola, Gen. David Muhoozi, the former UPDF army commander to implement the Balalo eviction.
Acholi Wang Oo meeting laments, saying the Balalo eviction from Acholi Sub Region will not happen since Balalo cattle keepers are herding their cattle with guns.
Ends