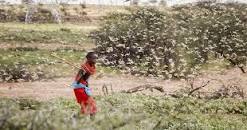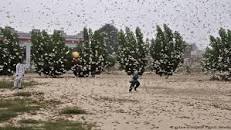 Northern Uganda Media Club NUMEC, 15 journalists are on the moved to track locusts attack in East Acholi.

So far as I am talking to you now, we are in Omiya Anyima Sub County in Kitgum District, we have found locust has invaded this place this morning, but now they are hiding.
GULU-UGANDA: Northern Uganda Media Club NUMEC journalists today this morning Friday 14, 2020. have left office in Gulu town at 12.30AM for Kitgum District on a fact finding mission about locusts' invasion to Kitgum, Agago, Lamwo and Pader districts.
Willy Chowoo when contacted some few minutes ago, narrates that the Locusts swarms has left Orom, Namukora, Omiya Pacwaa and now has moved to Kitgum Matidi Sub County. Chowoo revealed.
Charles Akena the In-Charge and Coordinator of NUMEC who is in the field moving with other 15 journalists, by press time when Oyeng Yeng News talked to him, says locusts is moving from one place to another place. The one groups of locust swarms which attacked Kitgum are the mature one, their mission is to lay eggs, which later will developed and again disseminate vegetation later.
"We are now in Kitgum area, where we have been like Kitgum Maditi , Omiya Anyima, we have found locust has moved out of the areas, now they are heading to Acoli-bur and Latanya toward Lagoro hill in Pader district. May be it will advance to Pajule and Awere Sub County." Akena commented on phone.
Why Locust now, yesterday Thursday Feb. 13, I was in Odek Sub County on a fact finding about locust how the community are prepare to combat swarms of locusts.
82 year old, Camweri Abwok from Lukoto village , Binya parish in Odek Sub County says in the past, the coming of locusts associated to misfortune, when the people sin against the divine deity the likes of Lagogo of Pajume, Olal Teng of Puranga, Lapono of Lira Kato and Loka  of Koch, when they get disturb by the community they will sent locust as part of punishment, Abwok reasoned.
Abwok recalled that in 1947, when he first saw locust attack in Pader Kilak areas, locust swarms invaded their areas, says locusts cannot stay for many days in an area; the longest can be three to seven days, urged.
"The Swarms of locusts when they appeared in your areas, they will cover the all village, like for our case when they attack our village, it covered Agago River areas. Even on top of trees, in the morning our patents went with baskets (Aduku), and they check the Mangos trees and locusts fall in baskets for them to pride. And we eat them, it was a very good insects when pride." Abwok said.
Abwok says the only way when swarms of locusts is predicted by Olal Teng Divine Diety, Olal Teng would direct his messenger to go and pitch a particular herb, or animals as a sign to stop the insects before coming to the areas,  he narrates.
79 years old, Marano Opobo the Chairman for Puranga Ker Kal Kwaro supported Abwok  ideas, says it's very important to notes the roles Olal Teng divine power works, in the past such incidence can happened when people disobey there command.
For Lagoro, Opobo disclosed that, Lagoro deity, mandate is to protect it subjects in defense of locusts and some abomination and Olal Teng.
82 years old, Mark Okello is from Koch Ongako Sub County in Omoro district, for Okello Mark says is worry about the locusts , his fear is that it will destroy all his Coffee plantation, says when locusts first attacked their areas was in 1947 when he was in Junior Secondary School in Gulu.
"For me three things that should not happened when you are alive, that locusts should not invade your areas, famine and war should not happen. With locusts it will eat all living things name it chicken goats, cows, but because of their size cow will not die. But vegetation even millet a two months old in the garden will not be spare
In Odek Sub County people are preparing themselves to battle locusts with bush fire, when the insects attack their areas.