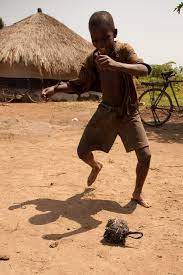 UGANDA: KEY ISSUES THAT FUTURE DURING NORTHERN UGANDA RGIONAL DEVELOPMENT FORUM FACTOR OF PRODUCTION.
Northern Uganda Region Development Forum geared toward unity, which missing 1971, Amin's Coupand 1985 Tito Okello Lutwa juanta
 Beatrice Lagada, the former Woman MP for Oyam told off meeting comprised of 29 district Chairman, 29 Residences District Commissioner and 29 Chief Administrators and members of Civil Society Organization that Acholi Sub Region is rank the second worst poorer in Gross domestic product (GDP) standard measure of the value added created through the production of goods and services.
Because middlemen just come and buy products from the garden during harvest period.
"We are supply raw material product, the buyers from South Sudan, Kenya just come and buy goods, now Lira Sub Region their GDP is below poverty line because the production from Acholi Sub Region end up in Lira too."
GULU CITY-TUESDAY AUGUST 29, 2023.
A collaborative effort that brings together key development stakeholders in Northern Uganda for prosperity and development of the region.
Dr. Morris Chris Ongom CEO GLOFORD Institute of innovation and GLOFORD says role of NURDEF in development has four key roles, that direct creating a knowledge hub to district strategic development investment in the region.
Others are implementing through evidenced-based programming and partnership, facilitating strategic programme development, oversight, supporting in monitoring development programs in the region.
Among the key holder in production are fertile land, diverse agriculture, growing urban centers and population for market and economic activities, opportunities for cross-border trade with Sudan, Kenya, and the Democratic Republic of Congo.
Ongom express his concern that in the region we have rich culture and historical sites for tourism, refugee settlement as both investment and market opportunities, peace and security, presence of universities and research institutions for innovation research, availability of competitive labour and hospitable people among others.  He argues that we need to prioritized investment opportunities of large scale commercial agriculture, Agro industrialization (Value Addition), Livestock farming (Fishing, poultry, dairy and beef) we need to developed many cultural and historical sites for tourism, example Kangayi landing site where King Kabalega and King Mwanga were arrested for tourism attraction.
We need to embark in housing estates due to growing urban centers and 3 cities in Northern Uganda, thing like services business in Hotels, Schools, hospitals and Telecommunication, trade and commerce, minerals processing industry
Eng. JB Odong the Chair General during his welcome address to the second Annual General meeting in Gulu City of the Northern Uganda Development Forum says as region we are pleased to have this opportunity to reflect on the 20123 and what they have achieved as an organization since its formation in the year 2019.
The worked of NURDEF secretariat would not be possible without the dedicated work of the steering committee and NURDEF patron who double as state Minister of Northern Uganda
"Ladies and Gentlemen, NURDEF made Significant milestone since it formation in the year 2019. Today we reflect on the achievement of NURDEF a journey that started with wide."
He narrates that the consultation kicked off in year 2016 and involved local Governments by then, Extensive consultation were also done with the parliament of Uganda, development partners including USAID, Universities, key private sector players in the region, cultural institutions, religious institutions, youth, woman and people with disability.
Insists that these consultations demonstrate how everybody was involved and are a reflection that the region needed a forum that could bring all development stakeholders together.
Therefore, this would range of consultations led to the formation and registration of NURDEF in the year 2019 after approval by a meeting of 200 people at Muni University.
"I wish to specifically thank all those who highly supported UNRDEF, spiritually and financially from inception to date"
He further alluded that after NURDEF formation, the steering Committee members worked extremely hard and development a 15years Northern Uganda Regional Development strategy, 2020/2021-2024/5 among other key achievement.
The annual general meeting ended by filing position by nominating one person from each Region, Lango, Acholi and West Nile