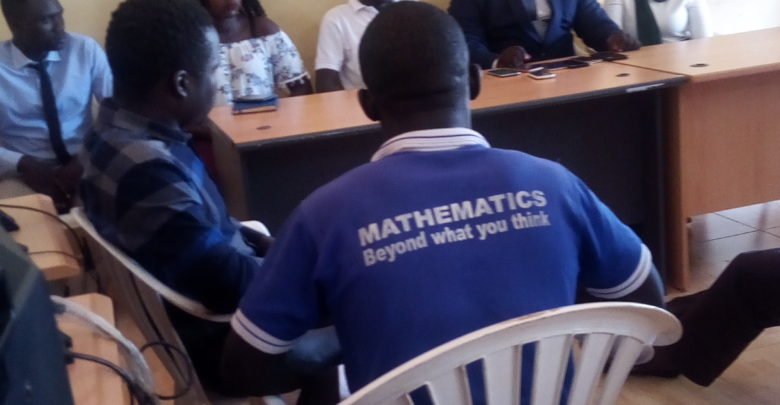 Thomas Lapyem Awany, a Student of Gulu University pursuing Bachelors of Law has down played his academic result says it is malice, some hand behind the academic result to stop him from contesting for position of guild president.
GULU-UGANDA: The just released provisional result of last semester year 2019 indicates that Lapyem who is in his second year got a retake in Fundamentals of Land Law Code 2105 meaning, he is not legible to contest in the upcoming guild elections."  Lapyem Awany remarked
Lapyem  the current President of Faculty of Law addressed Northern Uganda Media Club  in Gulu on Friday March, 6, 2020 says  that upon receiving his provisional result he demanded that the paper be remarked, his request was disown by the Law focally .
"The moment that I received that provisional result, I complaint to the faculty dean immediately and I made my compliant very clear. When my paper was remarked, I scored very highly.  In the investigation, we found out that three of my questions paper were not marked, and that complaint made my paper to be remarked which I have the evident that I passed very well but because of malice and impunity, again my result was reversed to the first one." Lapyem revealed during the media briefing.
Lapyem further more argues that  the retake was deliberately given to him by the lecturer to block him from contesting for the guild presidency for reasons that he is yet to find out.
"I must confirm that I am not dense by the fact that I am pursuing my Bachelors of Law and I would like to confirm that I did not get a retake. It was malice because of differences in political ideologies, a retake should not be given to a student but you should get a retake on merit." urgued
He also insisted that his case has already been forwarded to the office of the academic registrar to handle.
Lapem Awany who appear  determine to win the fourth  Gulu University Guild Elections indicates that nominations of candidates are set for 14th of March 2020. Currently students interested in leadership are doing consultations and self evaluations whether they qualify for the race or not.
Simon Kakaum, the Prime Minister in the Guild Government of Gulu University WHO ACCOMPANY Lapyem for the press conference equally  support him says  that  they have not received complaints of student being under marked, but that they registered several cases of missing marks.
James Ojok Onono, newly  appointed  Deputy Spokesperson of Gulu University acknowledge the complained has been launch and  the Administration has carried out investigation into the complaint of Lapyem, and  it is awaiting Academic Registrar's decision on the matter.
"The University has been doing investigation on the issue of Lapyem Thomas and it is true that the complaint was filed at the academic registrar's office, but you investigation is a process. His faculty has already done their part and has already forwarded his file to the academic registrar. Now for us to confirm that Gulu University has cleared him, we will need a letter from academic registrar which is not yet there." Onono confirmed
By press time, Jerry Bagaya, the Academic Registrar of Gulu University was not in office for a comment and his known phone number was off.