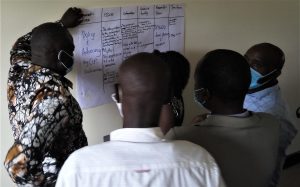 By Ayebale David
Gender discrimination at workplaces in the COVID 19 lockdown remains rife in Uganda, with many young women and vulnerable people experiencing sexual harassment, job insecurity and low pay compared with male peers, a survey has found.
HOIMA CITY-UGANDA: According to Reproductive Health Uganda (RHU) and government agencies, 70% of females aged between 16 and 30 have been sexually assaulted at work but only 8% have reported it, compared to 20% who report 16% during the COVID 19 pandemic.
Nancy Apio, a Gender Coordinator at RHU discloses that among the reasons for youths, women and vulnerable people not reporting community and workplace sexual harassment are shame, fear of losing their job or being given suspensions and not knowing how to file a complaint.
She says at least one third (33%) of young women reported sex discrimination while working or looking for work and one in five (24%) said they are paid less at factories, private and public companies than their male colleagues for the same or similar employment.
Additionally, 23% of young mothers, including those who have reproductive health issues said they had experienced maternity discrimination.
Geoffrey Oguttu, Coordinator Private Sector at RHU in partnership with Danish Family Planning Association (DFPA) and the Federation of Uganda Employers (FUE) have developed a strong foundation in supporting companies in strengthening Sexual Reproductive Health Rights (SRHR) at workplaces to address gender diversity and inclusion within the private sector programming.
"The purpose of this partnership is to reduce gender inequality, discrimination, and poor access to health services and information which has remained as a significant barrier to the good health, well-being, economic empowerment, and equal participation of most women, men, and youth in world of work. The business community plays a significant role in reducing structural inequality and contributing to sustainable development by strengthening access to decent work, diversity, and inclusion" Oguttu says.
Reproductive Health Uganda (RHU) is conducting trainings of Peer Educators and Occupational health and safety (OSH) committee members in private companies. Four organizations in Hoima, Albertine Mineral Water company, Butema Brick factory, Bwendero Dairy firm and Bugambe Tea Estate have benefited from the training.
Ismail Amanyire, OSH Manager at Bugambe Tea Estate says the three days training conducted in May 2021, equipped peer educators and OSH committee members with knowledge and skills to deliver integrated SRHR and gender equality information and services to fellow peers, worker mates within the company.
"It was noted that trained peers are instrumental during COVID 19 lockdown to prevent workers from Gender Based Violence (GBV) and sexual harassment which escalate during the 42 days inter district lockdown" Amanyire says.
Frank Mugabi, Communications Officer at The Ministry of Gender, Labor and Social Development (MGLSD) says the impact of gender discrimination is highlighted by the 46% of young women who say their work has had a negative impact on their mental health in terms of positive thinking, innovation and communicating, compared with 12% of young men according to a 2019 report.
"Young women's treatment at work, pay and wellbeing are trailing far behind those of young men during the COVID 19 pandemic and lockdown" Mugabi says.
Geoffrey Oguttu, a Coordinator for DFPA funded Private Sector project at RHU says 2021 must be a turning point for women's and gender equality at work after Reproductive Health Uganda, with funding from Danish Family Planning Association (DFPA) embarked a sensitization campaign for employers in Uganda to know their rights.
"A concerted effort is needed from government and private employers to provide young people with security and hope for the future, redress gender inequality at work and help manage the growing mental health crisis among young people" Oguttu says.
In these COVID 19 perilous times, a truth-seeking committee to probe acts of Sexual and Gender Based Violence, abuse and harassment at work is essential.