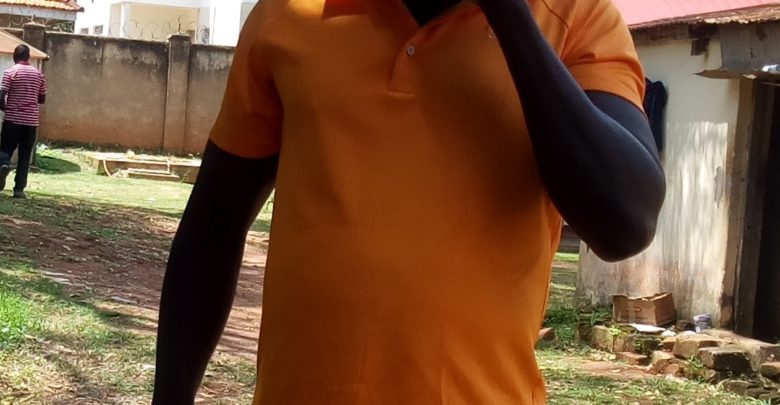 UGANDA: GULU RESIDENCE DISTRICT COMMISSIONER CASTIGATES MULAGO NATIONAL HOSPITL ATTEMPT TO TRANSFER 66 COVID-19 PATIENTS TO KAMPALA, SAYS GREED.
Gulu District Chairman in self quarantine,and three other journalists
The Chairman Ojara Mapenduzi,Gulu District Chairman in self quarantine after getting contact with Health Commissioner Tom Aliti Candiya who has been on tour
Gulu Task Force are thinking that they can managed the case of COVID-19 pandemic from Gulu Regional Referral Hospital, where I have this problem with Martin Ojara Mapenduzi.
If he has written to the Health Ministry that Gulu Regional Referral Hospital do not have capacity to host more than 100 patients of COVID-19, The Government within 10 days would stop admitting patients in Gulu hospital
GULU-UGANDA: Major Santos Okot Lapolo, Gulu Residence District Commissioner stood his ground  to halt the transfer of 115 COVID-19 patients, turn down the offer to transport them to Mulago National Hospital says Gulu has been treating the COVID-19 pandemic patients for more than 60 days.
Muloga National Hospital sent two buses to carry patients to Kampala for treatment, but Gulu DRC refuse to allow the COVID-19 patients to go to Kampala.
According to Kenneth Luramamio Gulu University Don says Ministry of Health assertion that Gulu Regional Referral Hospital cannot handle the COVID-19 those who are being treated here cannot hold water, this is total nonsense.
"This purely what I have been saying some people think that they can only do such work other people should not only do donkey, why now should Gulu University.
The cankerous Arua area Member of Parliament Odonga Otto says during Press Conference at Northern Uganda Media Center NUMEC says Major Okot Santos Lapolo think that by refusing to transfer COVID-19 patients to Kampala they will be able to sustain the fight against COVID-19, if European doctor who are highly qualified and has state of the art in the world, has the best medical facilities in the war against pandemic are dying what about us, do the control the coronavirus?
"Gulu task force are thinking they can managed the case, where I have this problem with Martin Ojara, if he has written to the ministry of health that Gulu Regional Referral Hospital do not have the capacity, the government within 10 days would halt the work.  My eyes work for me, I can see very far, I can see ahead, do you think my eyes is not working." Odonga Otto reiterates.
Odonga Otto repeatedly lamented says we can take this issues politically we are going to take it to the electorates, we are going to do something that even Aljazeera and CNN networks can take it.
Adding that his late father James Otto told him that if you are politician, don't mind that the prison will be your place.
When ask about the experienced when he spend the night in the police cell. Says his experience in side Gulu Central Police Station is good, great, this book you see here in my hand, I have read it half page. However, next week he will bring two jerrican of paint to paint Gulu Central Police Station, and plumber to do some work on sanitation.
He alleged that while they were in police cell, there was a plan to bring positive COVID-19 patient so that they should be infected and be quarantine, but they learnt that even the all police officers including District Police Commander would be put under quarantine.
"One of the most joyful thing they got when they were release we got all the local journalists outside waiting to welcome us."
Gilbert Olanya, threaten that they will burn trucks so longest Truck drivers still bring COVID-19 in Elegu, Kenya and other countries who used our road to infect us be warns.
Member of Parliament for Kilak South decries for bad sanitation in Gulu Police Station, says the situation is bad. The police cell has bucket system where detainees still sleep with waste in the police cell, his bad enough.
"For me I sit in the Parliamentary committee of Health, we passed and recommended to quash the bucket system, why bucket system is still in Gulu Central police Station
em is still in Gulu Central police Station     V