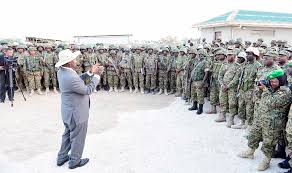 UGANDA GENERALS CITED IN UGANDA-SUDAN BOARDER ROW
Notorious Army Generals, Major Gen. Kasire Gwanga and Major General Mugerwa former  5th Division commander led Uganda People Defense Forces (UPDF)in skirmishwith  Sudan People's Liberation Army (SPLA) soldiers at Uganda-Sudan boarder at Ngomormo pushing Sudan Army 10 kilometer inside, impeccable sources intimated.
LAMWO-UGANDA:Uganda 5th Columns commanded by Major Gen. KasireGwanga the person who presumed to replaced Major Kakooza Mutali former political Adviser to Uganda Dictator Museveni, the person who had been in control of Statehouse's west minister raided South Sudanese forces in sporadic fight which inflicted heavy casualty on Southern Sudanese forces pushing them 10 kilometer inside Sudan boarder, diplomatic sources on anonymous said. 
Major General Mugerwa together with Major General KasireGwangafive months ago dared to attack SPLA forces at Ngomoromo boarder pointed claimingthat those were Dr. Riek Machar's rebels forces SPLA (IO), the UPDF soldiers later carried heinous crime of rapes against civilian population including human Rights abuses that still remain undocumented.
Inside sources within UPDF who beg for anonymity say, in October when Uganda despotic leader Museveni made abrupt reshuflement in the post of Residences District Commissioners,MrKidegaNavinson James a puppet to the regime was appointed RDC of Lamwo. MrKidega made a call to the Ugandantyrant leader, informing him that there was boarder conflict between Uganda and South Sudan.
When President Museveni learnt about the boarder conflict, he contacted IGADS member states to intervene, MrMuseveni appearedto have used political gimmick to hoodwink IGADs member states to believe according to Diplomatic sources.
The UPDF spoke person Brigadier Karemire during this week's press biefing at Northern Uganda Media Club (NUMEC) confirmed that the border dispute would be handle by IGAD  member states.
In 2003, the Uganda People Defense Forces planted barb wires along Uganda-Sudan borderline stressing the distance of 150 kilometers, right from Ngomormo to Waligo village, via Kadomera village, Kit 1village up to Kit 2 village a source within UPDF intimated.
"The construction that took only sixmonths tocreate a buffer zone between Uganda and Sudan corridors was extendedfive kilometers inside Sudan against the original boundary, and no any official from Sudan authority witnessed the construction." Impeccable sources argued.
The source further added that in Waligo, UPDF soldier drilled 5 boreholesbecause it was our training camp. He continued that "I am not surprise when I heard that our forces raided the SPLA garrison in Ngomoromo since those Southern Sudanese were not respecting Uganda international boundary.
According to eyes witnesses from LukungSub County, UPDF deploymenthas causedfear to the community of Lukung. The UPDF soldiers at first did not identify themselves to the inhabitants, they were first disguising as SPLA (IO). The forces started by rapping women and young girls, beating farmers from Adodi village.
When Mr. Kidega the RDC ofLamwo Districtwas contacted, he tricked the community to leave the area before he made an ultimatum issuing one week dateline to the farmers of Adodi to leave that is when Lukung communities realized that the marauding soldiers whom they had earlier on believed to be the SPLA(IO) were actually UPDF soldiers. These are the hallmarks of the UPDF soldiers during the northern Uganda insurgency.
The UPDF during the northern insurgency used to dress up like LRA rebels in rag thugs clothes, they would kill, maim, abduct people under the pretext of LRA and the following day, they would turn up in the same villages assaviors to hoodwink people.
Why the government made a rush to Uganda-Sudan boarder?
According to information Oyeng-Yeng Eatherquake got from the American researchers who are acquainted to the Uganda-Sudan boarder political upheaval, the researchers saysin a number of times the areas was surveyed, and the finding indicate that there are hug minerals deposits a Diplomatic sources asserted.
The UPDF army stockperson Bridger Richard Karemire when the Oyeng Yeng News reporter repeatedly asked him why the UPDF soldier are being deployed again in Lamwo district in community farmland at Adodi village, Bridger Karemire scoffed off the issue, he denied that there is no army deployment of UPDF soldier at Ngomoromo boarderin people farmland.
When pressed furthermore probed the army spoke man, about the act of Major Gen. KasireGwanga, Army Sporkpersonsresponded that Major Gen. Kasire Gwanga has been retired from active army, otherwise that is police case. And yet Mr. Kasire Gwanga is under special deployment of the statehouse.
Political analyst view the TareheSita celebration in Kitgum District as part ofMuseveni success strategy of land grabbing in Acholi Sub region, there are many question why Obibi Sabugabo could arranged the national NRM party  feast when Apaa issues and Lamwo land grabbing is a hot cake.