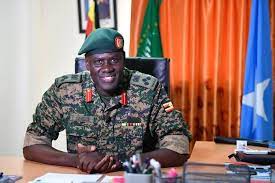 UGANDA:  FROM THE LION OF MOGADISHU TO THE LION OF JUDA WHO KILLED HIM LT. GEN. PAUL LOKECH? – ARCHBISHOP OROMBI
The Acholi cultural chiefs gave 14 weeks ultimatum to Gen. Paul Lokech killer to come, otherwise will face wrath
Government explained to us the cause of towering worrier Oyita Lweny Lt. Gen. Lokech, Chief Justice Alfonse Owiny Dollo
There you are, yet another one, another tragic death, we remain tongue tied, Speaker Jacob Oulanyah.
The clan leader Lokele, Lt. Gen. Lokech, Hon. Peter Okwera, asked the Acholi community to find out the root cause of their slain son  that lies before you. Don't demand the killer to explain the causes of his death; it is you the Acholi to look at the cause of his death and pay revenge, Hon Peter Okwera.
Hon. Andrew Oryem Okello, the state Minister for Foreign Affairs, In-charge of International Relationship called for thorough investigation on the untimely demise of their son Lt. Gen. Paul Lokech. Oryem noted that he had witnessed the killing of sons of Acholi Army officers right from 1968, when Col. Omoya in 1970 came to find out how Bridger Okoya had been killed.
PADER-UGANDA: Hundred and thousands of rumbling crowd kept on shunting, crying making ululations and blowing horns, whenever the summon for investigating the cause of death of Lt. Gen. Paul Lokech is mentioned by irritated, disgusted Acholi leaders on the podium, on Friday August, 25, 2021 during the burial ceremony held in Pader district.
Jacob Oulanyah, the speaker of the Parliament of Uganda as the chief mourner, turned the table upside down at 4.30PM when he took to the pulpit an castigated the cause of Lokech's death as he provoked mourners into tears.
Oulanyah's speech was full of gestures, while pointing directly to the casket of Gen. Paul Lokech lying in a tent before mourners. Looking tense; his words were full of proverbs.  Says there you are, yet another one, another tragic death, we remain tongue tied.
The painful, early Hon. Peter Okwera, the brother to Gen. Lokech, told mourners that" if it was an open war with Acholi, but not back-staving or deception, you would not go alone.
If it was a direct war would anybody manage you, go and sit on the right hand of the Lord, is a tragic death".
"One of the Acholi sons sang a pet ago lawinya, we Acholi do not have God, we have a loving, tragic death, but we have a loving God, go my brother, go and sit on the right hand side of the Lord.
When I came back from United Kingdom, I invited Gen. Lokech to come to my home, but instead he asked me to go to his home, where we roasted goat's meat, the giant Gen. Lokech Acholi Goliath, when we were talking, I raised my head to catch his speech, but I told him, please let us sit down, Am tired of raising my head.
When we cry and our tears flow like a river, his demise is a lesson to all of us.
He has never wronged anybody, nor did he steal anything from someone.
Gen. Lokech told the same thing he had confided to his daughter Winnie, he asked what can be done for Acholi to elevate them from abject poverty.  Should have met, he explained to me in detail the process and way forward for our people to go back to where we were before the 1986 war.
I cracked a joke about his accident, as I told him, now they have poisoned you, he laughed.
Do you believe the accident he got, is the cause of this tragic death, they are here; let them tell us, not us to tell them what are the causes of his demise.
The traveler shooter Hon Gilbert Olanya, the Kilak South county MP demanded that government must explain what killed Gen. Lokech to kicks the ball rolling as curtain raiser for Chief Justice Alphonse Owiny Dollo Cigamio and Jacob Oulanyah to pour out their hearts..
Chief Justice Owiny Dollo said, Gen. Lukech (roma aroma kato Oluma, oyita Lweny) was a towering worrier before he burst out to sing the famous Acholi song sung for warriors
Yee' Pader rac Oneko Atunya woko, tong pa Gen. Lokech gee rwok  cobo rook, imm piny bed  ti woo woo, Pader, Pader rac Oneko Atunya woko. Tong pa Gen. Lokech gee rwok cobo roko imm piny bedo woo.
There was total darkness at 4.30PM local time at Paipir Lagwayi Primary School in Pader district when Chief Justice Owiny Dollo rose to challenge an array of UPDF army generals while pointing his finger to Gen. Salim Saleh, younger brother of President Museveni sitting in the tent.
"My people, I don't stop you from finding out what killed Gen. Lokech, do it without evaluation and sit down, this is my message to the government of Uganda to Gen. Lokech who put his life in line of fire." Chief Justice Owiny Dollo urged.
Chief Justice, Owiny Dollo lamented, for our people there has been an outpouring of Gen. Lokech tears have rolled down our chests, even Paul died a hard work team, Gen. Lokech has been a star struggle to bring peace. What do we get when there is peace?
We have to do it in whatever forum that we want. Wanted to go back to cover where we were before the war on 1986before the conflict. If you are visitors you would be asking what this is.
Hon. Peter Okwera, the elder brother of the late Gen. Lokech who presented the family echo that in Acholi cultural norms, when your son is killed, you don't demand the killer to investigate the cause of the death, but you the bereaved family, it is your duty to pay .
"Acholi pe timo kit eno ka ngat ma oneko omeru, en aye pe yenyo ten too. Acholi culture norms do not allow the killer to come out and explain the root cause of demise, but it allows the affected family to work out the method of avenging." Hon. Okwera, a former MP for Agago, mooted way forward.
President Museveni blamed the death of Gen. Lokech on Alliance Democratic Forces (ADF) when he put CCTV cameras in Kampala, with the hope to track down the criminal, but the cameramen used to plaid cards.
However, Gen. Lokech modernized how to use CCTV cameras, and he cracked down on ADF criminals arresting all of them, that is why the ADF caused his death.
"That is why the people whom Gen. Lokech was arresting came with a planned terrorist bomb in Pader district on the eve of his burial. When I checked the record; I found that Gen. Lokech had participated in repatriating our army from D.R.Congo. You cannot say you are a good commander when you are selfish." Gen. Kainda Otafire read Museveni's message.
In the side sources intimated to the Oyeng Yeng News, the dark cloud hung over the demise, the fallen Lion of Mogadishu, uncertain who killed him still remains a mystery, although a long hand cannot be ruled out to who  might  have killed  Gen. Lokech.
There are factor, leading to his aide committing suicide after death, the reluctances of the widow, Oyeng Yeng News desk is still carry out further investigation.s
"The source that from the neighboring Kiira village came and surrounded Gen. Lokech the SFU was monitoring his phone calls, before his personal; finally Gen. Lokech was left to die when they were seeing." Source said.
Ochen Emmanuel Lokech argued mourners never to worry for the death of his father Gen. Lokech, saying he has a lot to talk about, but he cannot say it all.
"The Pader people pud obi yiko lyel ma pol, pud obi kok, my people of Pader you will still bury many people, you are still going to mourn more death."
The Right Arch Bishop Luke Orombi, of Anglican Church of Uganda says" God is telling us to rise up and lead Uganda, he described the fallen gallon son of Acholi who rose up to lead Uganda, the first ArchBishop of Anglican Church, follow by Arch Wilson Wani the second ArchBishop of Church of Uganda, then he was the 7th ArchBishop too.
"All Ugandans are mourning the gallon son Gen.  Luke Oromi said. Adding that his demise has left a deep wound in our society noting that "Lokech was not only a Lion of Mogadishu, but now a Lion of Judaism" I know he is now with the Lord." Archbishop Orombi observed.