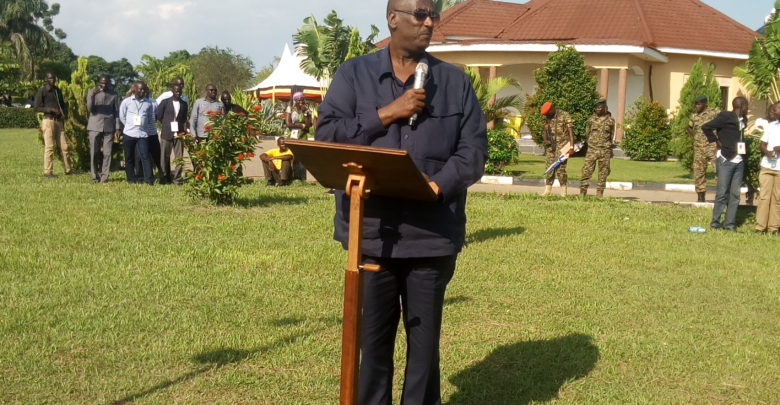 UGANDA: GEN. SALIM SALEH, IF YOU HAVE DEATED JOSEPH KONY, WAR ON LAND YOU NEVER WIN-C. J OWINY DOLLO WARNS.
Intelligence report from impeccable sources reveals, President Museveni will throw out Balaalo from Acholi "I need peace" Museveni decided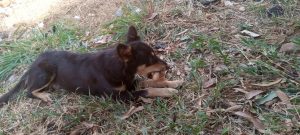 Henry Oryem Okello, state Minister of Foreign Affairs express his fear that President Museveni is using Presidential Executive Order No.3 on Balaalo, Charcoal and Karamoja cattle rustling in Agago and Kitgum district to buy time.
Chief Justice Owiny Dollo narrates to President Museveni, that by 1986 when he took over power, the cattle population in East Acholi district, now comprising Kitgum, Lamwo, Agago and Pader districts was 168,575 head of cattle this is according to Kitgum District Vetneary Officer. But later the numbers of animals had reduced to only 400 after three years.
Grace Freedom Kwecwiny, State Minister of Northern Uganda displayed land titles and other document of land leasehold totaling to about 500 syndicating Acholi customary land ownership with titles at 95 percent. The Balaalo rightfully bought those land.
GULU CITY- MONDAY, October 30, 2023.
Fourth night ago, Chief Justice Alfonse Owiny-Dollo Cigamoi led 39 Acholi leaders to meet President Museveni to present their position on Balaalo invasion into Acholi Sub Region and asked he the President to come witness the rampant land grabbing.
Anthony Akol, the MP for Kilak North while appearing on Te-yat political talk shows on Radio MEGA FM. A renounced that Justice Owiny-Dollo told president Museveni that by 1986 when the National Resistance Army NRA took over power, the numbers of cattle from East Acholi was 168,575. But three years later the numbers of cattle were cut short by about 4,000.
"President Museveni, now you want to restock Acholi Sub Region with Balaalo cattle, in 1987, the Karamojong raided the whole of Acholi Sub Region, even went as far as Amuru district 1,700 kilometers away from Karamoja boarder to steal from the local, is that your ploy? Justice Owiny-Dollo asked president Museveni, Akol revealed.
Chief Justice Owiny-Dollo adds, does it means only your people, the Balaalo are entitled to investing in Acholi Sub Region and not the Acholi's themselves? Wondering if he Museveni had fought a war in Acholi land in order to market their land? While the balaalo are travelling scot free with their animals overnight across the borders, in Acholi animal traction and movement has be limited and/or blocked as a result of presidential Executive order now in place.
"President Museveni, it's not the Balaalo who they have grabbed land in Acholi Sub Region, but your generals and ministers who are forcefully grabbing our land, and that is why you will not be able to implement the Executive order on Balaalo to evacuates Acholi Sub Region, It keen to be noted that the generals and ministers are alleged to be using the Balalo for their selfish interest while soiling the reputation of a minority who feel oppressed.", the chief justice noted as he reassured  the president on his order to get the Balalo evicted.
Oryem Okello revealed to president Museveni that he lost his Parliamentary election for the first time, because people though he Okello wanted to sell their land to Museveni. The second loss was terrible and taking over the Chua East parliamentary seat was a daunting task over the same land issue.
Thus raising the question on the implementation of the Presidential Executive Order No. 3 and the extension of the deadline as a way of buying time.
"Tell me if you are not using executive order to buy times, tell me that if you are not using executive order to buy time." Oryem Okello questioned President Museveni during Acholi leaders meeting at Entebbe Statehouse.
Silvesvestor Opira, the former Residence District Commissioner says he told president Museveni during Acholi leaders meeting at state house state house that Major General Kavuma and other UPDF generals including one Residence District Commissioner who saved in Amuru as Amuru RDC they are the people who have forcefully grabbed the whole of Okidi Sub County land, Amuru district which Atiak chiefdom heritage cultural ground.
"I told President Museveni that I am the first National Resistance Movement cadres, I served as RDC for the 32 years, if I had wanted to grab land, I would not have only 50 acres of land as Gen. Kavuma has grabbed 1,70 acres of land in Okidi parish and one of the women RDC also had grabbed over thousands acres of land in Amuru District."
Dr. Alia, the daughter of former Minister Alia, in Museveni government accused Balaalo of grabbing her father's 1,000 hectors of land stretching all through to Oroko Sub County, Gulu district.
She told, president that one of her brother sold the land without the family consent to the Balalo who have in turn used the said land for grazing.
"Dr. Alia wept bitterly before President Museveni, who because of close family ties promised to follow up on the issues.
One of the person whose land has been grabbed by one General in Okidi Sub County, told President Museveni that he sold 200 acres to the Balaalo. But, the Balaalo who bought the land used Global Position System (GPS) to map the 200 hectors of people's land. Now he does not have such big land.
"Balaalo animals is being grazed in people gardens, the communities within the village have turned on me that I am the one who sold their land to Balaalo. Now as I have disclosed the information you, I don't know, the UPDF general will kill me, forcing President of called his personal Assistance to get his Telephone contact, and reassured him that he will not be kill." Rosalba Oywaa disclosed.
Rwot Richard Santo Apire, Interim Lawirwodi, Rwot Collin Atiko, Rwot Ociti Binyi were among the chiefs that went to see President Museveni.
It should be recalled that, Rwot Apire was assaulted by Okidi Youths on Friday 27, October 2023 while his mobilization to Okidi areas, Got Olimo of Atiak where cultural heritage is.
Willy Chowoo, the official Spokesperson for Rwot Richard Santo Apire disclosed to Black Star News, that the Balaalo community had sponsored the community of Okidi Parish to fight Rwot Apire and his council of chief.
"What is happening now in Okidi Sub County, the Balaalo is moving to every household ditching money, they are giving UGX 100,000, to voiced their concerns with community. Whoever, has a sick child, the Balaalo will give UGX50,000 new note, when any members of community lose a child, the Balaalo will donates two cow as part of their condolences." Willy Chowoo remarked.
Chowoo disclosed that he did six months' research in Atiak Sub County, his research discovered that Balaalo are occupying over 63,000 acres in of land in Greater Atiak.
"Land is one of the factor of Production as the economist say, but in my home district of Amuru, it is becoming a source of misery." Chowoo lamented.
The research reveals that in Amuru district, the most affected Sub County is Atiak, and it is mainly at Okidi parish. The Atiak historical and hunting grounds, community used by the clan of Atiak under the custodianship of Ker Kwaro Atiak.
Research further indicates that at the onset of the long insurgency in the north, the place was sparely populated, but now it is densely populated, and people took the advantage of the encampment to forcefully settle on the land now claiming it is their land. These are communities who are now involved in selling the land to the Balaalo in Atiak Parish.
"In 2022, I did a seven-month investigation into the irregular land sales in the greater Atiak Sub County. (Opara Sub County, Atiak Sub County, Atiak Town Council and Elegu Town Council) and discovered that 63,000 acres of land have been sold to Balaalo headmen repenting 21.p percent of land size in greater Atiak.
Balaalo has gone ahead surveying 25,558 acres, and some are now with land title (8.0%) while 38,000 acres were not surveyed by the time of this investigation repenting 13.1%. The land document is done from Gulu City and surveying is either done in the night or during weekend. According to the local leaders.
In Okidi parish alone, 17,243, 821 acres have been sold at UGX 3.967,88 billion in a period of one year. This means an average land sale per acre is UGX 230.
A total of 4,223 acres have also been rented at the cost of UGX 98.i million representing 23.0%